How much should different industries expect to pay per lead? Reviewing industry cost benchmarks.
Inbound Marketing Cost-Per-Lead
When analysing budgets for paid advertising campaigns, it may be difficult to determine what budget you'll need, and know how much each lead should cost to obtain.
Different industries have differing costs, so to find out average spend, we reviewed HubSpot industry cost per lead benchmark data.
What Factors Influence Cost Per Lead?
The cost of generating a lead through inbound marketing can essentially be found by calculating the total investment used to generate that lead across the board.
All your marketing costs - from the cost of content production, to software, to marketing management, paid advertising and more will factor into your final figure. Promotion and paid advertising especially are a key consideration when reviewing your lead costs. To stay on budget for your campaign, cost allocation per activity should be calculated at the outset of planning an inbound marketing campaign.
How Much Should You Expect To Pay Per Lead?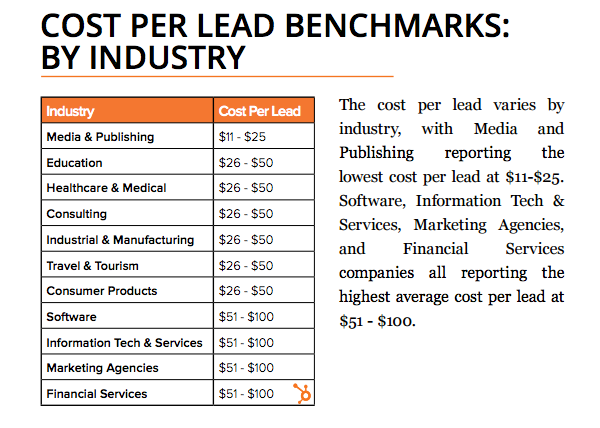 The chart above contains HubSpot collated cost-per-lead benchmark data, from their wider Demand Generation Benchmark study. Summarised here by industry (and converted into GBP), costs can be broadly split into 3 financial bands:
Media & Publishing - CPL ranges from £7.00 - £17.00.
Education, Healthcare & Medical, Consulting, Industrial & Manufacture, Travel & Tourism and Consumer Products

- these all have a wide range CPL costing anywhere between

£18 per lead to £35

per lead.
Software, Information Technology & Services, Marketing Agencies and Financial Services

- these industries can expect to pay more for their CPL at around

£35 - £70

per lead.
Note: GBP costs calculated June 2016.

Specific costs can fall anywhere between these ranges and there are many factors that can influence lead costs, from the marketing methods you're using, to level of competition in that industry, to the nature of the product or services.
Inbound marketing costs 62% less per lead than traditional outbound marketing - HubSpot
Reviewing your costs and assessing investment can be a daunting process. However it's important to keep in mind that inbound marketing costs 62% less per lead than traditional outbound marketing (HubSpot). As long as your campaign is well planned and executed, you're sure to see solid ROI in return.