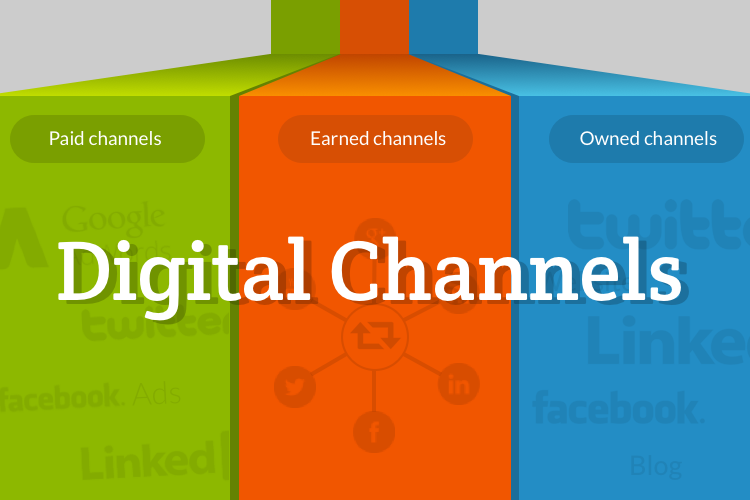 Have you researched your personas, developed a hub of content and launched an Inbound campaign? The next step is to action a channel promotion strategy to ensure your work is seen by your target audience.
When it comes to digital channel promotion it's important to understand both the right (persona and hub informed) messaging to use to generate leads, and where to target that message by leveraging data-backed paid, earned and owned digital channel opportunities.
To understand each digital channel type:
Paid channels: These are the promotional channels you have to pay for; mainly paid ad channels. Promotion through LinkedIn Sponsored Updates, AdWords Ad Copy, Re-marketing Ad Banners, Facebook Ads, Twitter Ads and other paid social activity falls under this remit.
Earned channels: Earned promotion can be trickier to achieve, as it relies on the audience to see value in your content and promote it. Getting editorial content placed on other sites, and having social followers share your content, are good examples of earned promotion.
Owned channels: These are the channels you have complete control over. Everyday social promotion and social selling activity that builds your reputation (activity in forums, social engagement with prospects) are included here. Your website and blog should also be considered as promotional resources in the owned channel mix.
Of course each channel has areas of overlap: sponsored content on a third party site might be considered paid and earned, while LinkedIn longform (Pulse) posts are on the border of earned and owned. Combined, all digital channels are known as converged media.
3 Steps To Designing A Digital Channel Promotion Strategy To Support an Inbound Marketing Campaign
1. Define The Theme Of Your Messaging
Regardless of the target channel, the message of your promotional content must be tied back to the theme of the inbound marketing campaign, content hub and the persona challenge you are addressing.
To maintain consistency of message and achieve higher conversion rates, all promotional content formats must keep personas front of mind. Developing promotional content formats should be part of your inbound planning process. This ensures promotion ties into the message of the overarching campaign, and gives a clear view of the hub content you need to promote.
2. Decide Your Channel Mix
Remember, as your personas and content topics have been informed by real client and industry data, you know exactly the content your personas want to read, plus will have identified a list of the online channels they regularly view.
From social platforms to blogs and editorial sites, use your persona profiles to refine promotional channel locations. For example, if your personas are largely active on LinkedIn; LinkedIn Sponsored Updates, status updates and longform (or Pulse) posts should be a part of your activity. If personas also read the HubSpot blog or Econsultancy, aim to get your content published there.
It is crucial to base channel selection on persona-backed data if you want to generate high quality leads. If you are not targeting the digital environments your prospects use, the right audience will not see your content. Make sure Inbound campaign planning accounts for paid ad budgets and spend. Paid channels (Google AdWords, re-marketing, social ads/sponsored updates) can add immediate value to a campaign as they offer precise segmentation to target ads to your ideal prospects.
3. Build Your Earned Channels
Paid and owned channels are easiest to access and use immediately. Earned channels, however, require just that - for you to 'earn' the space. Tied to digital PR, content placement on persona-relevant, high-authority sites, and having niche influencers socially share your content are good examples of successful earned promotion.
To build your earned channels:
Editorial content outreach.

Develop repurposed content variations of blog posts from your content hub. Outreach these editorial title variations to high-authority, persona-relevant sites (such as industry blogs or news sites). Aside from boosting visibility in front of a relevant audience, links from earned editorial channels back to your site/blog content give SEO value.

Social media promotion/social selling

. Your content should be specific enough already to resonate with prospects, and generate some social traction via your own social channels. But by building relationships with customers and social influencers; mentioning them, engaging with them socially in comments, liking and sharing content, you can boost the reach of promotion and brand visibility.
When planning a digital channel promotion strategy, remember that channel selection is heavily tied to persona development. Get the persona data wrong, and your Inbound promotion will suffer without the correct targeting to segment ads, or misaligned promotion to irrelevant digital environments.