Are you ready to evolve your sales strategy? Sales is on the cusp of its own inbound revolution, just as marketing was a few years ago. Here's how you can adapt and advance.
The Future of Sales
The door-to-door salespeople of decades past wouldn't recognise selling today - and that's a good thing. As power shifts from the seller to the buyer, salespeople are incentivised to be helpful instead of pushy. Just like inbound marketing obliterated pushy outbound marketing, inbound sales will transform sellers from aggressive closers into helpful advocates. - State of Inbound 2016
Are you ready to switch from pushy, to helpful selling?
With responses from over 4500 marketing and sales professionals, this year's HubSpot State of Inbound highlighted multiple shifts in the sales and marketing landscape, and revealed how inbound is transforming the way sales works.
Inbound is transforming the way sales works.
With activities such as social selling, sales training and sales enablement increasingly recognised as sales priorities, sales teams moving into 2017 are identifying where their challenges lie and starting to see the inbound sales methodology as the solution.
Social selling has increased in importance by 6% making it a priority sales action for 28% of organisations.

16% of organisations plan to invest in

Sales Enablement

as a priority

27% of respondents stated that 'Training the sales team' is a priority for the coming year.

While 34% of sales reps say closing deals is harder than it was 2-3 years ago, it is 2016's number one sales priority for 70% of organisations.
Below are 7 considerations modern sales teams should make in 2017 to keep their approach relevant in the shifting landscape.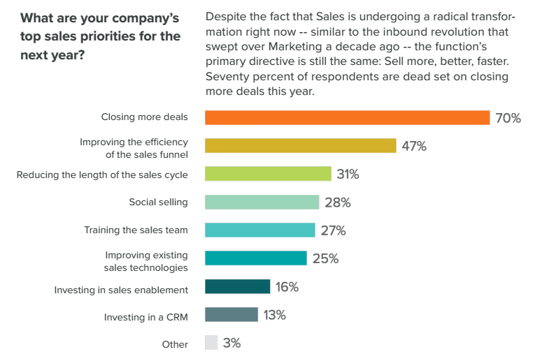 7 Considerations for your 2017 Inbound Sales strategy
1. Invest in social selling
Is your team social selling? They should be. According to IBM, 55% of buyers do all their research using social networks. Add in that 78% of salespeople who use social media perform better than their peers (Forbes) and it's no surprise that social selling is a priority for more salespeople than ever before - up from 22% in 2015, to 28% in 2016.
With 42% of respondents to the State of Inbound already communicating via LinkedIn and Twitter for business purposes, in 2017, teams should not only consider, but dive into social selling as an everyday action to build long-term relationships with prospects and contacts.
Sales teams growing more than 50% were more likely than any other group to identify LinkedIn as a valuable sales connection channel. - HubSpot State of Inbound 2016
2. Overhaul the prospecting process
What's the most difficult stage of the sales process for your team? For State of Inbound respondents, the answer is 'prospecting' - 33% say this is the most difficult stage, though that number has reduced from 43% in 2015's report. Taking a longer term view, 27% of sales reps stated that identifying good leads/ prospecting is harder than it was 2-3 years ago.
Why? It comes down to buyer education:
Sales staff state that prospecting becomes increasingly harder if a lead is poorly educated on the sales topic. 36% of sales staff say prospecting is difficult when a lead is 'not at all knowledgeable' vs. 'very knowledgeable' (26%) - State of Inbound 2016
With only 8% of State of Inbound survey takers considering prospects to be 'very knowledgeable', in 2017, successful sales teams will be those who are best aligned with marketing, ensuring that the leads they receive are already well nurtured and educated.
Align your prospecting efforts with how buyers want to purchase by tuning into the signals that indicate interest, and working with Marketing to increase the flow of inbound leads' - State of Inbound 2016
3. Reduce reliance on cold calling
Cold calling, an outbound sales tactic, only has a 2.5% success rate - Keller Research Center
As buyers shift their expectations of how they want to interact with brands, tactics like cold calling just aren't cutting it anymore. If you're following traditional or outbound selling models you've likely experienced this.
While it can be tempting to stick with traditional and familiar tactics, to really advance in 2017, it's time to stop tweaking old and ineffective strategies and implement the new. This does require some planning, training and buy-in, but the shift will ensure better alignment with marketing's results, and ensure future sales results. Still not sure? Find out why inbound sales works for B2B companies.
4. Commit to better marketing/ sales alignment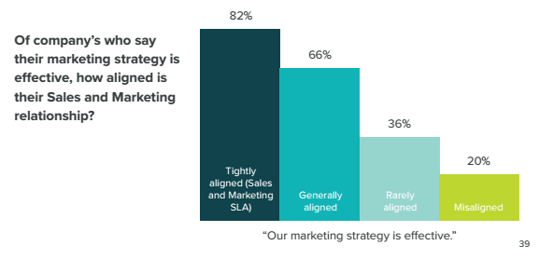 Did you know that 82% of organisations with a tightly aligned Sales and Marketing SLA (Service Level Agreement) believe their marketing to be effective? At the other end of the spectrum, only 20% of teams who view their alignment as 'misaligned' have faith in their marketing strategies.
Only 22% of those surveyed had a formal SLA in place between marketing and sales - State of Inbound
Clearly better marketing and sales team alignment is integral to effective strategies and transparent action in 2017, particularly when it comes to enabling sales teams with lead data and refining the organisation's definitions of Marketing Qualified Leads (MQLs) and Sales Qualified Leads (SQLs).
Having a company-wide definition of what constitutes a quality lead is key. The State of Inbound found that sales reps perceive the leads they receive from marketing as only average in quality (38% were rated 3 out of 5, 9% were seen as very poor quality, and only 5% were seen as very high quality).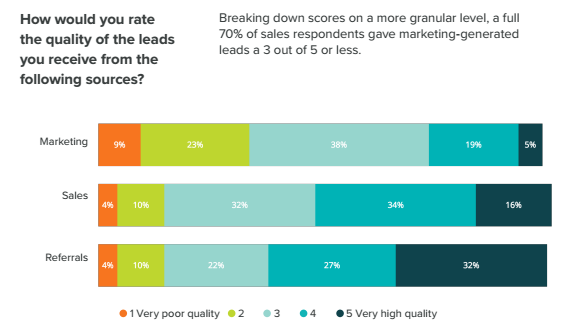 At the end of the day, it comes down to communication. There's room for improvement on marketing-sourced leads, but marketing won't know what needs to be fixed unless there's a feedback mechanism built into the marketing/sales relationship.
5. Determine how buyers want to communicate and meet them there
When prospecting or communicating with leads, do you dictate the method of communication, or do they? In 2017 it will be important to heed shifts in buyer preferences and instead of always phoning or emailing, adapt to reach buyers in the environments they prefer, at the right times. Social channels, video conferences, messenger apps; channel diversity is ever increasing. Familiarise yourself with the channels your buyers prefer, to communicate effectively.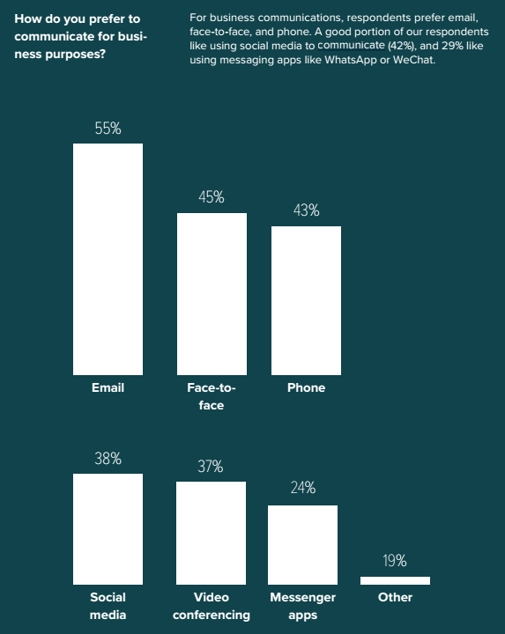 6. Adopt a CRM that integrates with other critical systems
The CRM presents significant challenges of all varieties for sales professionals. When asked 'What is your biggest challenge in using your CRM', a 'lack of integration with other tools' was the tied greatest response (at 17%), alongside 'manual data entry'.
Integration is an important issue here; without effective integration between your CRM and other platforms, gaining true marketing/sales alignment and transparency on exact progress with prospects becomes impossible. For best communication and efficiency in 2017, adopt a CRM that aligns with your marketing automation platform - and the rest of your tech stack.
Only 21% of salespeople said they considered their CRM software's integration capabilities - with marketing software or other tools - to be high quality. - State of Inbound 2016

7. Train the sales team to adapt to new changes
New strategy implementation and buy-in aren't always easy, especially when processes must undergo a substantial transformation. However, training is the first step to successful change; particularly when considering a switch to inbound sales. To keep up with the pace of change in 2017, it's wise to start exploring new training options now.
27% of respondents stated that 'Training the sales team' is a priority for the coming year. - State of Inbound 2016
The points above are all integral to inbound sales. Whatever sales strategies you're currently using, there's no denying that inbound sales is on the verge of exploding. Those who make that switch are set to gain the advantage in 2017.