How is sales evolving? We look at the 2017 HubSpot State of Inbound to see what tips and takeaways sales teams should prioritise.
While we're more than a decade in, the inbound journey is just getting started. - Brian Halligan, CEO Hubspot
In our 2016 post '7 Considerations for your 2017 Sales Strategy' we discussed the future of sales, saw how Inbound was impacting sales tactics and reviewed the trends evolving from Hubspot's 2016 State of Inbound report.
So, a year on in 2017, how is inbound sales evolving?
Related:
Sales Takeaways From the 2017 HubSpot State of Inbound Report
1. 'Closing More Deals' Remains A Priority
In the 2016 HubSpot report (which surveyed an audience of 4500 marketing and sales professionals), the responses strongly indicated that inbound is transforming the way sales works. Similarly, from 6,399 respondents, the 2017 report shows that an inbound sales and marketing strategy continues to be the main priority for both B2B and B2C organisations.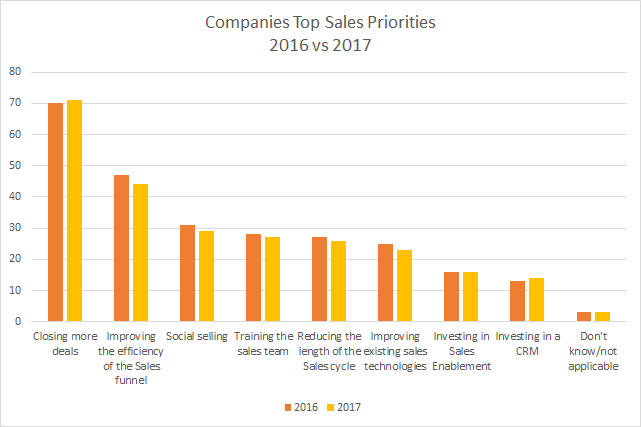 As can be seen, priorities remain consistent year on year and, not surprisingly, 'Closing more deals' remains the top priority for 4543 (71%) of the professionals interviewed. Of course, to do this, it's important to recognise the importance of achieving or improving the other priorities cited; you'll likely close more deals as a result of improving funnel efficiency, social selling and better training the sales team for example.
Related:
With companies having a very positive outlook for their teams in the next 12 months, 55% of respondents indicate that their sales team will grow. So, with 'sales efficiency through the sales funnel' and 'reducing the length of the sales cycle' being priorities, more focus will be required on:
Improving sales & marketing alignment

Sales enablement

Keeping abreast of trends in social selling

Training, improving sales technologies and investing in a CRM system
2. Improving Sales Efficiency Should Be A Focus
Without clear communication and alignment, a company will struggle to build strong and lasting relationships with its customers. Brian Halligan, CEO Hubspot
A main contributor to sales efficiency through the sales funnel is the close alignment of sales and marketing. From enhancing sales enablement, to ensuring the whole business has a clear idea of lead definitions; good alignment creates more efficient sales and marketing environments.
Related:
For Strategic, sales and marketing alignment forms the foundation our inbound and account-based marketing activity; via a closed-loop marketing automation platform and CRM, we can ensure that each side of the business (marketing and sales) are aligned on responsibilities and have access to complete lead insight and business intelligence. This means the business as a whole is more efficient and able to make more informed strategic decisions.
However, the 2017 State of Inbound reports that currently only 22% of respondents indicate that they have a formal SLA in place between teams, supporting the finding that improving sales efficiency is a key sales priority.
Only 22% of respondents indicate that they have a formal SLA in place between teams. - HubSpot State of Inbound 2017
Importantly, those who have a service level agreement in place between sales & marketing report they are 3 times more likely to have an effective Inbound strategy.
3. Sales Enablement Is Important
Sales enablement goes hand in hand with a fully aligned sales & marketing team.
Sales enablement is the technology, processes, and content that empower sales teams to sell efficiently at a higher velocity. - HubSpot
While exact sales enablement definitions will differ between organisations, at a top level it's a process and function that extends throughout the customer lifecycle, and incorporates both sales and marketing; designed to help teams create in-depth, helpful customer relationships based on shared insights and data. Enablement is about providing the sales team with the insight, content and tools they need to sell effectively; across whatever environments buyers are active in.
Sales Enablement is never 'done'. Each prospect will move through their buyer's journey at different rates but, powered by technology, sales can be informed when prospects engage, then react accordingly to drive prospects through the sales funnel more quickly.
Related:
According to the 2017 State of Inbound:
Sales enablement will be a priority for 29% of marketing teams over the next year. This has dropped from 32% in 2016.

However, investing in sales enablement is a priority for only 16% of sales teams. This remains the same as in 2016.
If sales teams are to achieve that main priority of 'closing more deals' outlined above, it will be important for both sides of the business to recognise the value of sales enablement, and work towards it together.
4. More Teams are Social Selling, and Engaging Across A Range of Channels
As the third greatest sales priority for the coming year (at 29% in 2017, 28% in 2016), the the value of social selling is increasingly being recognised.
Although communicating with prospects via social channels (LinkedIn, Twitter, Facebook etc.) is still a mainstream priority, there's a definite trend towards social selling through different content distribution channels, such as video, messaging apps and podcasts. Some comments from the 2017 report include:
We're responding to people's desire to learn online through video as opposed to face to face.
We're moving towards more live videos and video content on social media, and adapting our approach to be less 'in-your-face' and more subtle to acquire conversions.
The further diversification of media and how/ where people spend their time consuming content [is a challenge]. Being able to not only create content but target it got those various platforms is a constant evolution.
I think virtual reality will further disrupt the digital marketing industry and represents huge opportunity for sales and marketing leaders.
Other key points included:
Over a third of professionals prefer to use social media, video conferencing and messaging apps to communicate professionally.

12% of sales representatives said Facebook was their most successful channel for connecting with a prospect. 9% said LinkedIn.
Following this it's unsurprising that 48% of marketing teams plan to add YouTube to their content distribution plan in the next year. (47% for Facebook Video) Artificial intelligence, augmented reality and virtual reality are also predicted to be an upcoming priority for sales once more technology becomes available, which may represent a huge opportunity for sales and marketing alike.
5. Invest In On-going Training
27% of respondents said training the sales team was their greatest priority. - HubSpot State of Inbound 2017
As buying habits change and evolve and as inbound is increasingly prioritised, ongoing training is essential if sales teams are to keep abreast.
New tactics in social selling, sales enablements, updates on CRM systems and internal communication processes should all be the subject of regular training and review to ensure sales can maximise on investment and opportunity. Always keep in mind what's important to your prospects, how they like to digest content and adapt processes accordingly.
Related:
Takeaways for the Future
Just as in 2016, sales is clearly still evolving, with the underlying message to be available in and helpful across the spaces and channels that your buyers are active on. Enhancing sales/marketing alignment, social selling and sales enablement and training are all key ways to achieve that, so it's likely these trends will continue through coming years.