Quora can provide insight to improve marketing content, plus is a great platform for social selling. This post explores how to use Quora to enhance your marketing efforts.
What Is Quora and How Can it Support Content Marketing?
Developing new content ideas that will resonate with your audience can be difficult. Once you've covered all the topics and buyer challenges you can think of - where can you go next for inspiration?
The key of course, is to look for the latest challenges and questions that your niche audience has; then create content in response.
Finding those conversations isn't always easy - but with Quora you can do just that.
Essentially, Quora is an open Q&A forum, where users can ask a question and get replies from anyone with an answer or opinion.
An example question might be:
The user community can then 'upvote' or 'downvote' answers to highlight the most helpful. Having been around since 2009, Quora is an archive of questions and queries on a vast range of topics, and receives answers from c.1.5 million-strong monthly community of everyday users and industry leaders alike.
As a result, it's a tried and tested source of community insight; helpful from both a content marketing perspective (as a source of insight to inform content) and a social selling perspective (allowing you to contribute your expertise and build credibility as a trusted expert on that topic).
Of course, like any other platform, there are a range of ways to maximise Quora's content marketing potential. Below is a guide to using Quora to support your efforts.
How To Use Quora To Support Marketing Efforts
1. First, make sure your user profile is complete
Your name and bio credentials show every time you answer a question or post on Quora, so make sure your profile is complete (with image, description, links to your site and social platforms). That way, if you use Quora for social selling activity, your account (and answers) will look credible and improve recognition.
Note that you can edit your specific bio line credentials (which appear similarly to a job title description on answers you write) - so detail any relevant topic experience here. For example, if you mainly answer questions around Account-Based Marketing, you could add experience or results with ABM in your bio.
2. Look for industry-relevant topics to engage with and inform content
Your buyer audience will have questions relevant to your industry and solution - which are likely being asked on Quora.
Monitoring and contributing to these conversations is invaluable to inform content development:
If a problem/ pain point is being discussed frequently, use this information to inform future content - if there are lots of answers these can be used to quickly crowdsource a piece of content around opinions of that topic.
Use keywords to find questions and discussions relevant to your industry. Questions with lots of upvotes and answers are best to get involved with - these are the threads that see most engagement.
Regularly contribute to relevant discussions to position yourself as a topic expert and thought leader. Remember, in addition to writing valuable answers, you can refer/link to your own relevant content in your answers where appropriate - but

don't

just link straight to your blog. Make sure you write a response, long or short, that provides real helpful value - supported by statistics, examples and links.
Find Quora questions that you've already answered in your own content, write a helpful Quora answer and include a link to your content within that comment. (Again, make sure your comment offers value and isn't a purely promotional link to your blog)
Set notifications to find the latest discussions around your selected topics; your answers have a greater chance of appearing at the top of the thread/being upvoted if they are some of the first to appear.
Nobody asking the right questions? Then start a conversation on a topic that you know will resonate with your persona (or on a topic you want to research a little). It's possible to target questions to specific Quora users and ask them specifically to comment - a great way to find out what your audience thinks (and inform later content).
Tip: When posting questions to Quora, include an image where possible. Posts with images often see much better engagement.
3. Set your business as a topic for conversation
Did you know you can create a Quora page for your company? By searching for your company name in Quora, you'll be able to see if it is a recognised topic for discussion - and create it as a discussion topic/ add stories if not. This is a great way to build and monitor conversations around your brand, especially conversations around your service, results and client experiences - which may inform case studies.
4. Use Quora to promote your existing content
Similar to LinkedIn Pulse posts, you can use Quora as a publishing platform for new content - or use it to leverage/repurpose content you've already written. This can be a great way to share content with a fresh audience (remember to share Quora posts on social media) and encourage traffic back to your site.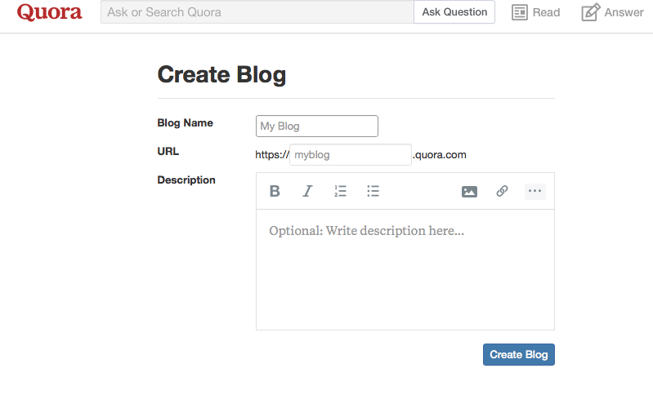 Finally, always remember the inbound methodology when using Quora and don't focus on selling product. The aim is to be active in the right places and at the right times, to build trust with and encourage the right (best-fit) buyers to align with your services.