What lies at the heart of ABM? What makes it so different from B2B Marketing?
There are many things (we talked about a lot of them here).
But there is one thing that stands out. One thing that makes ABM unique. One thing that makes ABM such a compelling go-to-market strategy.
And that one thing is personalization.
What's ABM? It's all about treating an account as a market of one.
Getting to know that account, understanding the market in which it operates, the opportunities available, the threats it faces, its competitive landscape, what makes it unique to its market, etc.
Knowing that account better than the account knows itself.
And an account is made up of buying committees, decision-makers, leaders...
But ultimately, an account is made up of people. People like you and me.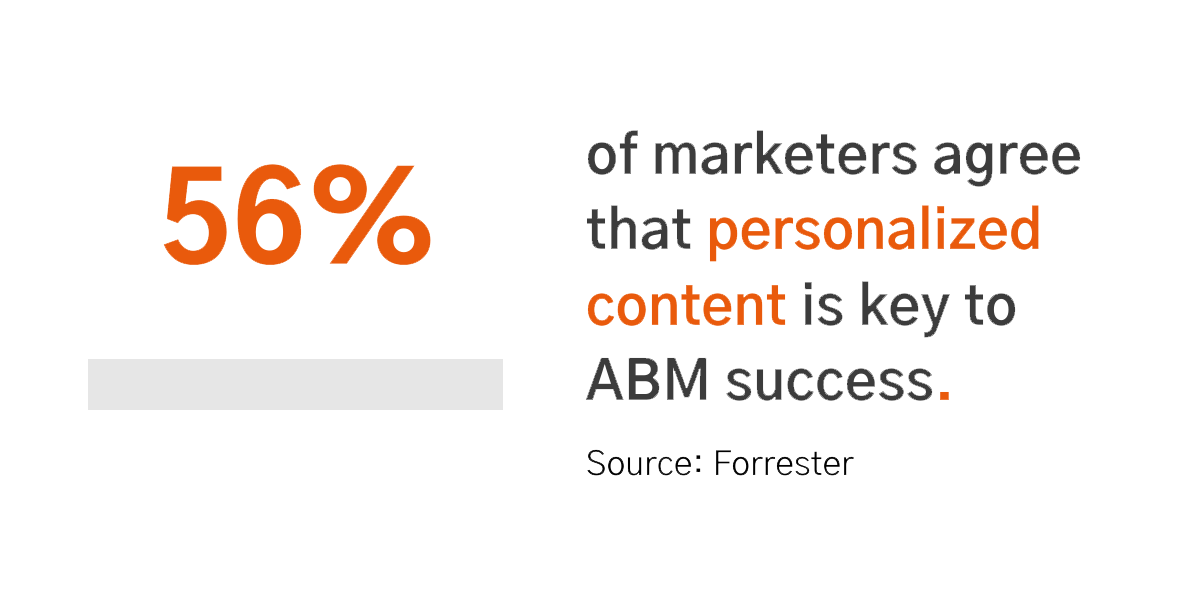 Personalization: The key to unlocking the account
While we are all B2B Marketers, our behavior is no different to B2C consumers. We want a personalized experience. We want to be treated as individuals. We want to be engaged, entertained, stimulated, etc.
We want to feel that the experience we are witnessing, touching, etc. is unique to us. Why? We are inundated with stimuli, offers, vendors, sellers, and resellers.
We are naturally inclined to switch off, ignore and block.
Personalization is the key to unlocking this challenge. Personalization cuts through this digital noise. Personalization creates the connection with the individual - the person - on a level that resonates, connects, and builds that important trust that is at the heart of an Account-based Marketing strategy.
In this latest Insight we explore:
Why personalization is important for your ABM strategy

The role of data in taking your account experiences to the next level

How to build a unique account experience

Personalization in numbers
Let's look at some numbers that highlight why personalization is the key to unlocking your target accounts: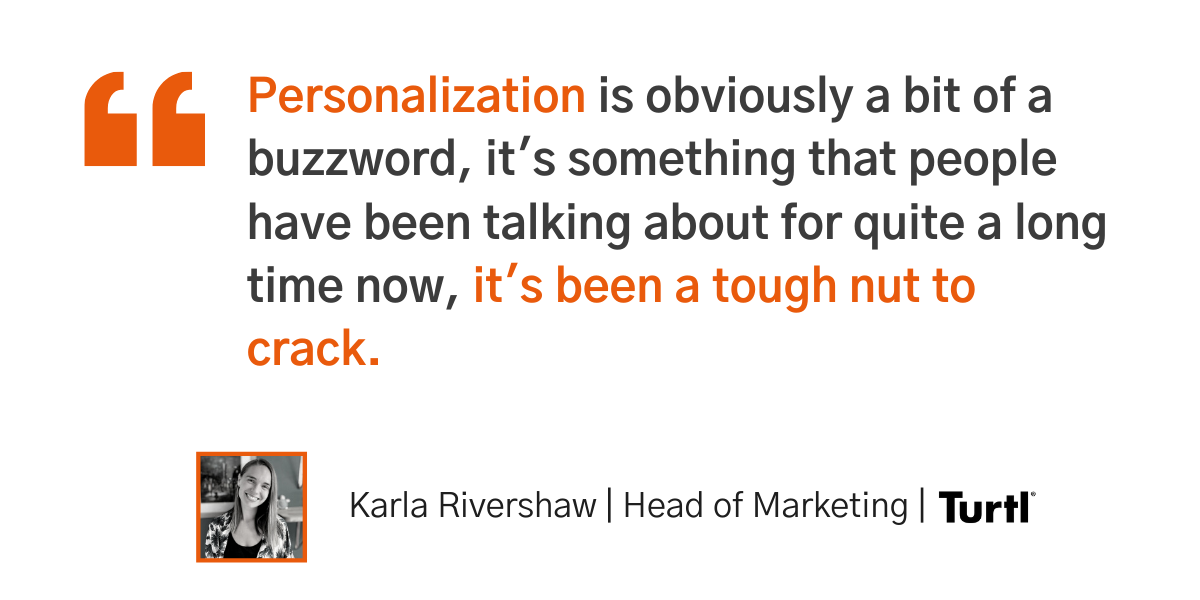 How does personalization impact your ABM strategy?
ABM has evolved at a lightning pace in recent years.
It all started with One-to-one ABM (also called Strategic ABM). More often than not, with existing customers that you wanted to retain and grow.
It then evolved into One-to-few ABM (also called ABM Lite) which saw accounts 'clustered' into small groups of accounts that exhibited similar characteristics (and could therefore be grouped) - be they sector, industry, business challenges, etc.
And finally, with the introduction of technology, One-to-many ABM (also called Programmatic ABM) has also come to the fore, allowing you to target your Total Addressable Market (or a part of it).
But just as each ABM program type targets different accounts, so it is equally true that each program type (and the accounts therein) warrant different levels of personalization.
So how do you know how much personalization is enough at each level?


ABM program type: One-to-one
Degree of personalization: Full
Personalized at...: Account and individual contact level
What to include: Here's it all about the account and the unique challenges they face or what strategic objectives they are looking to achieve.
Insights play a crucial role here to uncover specific strategies to deploy in the personalization, e.g. competitor battlecards, unique hero assets or specific messaging that resonates with the buying committee.
ABM program type: One-to-few
Degree of personalization: Medium
Personalized at...: Industry (or sub-industry)/vertical with some 'light touch' personalization at account-level.
What to include: Campaign assets are created at Industry or sub-industry level (think Retail and then say DIY).
The messaging can be further personalized to talk to how you specifically help industry/sub-industry or how your solution is 'better' than known competitors in account X.
ABM program type: One-to-many
Degree of personalization: Light
Personalized at...: Persona level personalization + Industry pain/challenge
What to include: Use insights like intent data to personalize based on persona and/or industry challenges, goals, etc. The main campaign assets won't feature the target account name.
Here, Tyler Lessard, VP Marketing & Chief Video Strategist at Vidyard, talks personalization.
Are you ready to personalize?
There's a fair amount of leg work to be done before you can personalize.
Why? You need to figure out what you are going to personalize, where, and with what message.
With personalization, you're looking to 'show me you know me'.
Show the person (remember we're talking to people) that you know their company, their business, their industry, their challenges, their pain points, their competitive landscape, their 'way in', etc.
Let's just say you know what 'keeps them awake at night' (or what would help them to sleep, if you prefer).
It's not all done in isolation. You need to make the connection between the what, the how, and the who, i.e. show me you know me, show me there is a 'way', and show me that you know the way (and have been there before with others I trust).
So where do you get the information and insights you need to personalize?
Let's look at the list that you need to tick off:
Ideal Customer Profile (ICP) defined 


Accounts selected and tiered 

Accounts aligned to each ABM program type (One-to-one, One-to-few, One-to-many) 

Insights of the industry, sector, account, executive team, etc. 

Value proposition crafted for each set of accounts (and program) 

The value proposition (which is often skipped) is the foundation of any personalization strategy.
The value proposition speaks to the key challenges that the specific audience faces.
ABM personalization: 5 tips to make that connection
Personalization is all about making that connection - that emotional connection - with the key contacts within each target account. Let's take a look at how you can make that connection.
1. Start with your data
According to LinkedIn, 42% of organizations struggle to personalize at scale for target accounts.
When it comes to personalization, your first-party data is your best friend.
Your CRM, wider marketing suite, and sales software should help you build out a picture of how your target accounts - and the key contacts within them - are engaging with you.
"So, if we see an account that has multiple free users and it hits certain usage thresholds and we're seeing a high level of engagement from people across that account on our website in our content and so on. They will now bubble up as a target account and we will then automate kicking them into an Account-based Marketing experience where people at that account will now start getting personalized ads delivered to them via social media and other digital channels." - Tyler Lessard, VP Marketing and Chief Video Strategist at Vidyard
Remember that ABM isn't just about net new logo acquisition; Account-based Marketing also helps you to grow and retain existing customers.
Start to gather information on your target accounts (be they existing customers or prospects) from your first-party data to develop your personalization strategy.
Ask these questions:
How engaged are they? 


What content are they engaged with?

Which key 'trigger' pages are they visiting? (think product, pricing, contact, etc.) 

What does the data tell you about their key challenges? 

What's different (or similar) about their challenges and those of their competitors? 

What can you learn from how they're engaging with your content? 

Here at the Agency, we use HubSpot, Google Analytics, and Leadfeeder to deliver these key first-party insights.
This first-party data is priceless. It is a window into the minds of your target accounts and the key contacts that you have in each one.
How does this data help you to personalize?
The easy win? Feed this data live to your Sales teams so they can personalize messaging to their target accounts.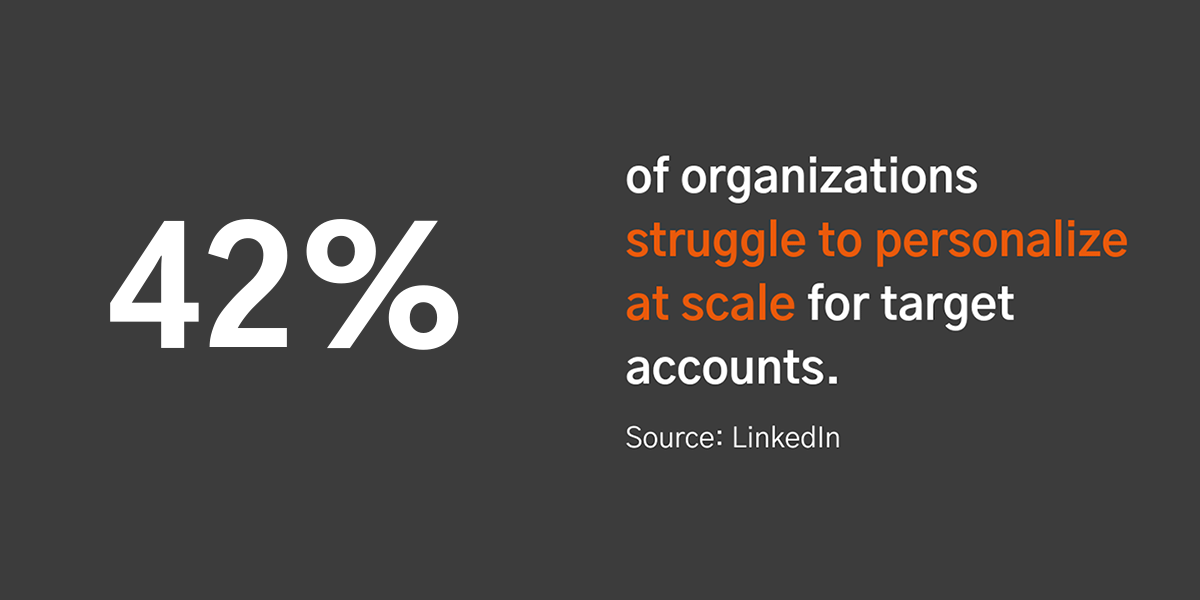 Next, think content.
There are lots of options here:
Go wider. Create more content related to the content your target accounts are consuming


Go deeper. Explore the themes further by creating relevant use cases, case studies, playbooks, etc. that help the target accounts to explore the issue further

Go further. Create content that is hyper-personalized to the account that is engaging with your content


2. Uncover intent
We've talked about first-party data, i.e. your data on your systems.
What is driving a lot of interest in ABM is the application of third-party data.
Third-party data shines a light on your target accounts and their 'innermost thoughts'. It helps you to understand their motivations, their areas of interest, their level of interest, and lots more.
Intent data

gives you insight into what content the account is consuming around the web, what subjects are important to them, and even indicates propensity to buy; where are they in the buyer journey? Use this intent data to create personalized and hyper-relevant content for these target accounts. 


Commission insights to understand the account's position within their wider market. How does their business differ from its competitors? What are their business goals and how are you uniquely positioned to help drive these? 

Don't underestimate the power of researching information that's in the public domain. A dive into what a prospect has been posting about or engaging with on LinkedIn or Twitter can help spark your creativity and provide an idea for some super-personalized outreach...


Author and WSJ Cartoonist, Stuart Heinecke explains how social media offers creative opportunities for deep personalization:
3. Unlock your team's knowledge
ABM is all about alignment - particularly Sales and Marketing.
A company's level of Marketing and Sales alignment typically shows a strong correlation with its level of ABM success.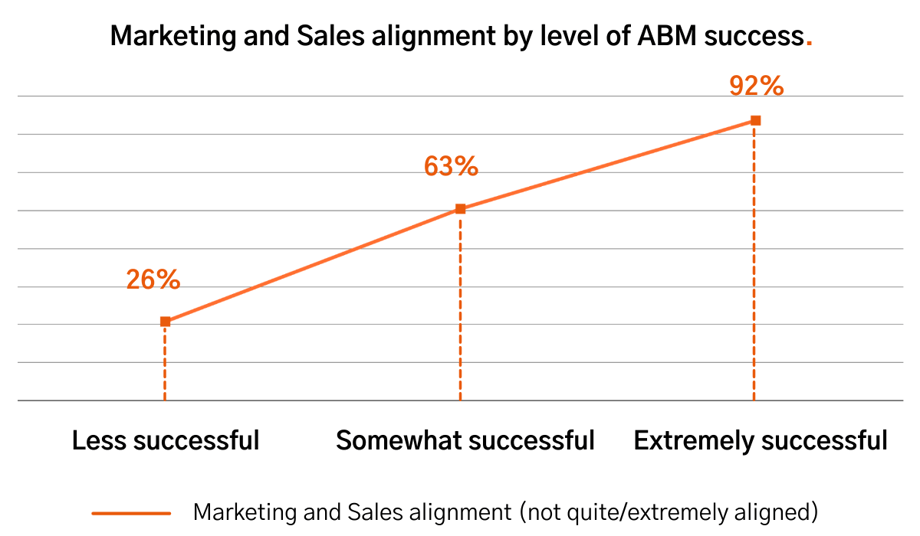 It's not only Marketing touch-points that offer opportunities for personalization. Your Sales teams have more face-time and contact with prospects, so use it to your advantage.
They are the ones at the coal face. They are the ones who know the accounts, the market, and the competitors inside out.
Use this knowledge. Build a meeting cadence to get this knowledge into your campaigns.
Check out this short clip where Alessandra Possamai, ABM Manager at Shutterstock, explains how she regularly meets with her Sales colleagues.

And remember that account experiences should be personal as well as personalized!
Think about how you can use insight from interactions with specific accounts, as well as existing customers to dive deeper into their challenges and provide a more tailored experience.
Remember to stay focused on your account's challenges and not your solutions - be a trusted advisor and support them through their journey.
65.2% of B2B buyers said they found value in discussing their situations with salespeople.
4. Deliver a standout account experience
You've collected invaluable insights into the accounts that you are targeting - you have the 'what'.
Now it's time to work out the 'how' - how to get your message across.
How do we do this at the Agency?
We build unique client experiences - what is commonly termed in ABM - account experiences.
This takes all the data you have collated, all the insights, and the value proposition you have crafted and turns it all into a tangible experience.
These account experiences takes the Account through four key stages of Awareness, Educate, Influence, and Commit.

With the objective of engaging with the Account, building trust, creating that emotional connection, and leading the Account (the buying committee) through to sales conversations and revenue opportunities.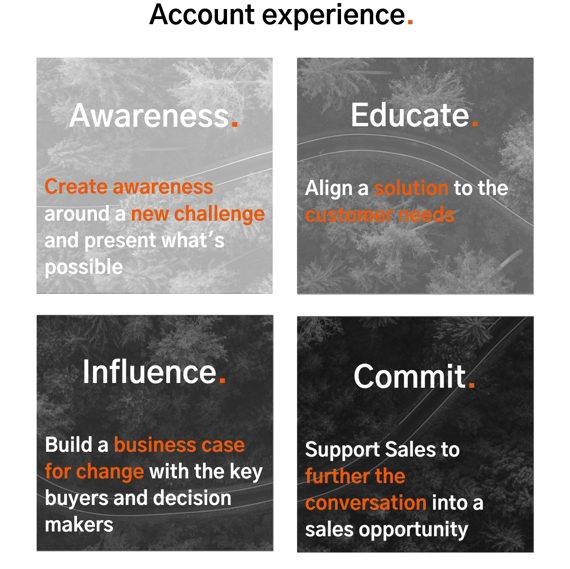 Your content strategy should encompass the entire account experience - with personalized assets for each stage of the journey: from initial awareness of your brand, and further education around the prospect's challenges, through to the influence and commit stages.
Our client ABM campaigns use a large number of digital and physical assets at each stage of the journey - that account experience. The relevant asset is designed with the relevant channel in mind.
"So you know, at this time where salespeople aren't able to get in front of people face to face, how can they create new experiences for those customers where they're able to build these personal relationships, without being you know, in front of them. And so content is a really good way of doing that." - Karla Rivershaw, Head of Marketing at Turtl
For example, videos, blogs, guides, or interactive tools like quizzes might be used to drive awareness, interest and educate the audience early on.
Further, into the buyer's journey, highly personalized hub pages, themed resources, interactive games, and workshop offerings will make target accounts engage.
To deliver a clear and consistent experience for accounts, keep your messaging aligned across all touchpoints. How? Lean on the value proposition to stay on point.
Remember to collaborate with Sales when preparing this collateral so they can add insight and use these assets throughout the sales process to build relationships. To be successful, they need to see value in the content they're sharing!
Below is an example of the account experience the Agency creates for our own ABM campaigns to acquire new customers via our ABM Lunch & Learn Account Experience.



5. Personalize your channels
You've got the content. You've done the personalization. It's now time to get that content in front of your target accounts (and the key people within these accounts).
We've just talked about the account experience - that unique journey that you want each of your target accounts to go through.
That account experience can be promoted through multiple channels.
You'll know from your research where your customers and prospects 'hang out' - which channels, which platforms, etc.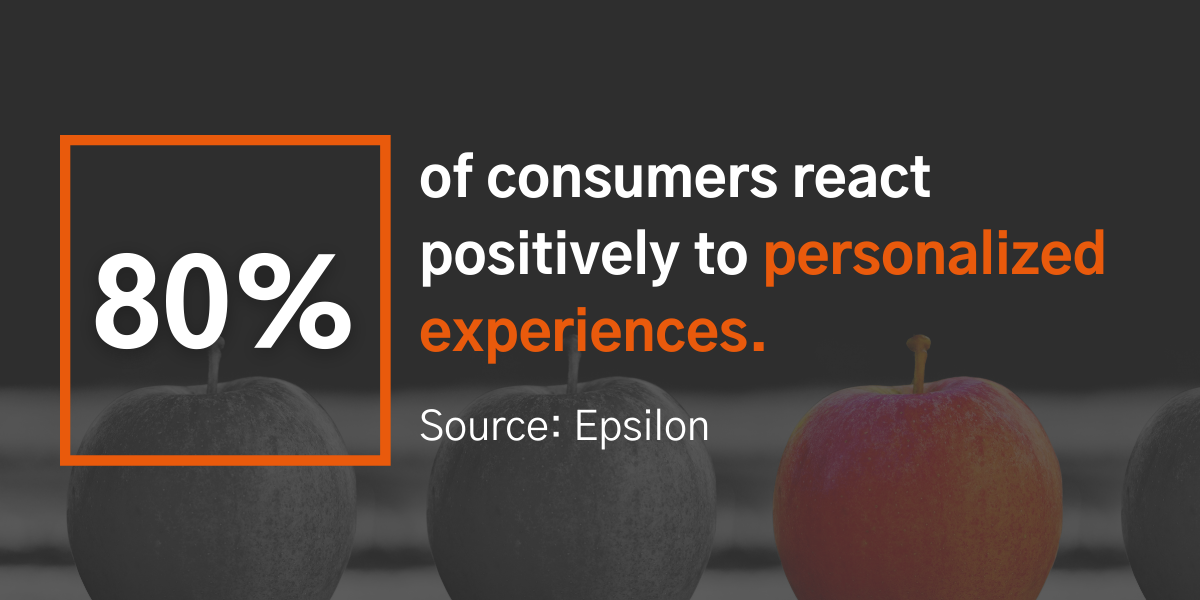 Here are just a few of the channels we deploy in any one of our strategicabm account experiences:
Email - For accounts in your One-to-few or One-to-one programs, you should move beyond automated nurture emails. Time personalized emails with account engagement to move conversations forward.

Paid - Find your target audience where they're spending time and engage them with a bespoke message. As paid media becomes more and more competitive, highly visual and personalized ads are essential to stand out.

Sales outreach - Personalized video outreach is a must! 87% of sales professionals report the importance of accessing video viewing data to qualify leads, engage prospects, or influence deals. 

Programmatic - Link up your programmatic ad platform with your intent data to target the right devices, with content specific to the content accounts are searching around. 

Remarketing - Re-engage audiences, especially if they've visited a bespoke landing page or micro-site, and use personalized CTAs to encourage them to take the next step. 

Direct Mail - Hand-written notes, interactive experiences (think gadgets, QR codes, and old-school games), and even hand-drawn cartoons can help get your prospect's attention offline! 

Let's sum up here...
To sum up, here's what you should keep in mind to crack ABM personalization:
Lean hard on the data 


Get creative with the experience 

Get personal 

Be personal as well as personalized 

Track, measure, iterate (and repeat)