Account-based Marketing (ABM) was one of the hottest B2B marketing trends last year. And rightly so. The trend is going to continue in 2021.
The 2020 State of ABM Report shows 94.2% of respondents now have an active ABM programme (up from 77% in 2019) with mature ABM programmes now accounting for 79% of all sales opportunities (vs. inbound/outbound, etc.)

Compelling numbers, right?

So let's take a look at some more Account-based Marketing statistics - to convince you to consider ABM or to reassure you you have definitely made the right decision.
1. ABM delivers ROI
87% of B2B marketers surveyed by ITSMA reported that their ABM initiatives outperform their other marketing investments in terms of ROI.

91% of companies using ABM increase their average deal size, with 25% reporting an increase of +50% (SiriusDecisions).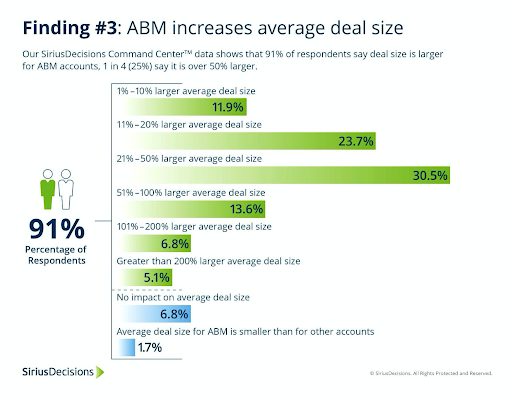 Image: SiriusDecisions

86% of marketers report improved win rates with ABM (TOPO/Terminus).

With a greater emphasis on defining your Ideal Customer Profile (ICP), a structured approach to Account Selection and a value proposition aligned with your prospects' business needs, ABM drives higher win rates.


208% increase in revenue witnessed by companies using ABM (MarketingProfs).

While this number may seem high, what it highlights is that ABM drives alignment - not only sales and marketing, but of the entire business.

This alignment drives greater efficiencies, better campaigns, higher degree of focus, etc. that ultimately lead to generating more opportunities and winning more accounts.

60% of companies report at least a 10% increase in revenue in year one of their ABM programme (Demandbase). ABM is a long-term investment and this revenue growth (compared to other marketing strategies) will continue to grow in years two, three, etc.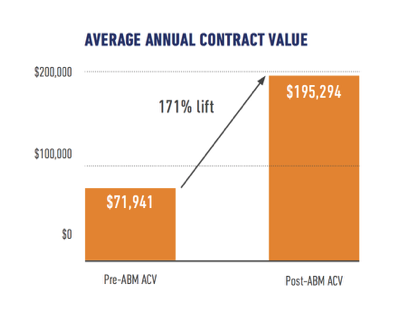 Image: ABM Leadership Alliance.

171% increase in average annual contract value after implementing Account-based Marketing, according to the ABM Leadership Alliance.

Why the increase? According to the research published by the ABM Leadership Alliance, it's all about the targeting.

Focusing your resources on those accounts that are more likely to be purchasers of your solution, driving conversion rates and deal sizes.

70% increase in the number of opportunities created via ABM (Gartner).

Once again, ABM is all about focus - knowing your ICP and being ruthless with your target account selection.

While this may feel counterintuitive at first, as you undoubtedly turn down business, ABM delivers more opportunities, as your focus on those accounts that meet your ICP will uncover new opportunities - both within existing accounts as well as in the pursuit of new logos.

2. Early indicators of revenue growth

While ultimately ABM is all about accelerating revenue growth, as can be seen from the compelling numbers above, there are multiple facets and outcomes from any successful Account-based Marketing programme.

Here are some of the early indicators that show you are on the right track and will continue to deliver in years one, two, three and beyond.

84% of organisations deploying ABM saw an improvement in reputation (ITSMA). In ABM, many of us measure its impact on the '3Rs': Revenue, Relationships and Reputation, as can be seen in the infographic below.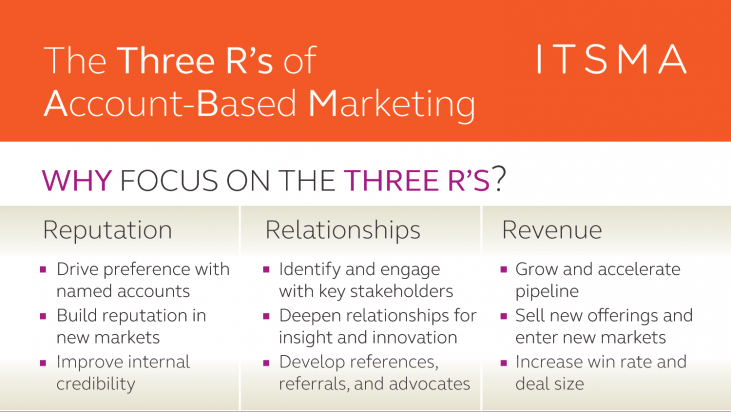 Image: ITSMA

2020 has certainly cemented the importance of building a strong reputation, as your clients may not have been in a position to buy from you, particularly earlier on in the year.

A strong focus of ABM is on building your reputation within an account and across the entire Decision Making Unit (DMU). While this takes time, the payback is long term revenue, client loyalty and high barriers to competitor entry.

85% of marketers said that ABM significantly benefited them in retaining and expanding their existing client relationships (Marketo).
The second 'R' that we track and measure in our ABM programmes is 'Reputation'.

The above statistic from Marketo shows why. While new logo acquisition often gets all the fanfare, the reality is that the smarter (and more profitable move) is to work harder on retaining (and growing) your existing clients.

The 2020 State of ABM report supports this strategy, and in fact, goes further. 2020 has seen a significant shift in the focus of ABM programmes towards client retention - with 75% now using ABM for customer marketing (compared to 38% in 2019).

As the report says - 'Retention is the new acquisition'. The report goes on to explain that, with the onset of COVID, organisations have shifted their resources to protect their revenues.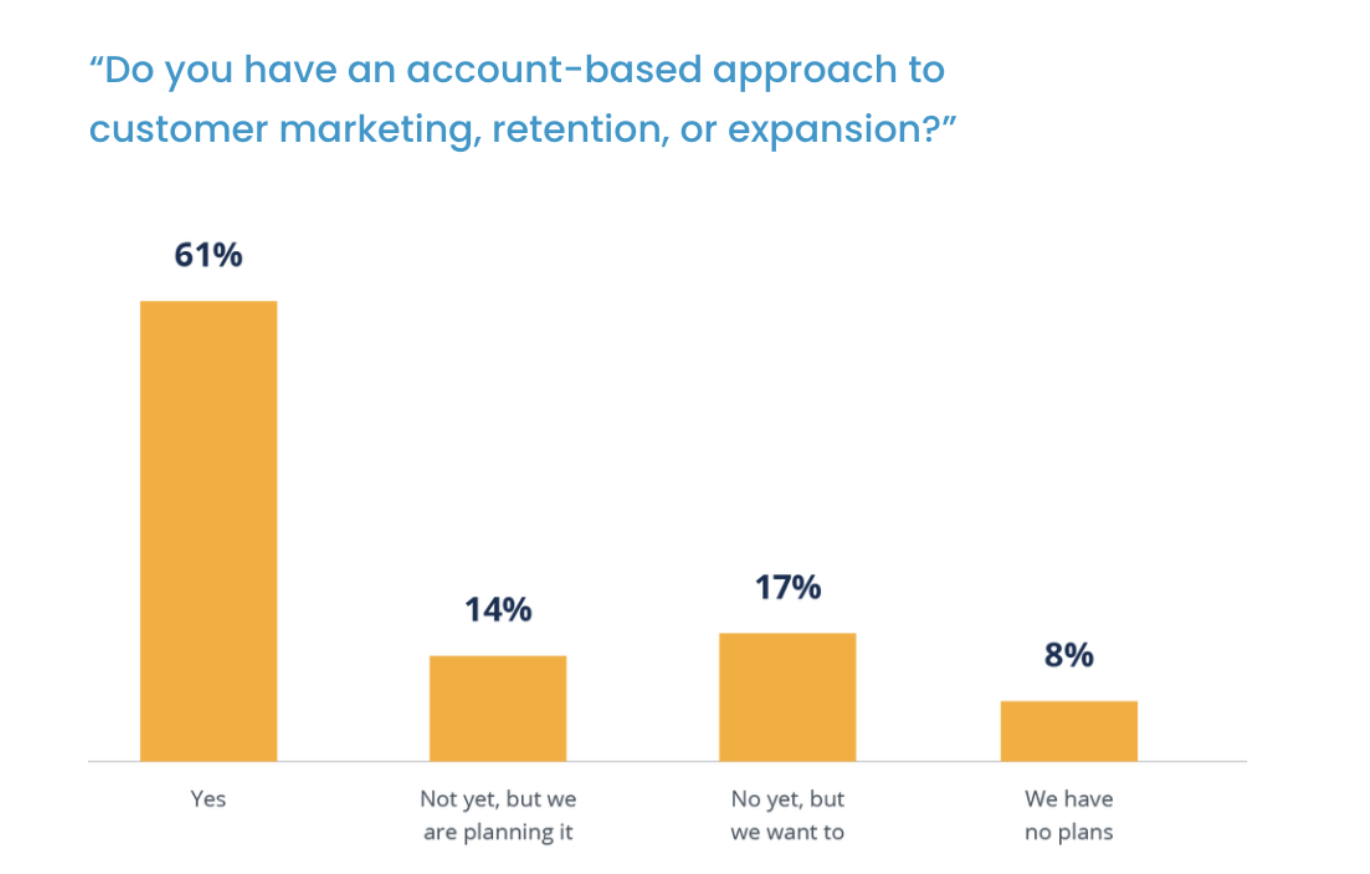 Image: Terminus

Continuing this same theme of client retention and how ABM positively impacts this, a report by Terminus/TOPO shows that 80% of marketers report improved customer lifetime values.

As sales and marketing professionals, we are always looking at ways to engage with our clients and prospects, build those important relationships, and be seen as a trusted partner.

A survey by Demandbase showed that 83% of marketers say ABM increases engagement with target accounts.

In fact, they go on to say that the number one benefit of ABM is account engagement - something that other types of B2B marketing strategies fail to achieve (to this level).
3. ABM makes sales and marketing sing in tune

Much has been written of the misalignment of sales and marketing. Sales is from Venus and Marketing is from Mars (or vice versa.), etc.

There are many reasons for this, but one thing is certain. ABM changes everything - there is one goal of ABM - winning, growing and retaining your most important accounts.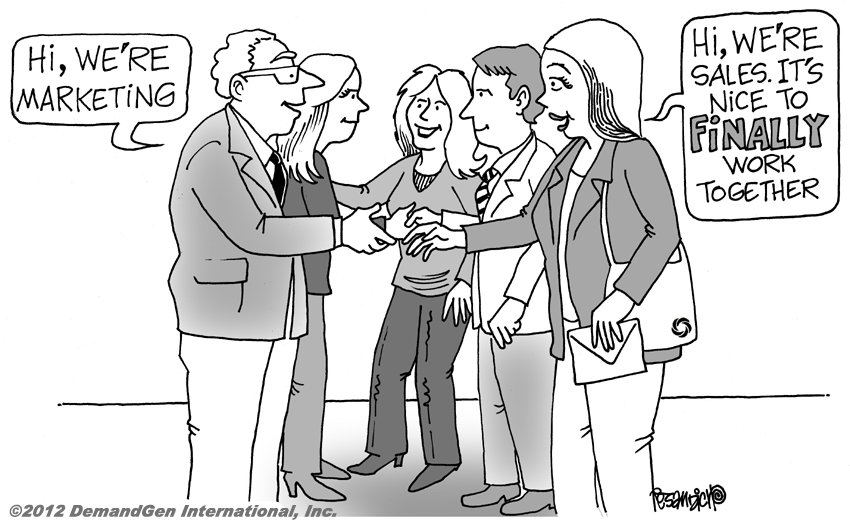 It's not about MQLs, SQLs or any other acronym marketing (or sales) can come up with. It's the language of Accounts and Revenue.

And the figures certainly back this up.

82% of B2B marketers said ABM greatly improves sales and marketing alignment (LinkedIn). As you can see from the graph below - the more aligned sales and marketing are, the more successful your ABM programme will be.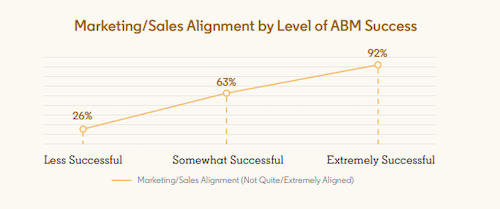 Image: LinkedIn

And that stat makes sense.

If you think about it in terms of any team sport - let's pick rowing - if you're not all in sync, putting in the same effort, focused on the same goals, speaking the same language, putting your cards on the table, celebrating successes and recognising the input (and impact) of every team member, then you will never be a successful rower.

With this alignment also comes efficiencies.

One criticism labelled at Marketing is the generation of leads that sales doesn't want or know what to do with.

The inherent inefficiency of generating leads that are not in the right accounts or do not meet your ICP generates much angst between sales and marketing teams.

ABM changes this. Marketo found that ABM delivers a 50% reduction in sales time wasted on unproductive prospecting.

Linked to this, research also shows another key benefit of ABM and sales and marketing alignment, with companies deploying ABM being 67% better at closing deals when they sync their sales and marketing teams. (Salesforce/Marketo)

This is significant and a game changer that ensures sales (and the wider business) buy-in to ABM programmes.
While we are not completely aligned yet, 70% of ABMers report complete/partial sales and marketing alignment (Demandbase).

FInally, when it comes to the all-important sales opportunities generated via Account-based Marketing, 20% of accounts targeted via ABM programmes go on to be qualified as sales opportunities (Terminus/TOPO).

Now you can see why sales and marketing alignment is so key to a successful ABM programme.
Want to continue learning more about the power of ABM? Why not check out our 'Let's talk ABM' interview series where I talk to many of the global thought leaders shaping ABM around the world.