What top-level considerations do effective Account-Based Marketing strategies need? To see long-term results, make sure your campaigns incorporate these 8 points.
Tips For Creating Effective Account-Based Marketing Campaigns
For campaigns that need to target a very specific audience, set of individuals or organisation, Account-Based Marketing (ABM), is one of the most effective B2B marketing strategies available today.
Also known as key account marketing, ABM is a highly personalised strategy that combines insight-driven marketing with sales to increase awareness, develop relationships and drive growth within specific high-value, high-propensity accounts.
Businesses abilities to leverage ABM have developed considerably over the last few years. But only those with a defined process, clear goals and reporting, and a precision focus on the Decision Making Unit will be positioned for success. - Alex Embling, MD Strategic Internet Consulting
Enabling you to reach, engage and build relationships with high yield individuals and organisations, ABM can work as a solid stand-alone tactic, but equally can integrate with, and support other marketing efforts. However, while abilities to leverage ABM have developed considerably over recent years, only organisations with a defined process will be positioned for success.
8 Tips For An Effective Account-Based Marketing Strategy
1. Define your target account criteria
In ABM, the goal is typically to progress awareness and engagement with the decision-makers in your target accounts. To do so, you must first define who those accounts and decision-makers are, as well as their attributes (revenue, location, size etc). Note that this can vary depending on your chosen ABM targeting criteria - for example, you might be targeting by vertical or industry rather than by specific decision maker.
Once you have a clear perspective on the accounts/verticals/individuals you're looking for, work to develop a shortlist of targets who fit those parameters, who you can start to raise awareness with.
2. Set campaign goals
What do you want your ABM campaign to achieve? ABM campaigns work to secure quality account relationships with those set target accounts - so KPIs and goals may differ slightly to those in a more traditional lead gen or nurture campaign.
As a result, ABM goals often include; quality account generation, account DMU (decision-making unit) contact increase, and revenue expansion within accounts. To stay on track, it's important to define what success will look like for your campaign from the outset; such as quality engagement or increased awareness within key accounts.
3. Review your ABM tech stack
Before you can begin a campaign, you need to have the right technology in place. For ABM today, advancements in tech make it easier than ever to track lead and customer data in detail, engage the right accounts via the right channels and personalise communications at scale.
Related:
So what should an effective ABM tech stack look like? At a basic level, ABM campaigns will need a CRM, marketing automation platform, CMS, ABM content promotion tools, and should leverage social channels for account engagement and expansion.
4. Develop relevant content
To engage a specific target account, your strategy must be highly personalised to resonate with their specific challenges and pain. This means that campaign messaging and content must be personalised and adapted to reflect that; from site copy to landing pages, social selling messages, to assets such as videos, guides and eBooks. Your level of insight into key accounts will help to inform the messaging and value to convey, and often the nature of the content and channels to prioritise.
For best success, make sure every interaction your account has with your messaging and content is relevant to them.
5. Consider your go-to-market approach
What level of ABM maturity has your organisation reached? Not all campaigns will jump straight to targeting specific individuals (a 1-to-1 approach). It's important to understand the level of insight and maturity your organisation has, to define the best ABM programme approach.
Related:
Your progress with sales and marketing and alignment, current ABM strategy and account selection process (if you have them), level of insight, content personalisation abilities and more will all impact the right go-to-market approach for your business.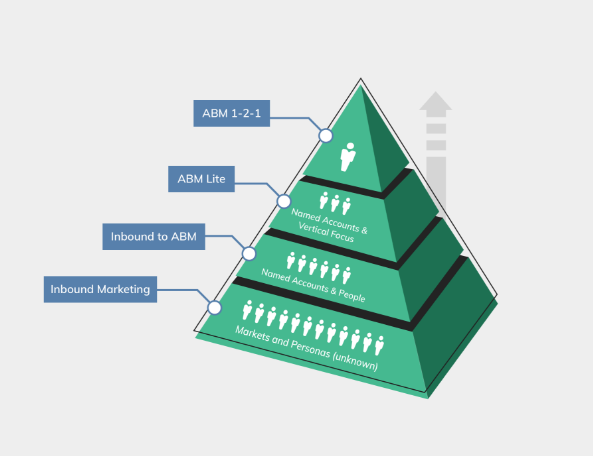 At the most ABM mature level, it's possible to target individuals 1 to 1. Below that, your campaign may focus targeting by account/company or by vertical. And below that, you may follow a persona-based approach, using an inbound campaign as a foundation to build into more precise ABM activity.
6. Make sure marketing and sales are aligned
The responsibilities between sales and marketing teams increasingly, cross over. Today, both teams need to work together to identify the best-fit targets and opportunities, and both must support the campaign throughout that customer lifecycle.
Related:
In ABM, both sales and marketing must have a clear idea of goals, target accounts, and activities required in order for campaigns to progress. Hold regular meetings with both departments, and make sure each team has clarity over responsibilities, insight and progress, for best results.
7. Review and report regularly
ABM can only be an effective, personalised marketing strategy and bring clear ROI if progress is monitored. There are a range of success criteria to keep in mind within ABM, for example;
Audience growth (particularly growth in account specific contacts)
Customer engagement
Customer perception
Value of marketing to sales
Revenue growth
Sales cycle length
Retention
Regularly monitoring these factors - and comparing them with non-ABM results and activity can all give an indication of ABM success.
8. Trial an ABM pilot
For those considering ABM, running a pilot campaign is an ideal way to showcase results, secure internal buy-in and marketing/sales alignment, and develop the process, insight foundation and resources required for a larger-scale campaign.
Related:
When integrated to support an Inbound strategy, Account-Based Marketing can play a key part in driving relevant, high-value opportunities, reducing churn and shortening B2B sales cycles. With 92% of marketers considering ABM to be extremely or very important to marketing efforts (Sirius Decisions), there's never been a better time to plan and implement your own campaign.