"With ABM always lead with Strategy. Get that right first and the rest (channel tactics, creatives, Martech, etc.) will all fall into place."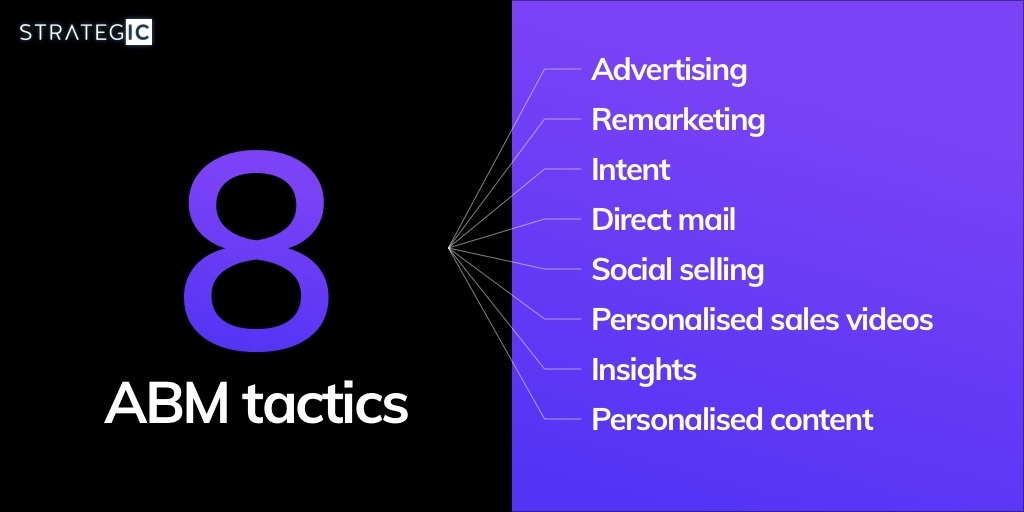 Account-based Marketing (ABM) is one of the hottest B2B marketing strategies of 2020. And rightly so. With marketing and sales under enormous pressure to deliver (and demonstrate) results, ABM offers zero-waste marketing with 91% of companies using ABM reporting an increase in average deal size.
ABM - Sounds new but is it?
While Account-based Marketing may be getting a lot of attention right now it is not new - far from it. It's been around in many shapes and guises for a number of years - be it as Key Account Management (KAM) or Client-centric Marketing (as conceived by Accenture back in 2002) before Bev Burgess coined the term ABM back in 2003.
Account-based Marketing can simply be defined as treating a single account as a market of one. Doing whatever it takes to win, grow and/or retain the account.
While this definition still holds true, technology now helps to identify, target and engage hundreds and even thousands of accounts - albeit with different levels of personalisation - from little to none with One-to-many ABM to significant with One-to-one ABM.
What remains core to any successful Account-based Marketing programme is that it's a joint effort - it's an orchestra - not a solo act.
While the conductor may be called Sales, Marketing, Growth or Revenue, ultimately, it's a business imperative. A strategic pivot. A new (and no turning back) way of seeking out, winning, growing and retaining your most valuable accounts.
ABM Tactics #Strategyfirst
With ABM always lead with Strategy. Get that right first and the rest (channel tactics, creatives, Martech, etc.) will all fall into place.
Once you have your strategy in place, there are numerous Account-based Marketing tactics that can be deployed and there is no definitive list. All will depend on:
The objective(s) of your ABM programme
Which type of ABM programme(s) you are running
Your industry
Your ICP
Your Target Accounts
Budget
Internal resources available
Sales resources available
Etc.
So let's take a look at some Account-based Marketing tactics that you can deploy. This is not an exhaustive list just some ideas of what we are finding is working.
1. Build awareness using targeted advertising
You don't need to wait for your audience to convert on a piece of content or sign up to one of your webinars (that's if you gate your content - a conversation for another day or another blog article) in order to target them.
There are now numerous platforms that allow you to serve up ads in front of only those accounts that are relevant to your business (and ABM programme) and nurture them with relevant content.
LinkedIn is the obvious choice here but there are other media platforms that are worth looking at.
Many of these platforms also allow you to personalise your ads to the name of the company and more.
Think through the ads, creatives, messaging and call-to-action carefully - what are you looking to achieve? Share a case study? Launch a new product? Provide a product overview? Promote an eBook? Offer a demo?
Check out the episode below of 'ABM in the House' where we talk about several Account-based Marketing tactics.



2. Remarketing (in a new way)
We're all familiar with remarketing. That little cookie that is placed on the machine of the visitor who has visited your website. While this is great and keeps your brand front and centre of that individual, we all know that ABM is different.
The A of ABM stands for Account! With ABM you need to influence many people within the Account - that's what Account-based Marketing is all about!.

The contact visiting your website may or may not be involved in the decision making process. You just don't know.

So feel free to remarket to this visitor but also review the Account, build out the decision making unit and remarket to the Account in a more strategic way using LinkedIn or other remarketing platforms.
3. Listen out for intent buying signals
Intent data has really come to the fore in the last few years and has certainly added an important data input to ABM.
Intent data shines a light on which Accounts are a) actively researching solutions you can provide and b) where they are in that buying journey.
Activating this intent data is key to delivering a zero-waste ABM programme and is often the real catalyst for true sales and marketing alignment.
We've seen a 70% uplift in conversions when true collaboration (from a marketing and sales perspective) leads to interaction with those decision-making units when the teams see and activate the intent data.
There are a number of intent data platforms out there on the market - from our personal favourite Cyance Nexus to Bombora or 6sense.
4. Direct mail and gifting
Direct mail has been around since - well since forever. But it's been transformed in recent years and is certainly a key tactic in any Account-based Marketing programme.
The numbers are equally compelling with a 30 times increase in response rate compared to email (Chief Marketer) and 57% of recipients feeling more valued when receiving mailed items (Royal Mail Marketreach).
We've seen a huge surge in the use of direct mail and gifting from our clients. To coin our Direct Mail partners, Reachdesk, this tactic "delivers the moments that matter...that accelerate sales opportunities and drive customer loyalty."
To learn more about Direct mail why not check out this interview our Agency CMO carried out with Alex Olley, C-founder of Reachdesk, our Direct Mail partner.
There are so many use cases here that you could deploy as part of your ABM strategy. The key is to not see Direct mail as a standalone tactic but rather to weave it into your overall ABM programme and think of the touch points and trigger signals that warrant that additional expense and higher level of personalisation.
Here's just a few direct mail and gifting tactics to get you thinking (many of which are valid for this COVID-era):
Personalised digital gifts
Job change gift
Virtual wine tastings for customers/prospects
Digital swag store
Discovery call/demo call voucher
Virtual lunch during sales meeting
Remember it's all about the context, relevance and timing. You should never lead with a direct mail play - the sending of it has to make sense and be part of a wider ABM initiative.
We've got a lot of ideas here to share so feel free to get in touch.
5. Social Selling
Social selling, digital selling, social engagement, etc. While it has many names it is often one of the most overlooked Account-based Marketing tactics but yet one of the most effective.
Social selling is harnessing the power, size and network of your employees' social media accounts (particularly LinkedIn) to actively build connections into your Target Accounts and actively engage with conversations that matter.
Importantly, Social Selling is not about blasting out your brand's content (of course you can share this but it should be more along the lines of the Pareto rule of 80:20 - 80% third-party content, 20% your brand's content).
Social Selling can be summarised as allowing your employees to publicly demonstrate the passion, insight, and experience that makes them the subject matter experts they are.
Why is this important? Being THERE (for B2B LinkedIn leads the way), having CONVERSATIONS, building RELATIONSHIPS - this ultimately creates TRUST.
This leads to CONVERSATIONS which spark INTEREST which leads to OPPORTUNITIES.
Social selling is often the missing Account-based Marketing tactic opening doors to the right people in the right Accounts.
Here are some interesting statistics to support this position:
78% of salespeople engaged in social selling outsell their peers who are not
31% of B2B professionals say that social selling has allowed them to build deeper relationships with clients
76% of B2B buyers are ready to have a social media conversation with potential vendors
92% of B2B buyers are willing to engage with a sales professional who is a known industry thought leader
84% of C-level executives use social media to make purchasing choices
Compelling stuff, right? So let's get started!
One word of warning. While the numbers clearly point to the reasons why you should include Social Selling as one of your Account-based Marketing tactics, you will come up against resistance from employees.
Here are the results of a snap poll I ran on LinkedIn recently. Albeit that the sample is small, the results are indicative of why your colleagues may be reticent to take part.
Our advice? Don't push. Get support from sales leaders, C-suite, individual sales reps. Show the teams what 'good' looks like. Run competitions to motivate them to take part. And always celebrate success.
6. Personalised sales videos (and more)
While the explosion of Martech has enabled ABM to be rolled out at scale to 100s or 1000s of accounts, personalisation still lies at the heart of any Account-based Marketing campaign.
We have found that deploying personalised videos as part of our engagement strategy delivers a significant increase in a) engagement and b) conversions.
As with any ABM tactic, the key is to not see personalised sales videos as a standalone tactic. It must be woven into your ABM engagement strategy.
Where does video fit? What's the message? The call to action? Think these things through and more. Test with a small group and see what works.
And the more?
We'd also recommend checking out LinkedIn voicemails. We've seen some great success using this channel. It's only available via the LinkedIn app (i.e. not on desktop).
Give it a whirl - you'll be pleasantly surprised!
7. Insights - Getting under the skin
One key difference between One-to-many and any kind of One-to-few or One-to-one ABM programme is the level of research that you're going to carry out.
We go into greater detail in this 'ABM in the House' video - worth watching.
While One-to-many targets dozens, 100s or even 1000s of Accounts at scale using technology to help to automate much of the process, One-to-few and One-to-one needs you to up that level of personalisation.
Account selection for One-to-few is key. The Accounts must have something in common. The same sector, vertical, business driver, pain, etc.
Something that unites them, something that allows you to understand them, get under their skin, speak their language, etc.
This is where Insights come in. Insights - be they at an Industry-level, Customer-level or Executive-level allow you to create a detailed picture that will inform your engagement strategy.
Where do you start? Well there is a lot of public information out there you can use - financial reports, investor reports and great sources such as Crunchbase, Zoominfo, G2, etc.
In our case, we then take this information and create much deeper Insights report to inform our clients' ABM strategy and provide invaluable content that can be used in our ABM programmes.
8. Get personal with content
As we have talked about earlier, personalisation increases as you progress with ABM and move from One-to-many to One-to-few to One-to-one.
Tools such as Webeo are great to personalise your web experience to the Account.
Equally, tools such as Turtl offer amazing insight and personalised journeys for your customers and prospects.
We also use HubSpot CMS to personalise the experience to individual visitors who are recognised contacts in HubSpot CRM.
We've found great success with personalised hubpages that are unique to each Target Account.
The example below is one we created to highlight the success of the ABM programme we run for Acxiom.
Here you take the content that you have collated - both first-party client content as well as third-party insights et al you have developed specifically, you distil it, you focus it, and you make it relevant for each individual account with insight reports, video interviews, whitepapers, case studies, deep content dives into particular issues that are relevant for that Target Account.