2020 proved to be a major moment of inflection for Account-based Marketing as it firmly established itself as a key strategy in the B2B Marketing arsenal.
ITSMA and the ABM Leadership Alliance's ABM benchmark study looks into this and more as it looks back on 2020, and ahead with Account-based Marketing trends for 2021; strategicabm CEO, Alex Embling outlines key findings from the study plus his own predictions for the year ahead.
In this article we explore:
Key takeaways from the 2020 ITSMA and ABM Leadership benchmark study
Why 2021 is set to be another year for ABM growth

How the pandemic impacted Account-based marketing tactics and strategies

Why account relationships are a key success metric

How much your ABM tech stack really matters

The value of blended ABM

The ABM landscape in 2020/21
2020 was a year like no other.
But even in the face of uncertainty, Account-based Marketing gained traction, with 61% of companies surveyed in 2020 having a full ABM program in place or in the midst of a pilot program.
And 2021 is set to be another year of growth, improvement and success for those organizations deploying Account-based Marketing as part of their B2B strategy.
How did 2020 impact ABM success?
2020 forced companies across verticals and specialisms - including tech - to adapt.
This has meant accelerating digital transformation, with a focus on building and nurturing relationships (digital or otherwise) with your most important prospects and accounts.
This is, of course, where ABM thrives.
Looking at the results of the fourth annual ITSMA/ABM Leadership Alliance ABM benchmark study, organizations saw measurable business improvement across the three key measurement areas of Relationships, Revenue, and Reputation.
All thanks to ABM.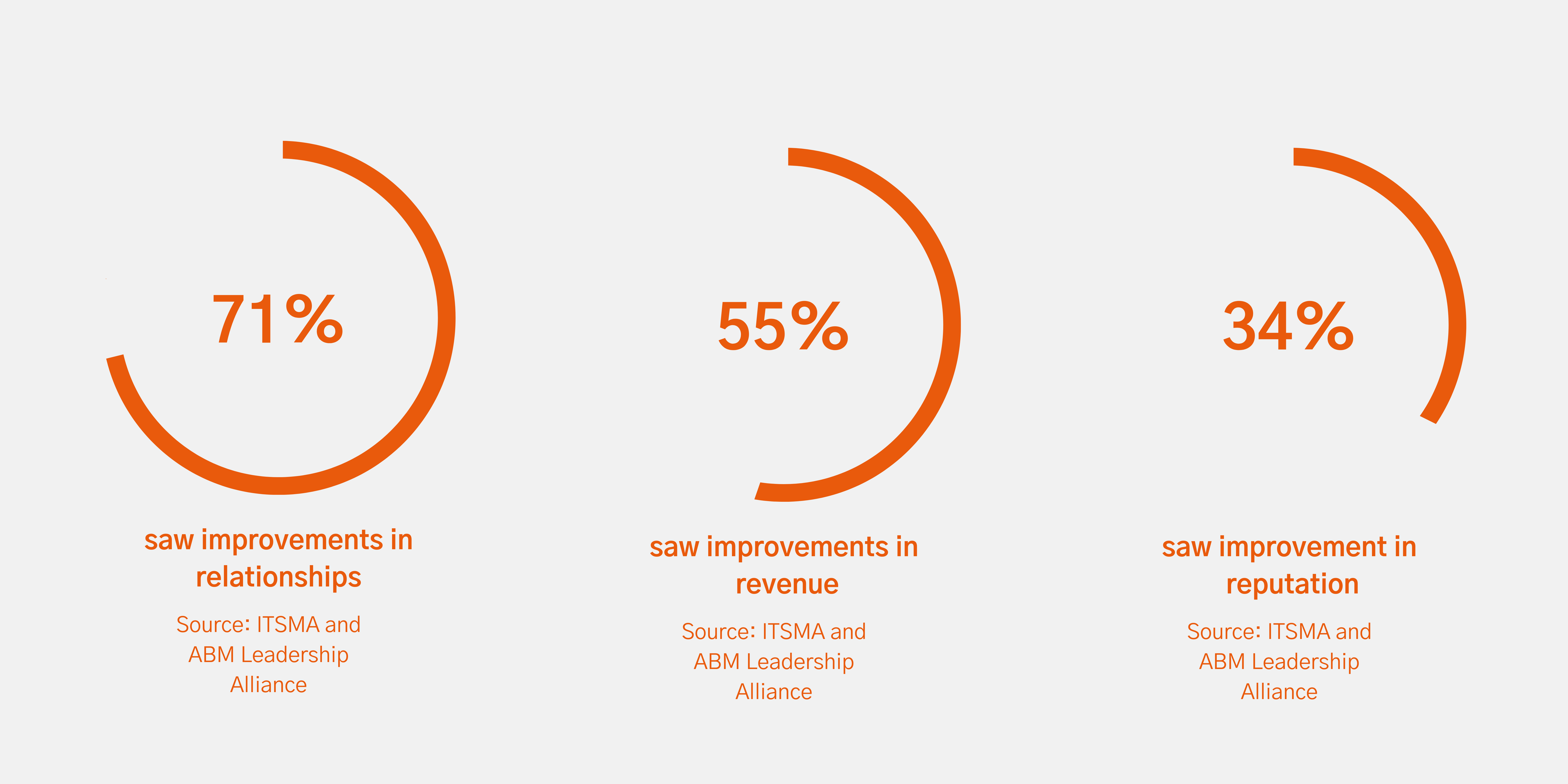 This is a trend we have also seen at strategicabm, with our clients seeing the impact of ABM on their sales pipeline.
Global data leaders, Acxiom continue to see sales pipeline grow from their blended Account-based Marketing program.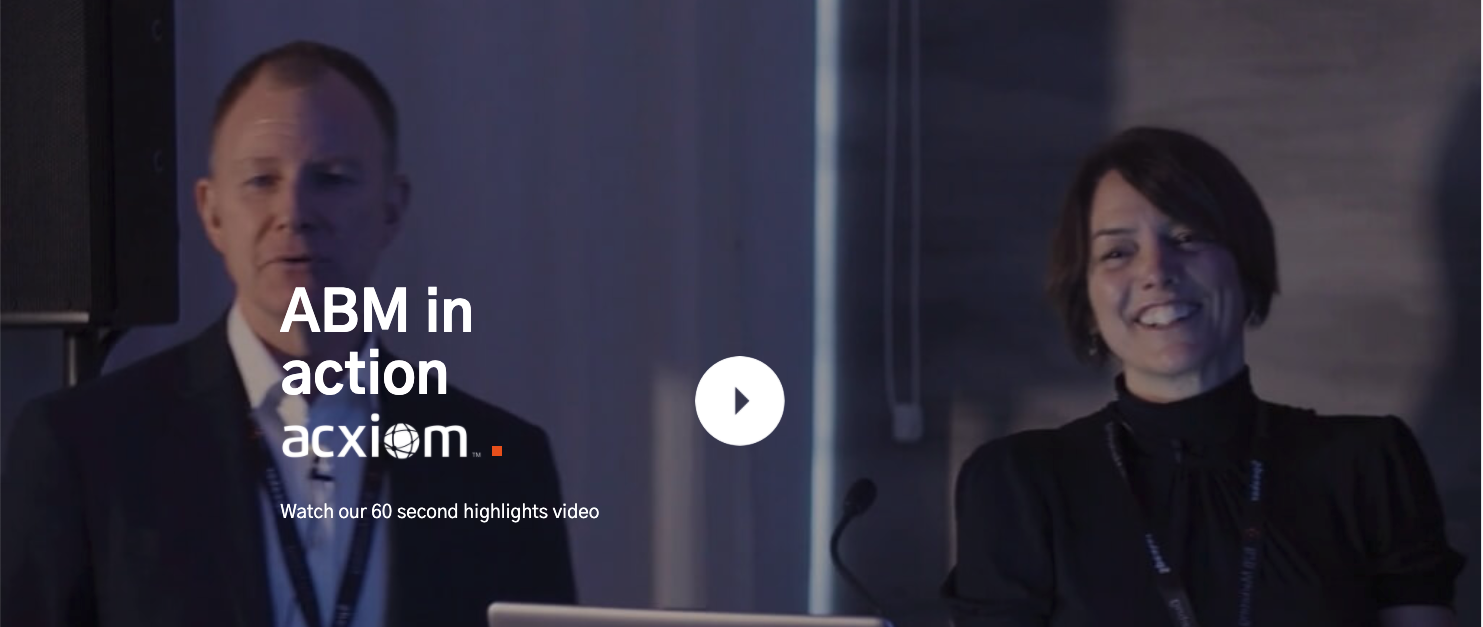 ABM focuses on building and nurturing relationships with Target accounts.
Now more than ever, your clients are seeking personalized and engaging interactions with your brand - making ABM the perfect approach.
How did the pandemic impact ABM tactics and strategies?
ABM practitioners had to adapt to change in 2020 - and fast.
According to ITSMA, tactics that saw growth over the past year included webinars/virtual events, direct mail, paid social and personalized content - dependent on the ABM program type.
But does this mean that ABM channel tactics have increased as a result of the pandemic?
Not necessarily.
With restrictions in place through 2020 on in-person interactions, it could be argued that ABM leaders today are using fewer, yet more refined channel tactics than before.
After all, we are forced to stay within the bounds of a pure-digital playbook - meaning no live events and no face-to-face meetings.
But regardless of channel tactics, one core awakening has been the need to be more and more personal, and to really get under the skin of your target accounts.
Dependent on the ABM program type, this means more personalization; using deeper account insights to build more specific content, and more relevant messaging for the particular account that you're targeting.
In 2021, generic content simply isn't going to cut it.
"It's less about the new tactics and more about getting into that account mindset and getting the message right" - Alex Embling, CEO of strategicabm
In competitive markets, an ABM strategy helps an organization stand out.
Any ABM program must start with a deep understanding of the target account, the environment in which they operate, their pain points, and much more.
The upheavals of the last year mean that more and more businesses are recognizing the importance of this.
But the impact of the pandemic doesn't stop there.
According to ITSMA, 42% of respondents reported changed business objectives since the pandemic, with 49% focusing more on growing business within existing accounts.
This means a greater focus on nurturing and expanding current relationships than starting new ones.
What were the key ABM challenges in 2020?
Unsurprisingly, 2020 created a host of challenges in B2B.
But some of these are not new to 2020. In fact, some have been ABM pains for quite some time.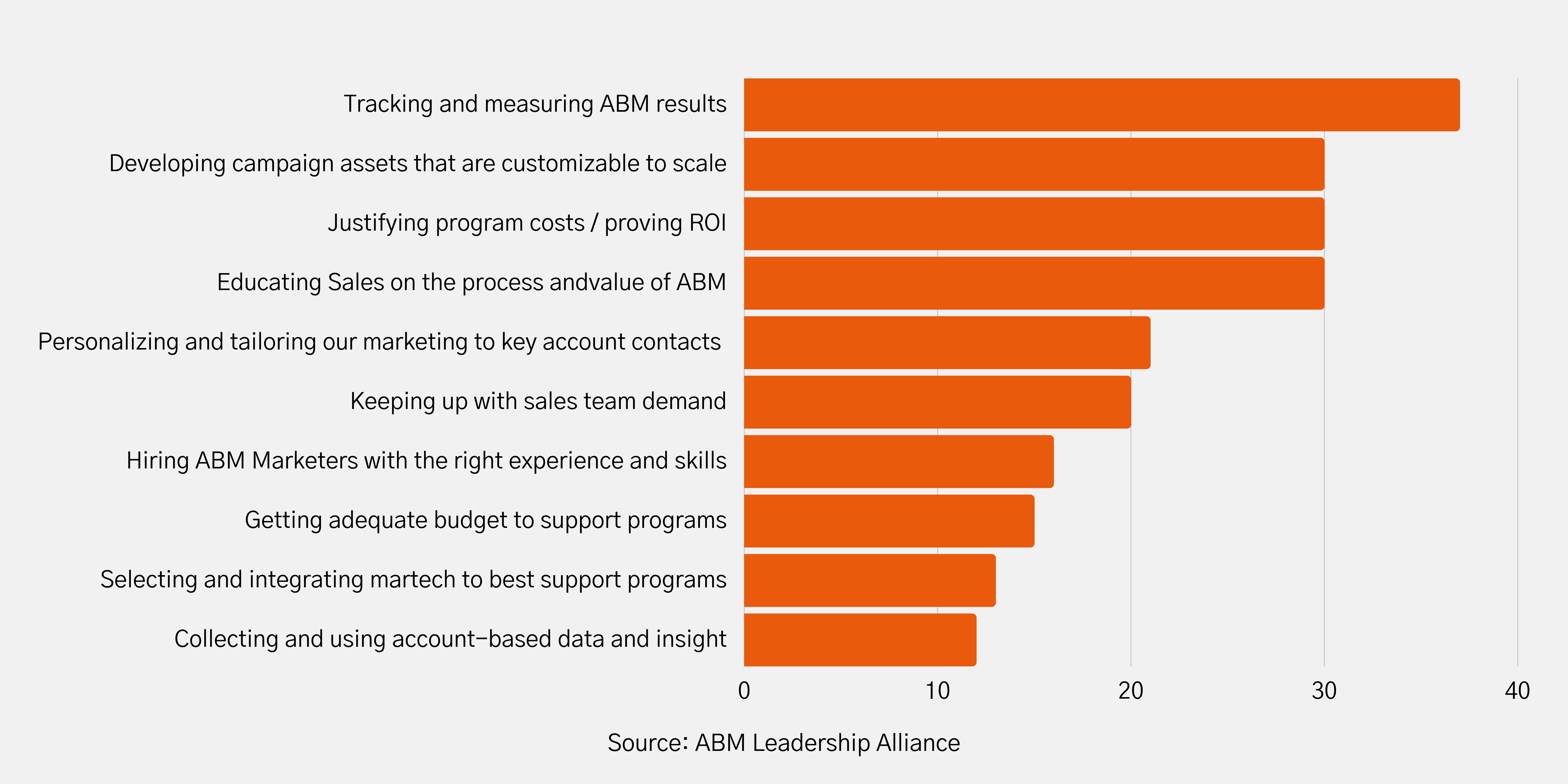 According to ITSMA, 37% of respondents cite tracking and measuring ABM results as a key challenge, whilst 30% report educating sales on the process and value of ABM as a leading difficulty.
Building a robust Account-based Marketing dashboard - shared by Sales and Marketing - is key in our opinion to accurately reporting (and sharing) the success of any ABM strategy.




But, looking to that main challenge - why is measuring the impact of ABM so hard for some organizations?
Simply put, because not every data source is measurable.
While some data sources - clicks, page views, form submissions, etc. are easily tracked, other data sources are less linear.
They (data sources) may be disconnected from your CRM - making it harder to gain an overarching view of performance.
Sometimes simply seeing a brand on social media is enough to raise awareness within an account and start to build reputation. And that kind of engagement can't always be tracked with data.
The key to overcoming this challenge lies in the three Rs: Relationships, Revenue and Reputation.
Sometimes quantitative data doesn't give us that 'whole' picture.
Taking a step back and looking at other factors, like the strength of your relationship with the account and your brand's reputation, forces you to look at the bigger picture.
How much does your tech stack really matter?
According to ITSMA and the ABM Leadership Alliance - a lot.
The most effective programs invest more in data, insight, and analytics.
And that's because without it, you have no hope of successfully engaging with your target accounts.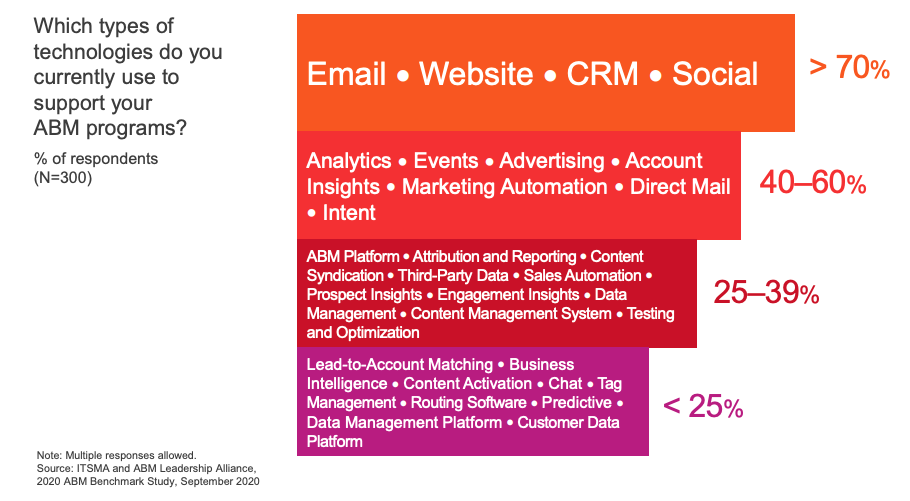 Despite the rapid acceleration of digital transformation in the past year, few organizations have a mature tech stack, with only 25-39% of respondents using tech such as content syndication, sales automation, third party data and attribution and reporting software.




Investing in the right technologies to support your ABM efforts is essential.
That's not to say that the more tech you have, the more successful you will be. It's more a case of having the right fundamentals in place that deliver value.
"Having a CRM that ties Sales and Marketing together is really important" - Alex Embling, CEO of strategicabm
A fully functioning (and ABM-ready) CRM is perhaps the most important piece of tech to have in place.
Without it, you have an incredibly limited view of campaign success, account insight, Sales and Marketing performance, and so on.




Over 70% of respondents to the ITSMA survey use a CRM.
Intent data is another ABM must-have.
In fact, it's listed as one of the top planned investments for 2021, along with third party data, content syndication and direct mail - among others.
By no means do you need to, or should you, spend hundreds of thousands on your tech stack straight off the bat.
But without the fundamental technologies in place to unlock that account insight, it's hard to achieve results.
What ABM approach should you adopt?
There are three key approaches to ABM:
One-to-one (also called Strategic ABM)

One-to-few (often called ABM Lite) 

One-to-many (sometimes referred to as Programmatic ABM) 

Of course, there is the elusive fourth option of adopting a blended approach. And for many businesses this is the favored option, as you get the best of both worlds.
In a blended ABM approach, businesses are able to combine that more personalized mindset found in One-to-one with an 'Always-on' air coverage.
And yet, according to ITSMA, only 36% of organizations surveyed are using a blended approach.
Here at the Agency, we very much advocate a blended approach.
The exact blend will depend on the strategic objectives of each organization, the accounts they are looking to target and the nature of their business.
We very much expect adoption of blended programs to only increase in 2021.
So why didn't more businesses in the 2020 report recognize the value of blended ABM?
Simply put, for organizations who are new to ABM, adopting more than one program type may be seen as a greater challenge.
"Hybrid approaches allow ABM-ers to cover more accounts with a lighter touch while continuing to go deep with subsets and near-term opportunities"
And looking ahead, ITSMA believes the most effective ABM programs are 13% more likely to adopt a blended ABM approach, with at least two types of ABM to balance breadth and depth of coverage across different accounts.
How important is account insight?
If there is one thing you take away from this report, it should be the undeniable importance of account insight.
With 63% of the most effective programs in 2020 relying on account insight to support their ABM efforts, it's clear that having access to account insight should be the number one priority in 2021.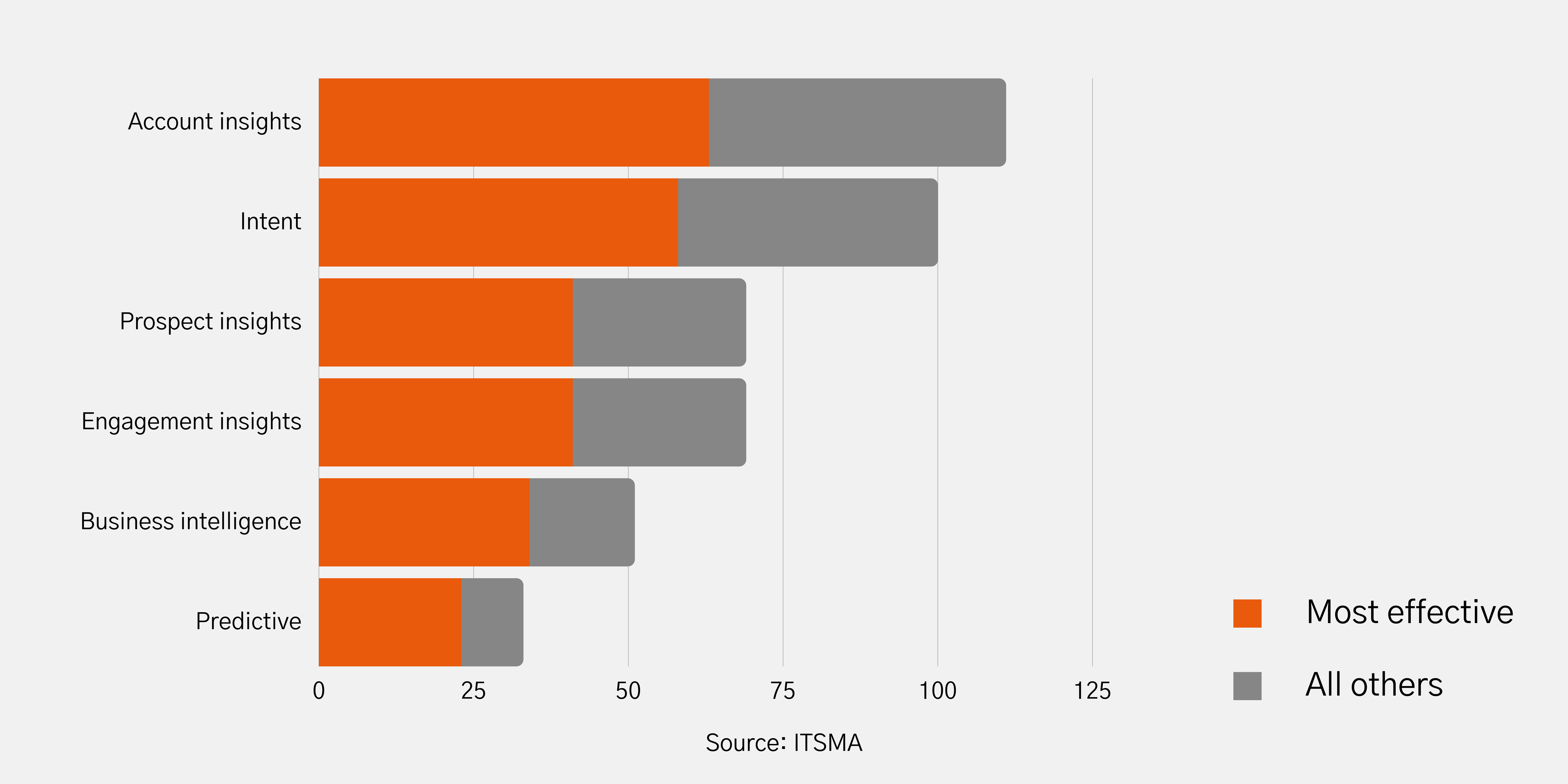 "Data and insight are the foundation for any decent campaign" - Alex Embling, CEO of strategicabm
Every step in the ABM process - from the accounts you target, to the messages you lead with, all the way through to the conversion - must be guided by an in-depth understanding of each unique account and the stakeholders within it.
If you hope to build lasting relationships with those accounts, you need to demonstrate that you empathize with them - understanding their pain points and challenges, and communicating in a personable way.


What metrics should you track?
Going back to those key challenges, it's no surprise that the majority of ABM teams state a struggle in tracking and measuring ABM success.
After all, ABM performance can't be summarized in any single metric.
Of course, there are a number of KPIs that all ABM practitioners should track - the most obvious being Return on Investment (ROI).
But is ROI the be-all-and-end-all?
According to the report, the most effective programs are up to 17% more likely to measure ROI as a key metric - and 76% of respondents report higher ROI with ABM than with other tactics.
To get the most complete picture of success, it's important to measure a range of Account-based Marketing metrics.
Key metrics reported on by ITSMA and the ABM Leadership Alliance include:
Pipeline growth (increase in sales funnel)
Revenue growth 

Engagement: Events, campaigns, meetings, opt-ins, web traffic, downloads

Return on the ABM account investment (ROI) 

Total revenue tied directly to ABM initiatives 

Win rate/number of deals closed

Another key metric to watch may also include deal velocity, as a shortened sales cycle is often a good indicator of effective deployment of your Account-based Marketing strategy.
And lastly, keep those 'three Rs' of ABM in mind at all times!
Key takeaways from the report
2020 was by no means an easy year, but it was certainly a time for growth and development in ABM.
And as we look to 2021, key takeaways to bring into your activities include:
Deepen your account insight. You need to get to know your accounts and their pain points before trying to build a relationship. 

Build a blended strategy. If you want to really reap the rewards of ABM, you need to expand and develop your strategy. 

Invest in metrics. More metrics isn't always better. But having fewer metrics in line with your objectives could be the secret to a more accurate view of performance.

Enhance personalization. It is ultimately the key to successful messaging.

Be agile. In a fast-paced landscape, it's imperative to be prepared for the future and consistently evolve to meet shifting demands.

Take a look at the full ITSMA report if you want to find out more about the year ahead for ABM.