How can HubSpot Sales software modernise the sales process - and what benefits can be achieved?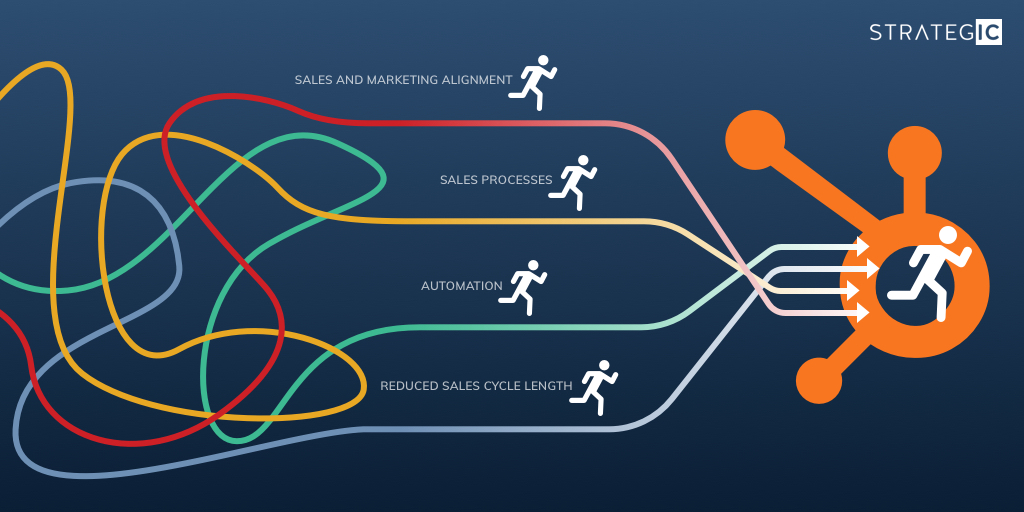 Why Digitise and Streamline Your Sales Process?
Technology, automation and digitisation are changing processes - and buyer journeys - across all industries, verticals and markets, including B2B sales and marketing.
Inundated with channels, platforms, pitches and digital choice, today's prospects expect relevant, resonant brand engagements that add value at the right times, in the right places when they're in-market for solutions.
To keep up with those expectations, it has never been more important for modern B2B sales teams to implement the right supporting sales technology.
HubSpot Sales Tools can help teams to do just that, providing the automation and features needed to align sales and marketing activity, implement an effective sales enablement process, shorten the sales cycle, drive value - and streamline activity across the business.
Below are 4 benefits of modernising your process via HubSpot's Sales software, which can advance not only your sales team's sales process - but the wider business as well.
Streamline Sales, Automation, Personalisation: 4 Benefits of Using HubSpot Sales
1. Enable greater sales and marketing alignment
The HubSpot Sales suite does not exist in a vacuum. It sits alongside and integrates with HubSpot's Marketing and CRM platforms, and deliberately so.
To achieve true modern sales enablement, the right technology to support sales and marketing alignment is a must. Both sides of the business must be able to have regular, frank and documented discussions, to inform strategies and develop a deep understanding of the buyer. And as a result of having effective alignment in place, sales teams gain the marketing support they need - in the right places, and at the right times - to streamline the sales process, engage more effectively, and speed up the buyer's journey through greater added value.
Related:
The HubSpot Sales platform unlocks sales and marketing alignment, and sales enablement in multiple ways:
Features, such as the CRM, allow both sides of the business to make contact record notes, share actions and more. The HubSpot CRM also gives clarity to track deals won, lost, and in progress - and see which reps are top performers (and why).
HubSpot Sales Dashboards ensure both sales and marketing are equipped with the insights they need to align.
Teams can see clarity over everything from documents to marketing/sales handovers to customisable reporting dashboards. This ensures everyone in the organisation can get an instant understanding of progress and status.
APIs and integrations provided from the HubSpot Apps Marketplace extend capabilities in numerous ways, such as org chart development (image below).

2. Unlock digitised, personalised - and human - sales processes
Digitisation and personalisation are key elements of effective sales and marketing.
Of course, there's more to digitising the sales process than recording contact details in a spreadsheet! For true advantage, teams need a digital sales platform in place that removes siloed processes and information - instead enabling clarity and process automation across the sales team.
With a digital sales platform in place, teams gain access to the tools and methodology for a true inbound sales approach - and a greater understanding of individual prospects.
This is the first step in advocating greater personalisation of sales content at a 1:1 level. For teams conducting ABM campaigns, or who recognise that buyers increasingly expect personalised engagement, the ability to understand prospects, then customise accordingly, is increasingly valuable.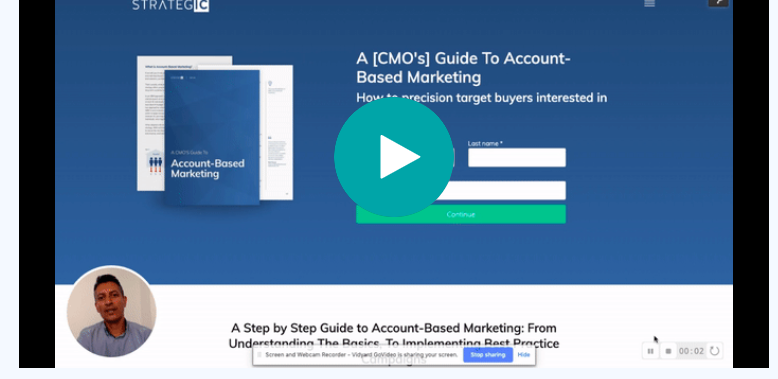 HubSpot sales tools help teams become more productive and data-driven by providing tech for a structured sales process, particularly in the early lead follow up stages.

Tools such as email sequences, email tracking, email templates, live chat, sales automation, document personalisation and more, enable the digitisation of the sales process, for greater productivity, in-depth analytics - and more human interaction.

A key example of this is HubSpot's video integration with Vidyard; enabling individual sales reps to create and incorporate personalised video at scale in their process. With use cases from helping to generate early-stage sales conversations, to personalised follow up and more, that video element creates stand-out, human content in an easily digestible format - crucial when expanding the relationship with a busy decision maker.

Related:
"You can see who visits your website in real time, how often they visit, and which pages they're most interested in. To keep these prospects from slipping through the cracks, draft a sequence of personalised emails and reminders, set a delivery schedule, and then each follow-up will hit their inbox automatically."
3. Free up sales teams with automation for greater performance and focus on value
By digitising the basic elements of sales process with effective sales software, the wider team can realise a number of productivity and performance benefits.
Using workflows to automate manual, time-consuming tasks (such as rotating leads, creating deals and tasks), sales automation - enabling templates, sequences workflow automation and more - reduces the burden on the sales team, and unlocks more time to focus on adding value.
HubSpot's automation and clarity of shared data can also improve sales team performance at all levels. Equipped with insight into the best performing email templates, CTAs, documents and more, low performers can boost their results - while automation reduces the burden on high performers, and provides them with more time to focus on selling.
By providing the basic frameworks, through templates automation and more, the sales team can not only free up time, but have the ability to add personalisation elements for each contact at every step of the journey. From videos to email messaging, that personalisation of every interaction builds human engagement that help make the difference.
4. Reduce sales cycle length with optimised process (& value)
With the alignment, digitisation and automation that the right sales software provides, the resulting process optimisation can enable a substantial reduction in sales cycle length.
As an example, one Strategic IC client used HubSpot Sales Software to align Inbound Marketing and Sales teams, and develop an effective sales enablement process - and as a result, reduced their sales cycle by c.50%, from 6 to 2-3 months.
A result of the right platform, process and support and by enabling sales to align better with marketing activity across HubSpot, the sales team could create a more persona-centric sales strategy which put an in-depth understanding of the buyer first.
Implementing sequences optimisation, deal reviews, HubSpot hosted content assets, and the HubSpot Sales Dashboard, both sides of the business could share clarity on everything from goals to lead focus and intelligence - driving faster, more relevant sales engagement with the right leads.