Sales is from Mars and Marketing is from Venus. You hear this a lot, right?
Two teams that should be working together but are not.
That may have been the case a few years back, but it's safe to say that things are very much different now.
I'm not claiming that we've reached nirvana, but the numbers now tell a great story of many Sales and Marketing leaders working much closer together - one team - to achieve the commercial goals of their organization.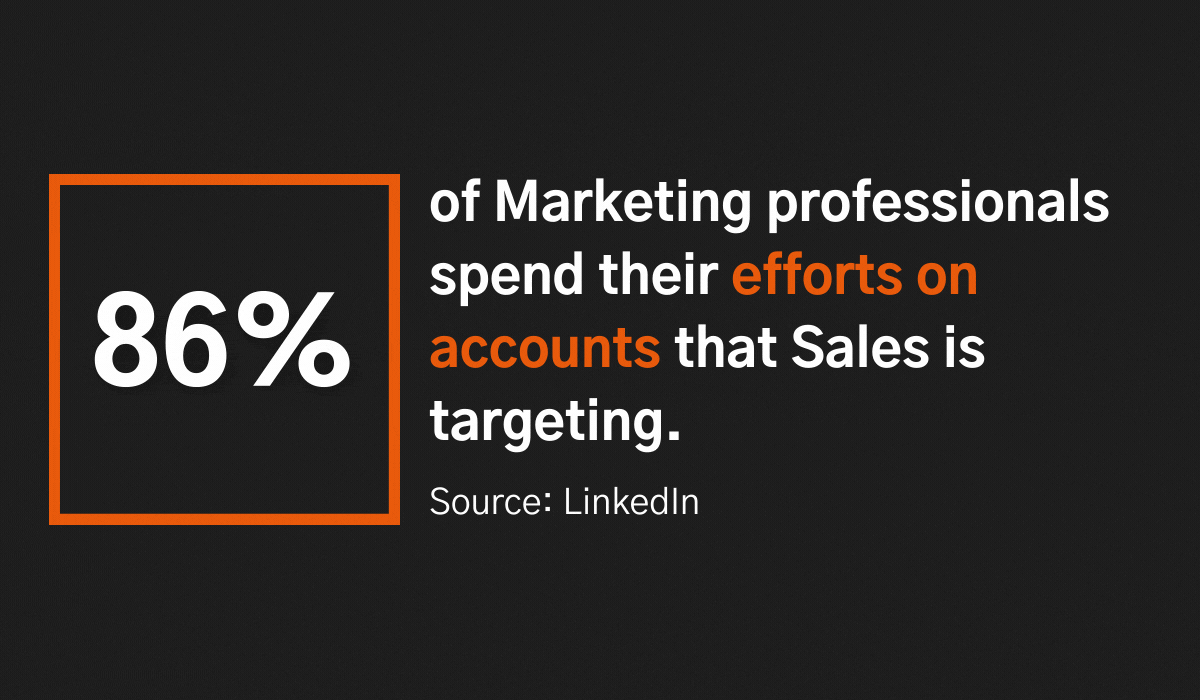 This is certainly the case with Account-based Marketing.
No other commercial strategy requires Sales and Marketing teams to come together under one banner - the banner of accounts.
No other strategy requires both teams to speak the same language - the language of accounts.
No other strategy requires both teams to create a unified dashboard - to track account engagement.
In the latest episode of Let's talk ABM, I spoke to Alessandra Possamai, ABM Manager at Shutterstock, about her ABM strategy and her very unique relationship with Sales.
In the interview (full recording here), we discussed:
How alignment with Sales moves the ABM dial

Why the account experience lies at the heart of an ABM strategy

What are some of the hardest parts of ABM

Advice on how to succeed at Account-based Marketing

Let's take a look at some of Alessandra's top tips:
6 steps to Sales and Marketing alignment
1. Sales' priorities are your priorities
Us Marketers are all guilty of putting Sales teams' priorities behind our own. But this is foolish.
There are many definitions of Marketing, but the one that I adhere to the most is that our job is to make Sales' job easier.
If that is the case, then our focus should be on understanding the priorities of our Sales colleagues and aligning our priorities with theirs.
This is very much the case with the ABM strategy at Shutterstock, where Alessandra has developed a deep alignment with her Sales colleagues.
"Sales' priorities are my priorities, and regardless of organizational structure that should really be the mentality of any ABM Marketer or just Marketer in general. It's moving beyond just seeing Sales as your customer and really embracing them as your partner and really meaning it." - Alessandra Possamai, ABM Manager at Shutterstock
2. Involve Sales in the entire ABM strategy
You know the scenario.
You've worked hard on a new campaign, a new strategy, or a new piece of content.
Then you call a meeting with Sales or send it to them via email or drop it into Slack.
Results? It sinks...
Why? Because it means nothing to them. They invariably didn't ask for it. It's not relevant to what they are doing. 

They don't see how it's going to help them win or grow their accounts.
With ABM - there is no choice. Either your Sales colleagues are involved from the outset or the ABM strategy will not be successful.

Practically, this means involving Sales teams at every step; from initial ICP, to account selection, to insights development, to value proposition input, to account experience, and more.
As a Marketer, it's important to set aside time for regular alignment meetings with Sales - whether weekly, bi-weekly, or monthly - to give teams an opportunity to collaborate, build a tighter-knit culture, and deepen your organization's account understanding.
"There really is no limit to how close that collaboration can become" - Alessandra Possamai, ABM Manager at Shutterstock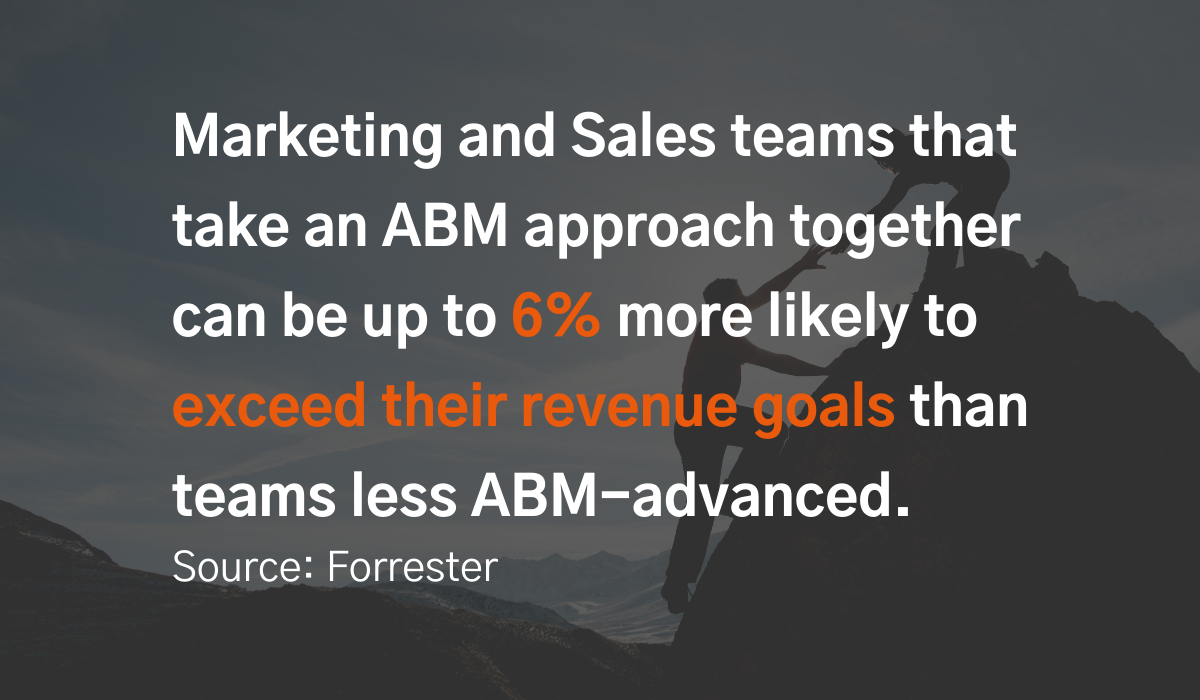 3. Build a joint ROI dashboard with Sales
Another area where ABM drives that close alignment between Sales and Marketing is metrics.
Where previously each team would build their own dashboard, (think MQLs, SQLs, impressions, CTR, etc. for Marketing and Pipeline, Revenue, etc. for Sales) ABM requires a joint reporting dashboard to view and track the entire buying journey.
The Shutterstock ABM program is firmly focused on reporting (and delivering) on what matters most with an Account-based Marketing strategy - Revenue.

"In terms of what we define as success, it's not too different from other ABM programs in terms of the traditional ABM funnel that we measure. There's always going to be number of engaged accounts, meetings, pipeline, bookings, etc. Where I think the difference lies is that emphasis on the bottom of the funnel, and driving revenue" - Alessandra Possamai, ABM Manager at Shutterstock
4. Ensure Sales see ABM as a 'need-to-have'
There is nothing like success to breed more success.
You could equally argue that trust is one of the most important elements of any relationship.
Building that trust with your Sales colleagues and showing them how you can help them win and grow accounts builds that trust and delivers that success.
"Since inception to this point it's been super, super fun for me to see that evolution and ABM has truly become something that Sales used to see as a 'nice to have'. And it's more and more becoming a 'need to have'." - Alessandra Possamai, ABM Manager at Shutterstock
We've seen it time and time again with Let's talk ABM guests, including Alessandra, where taking the time to build those important relationships and helping Sales to achieve their goals makes Marketing and ABM no longer a 'nice-to-have' but a 'must-have'.
5. Focus on the account experience
Once all the building blocks are in place (ICP, account selection, insights, value proposition, etc.) it's now time to focus on the account experience. The journey that you want the account to go through (and experience) from initial awareness through to commit.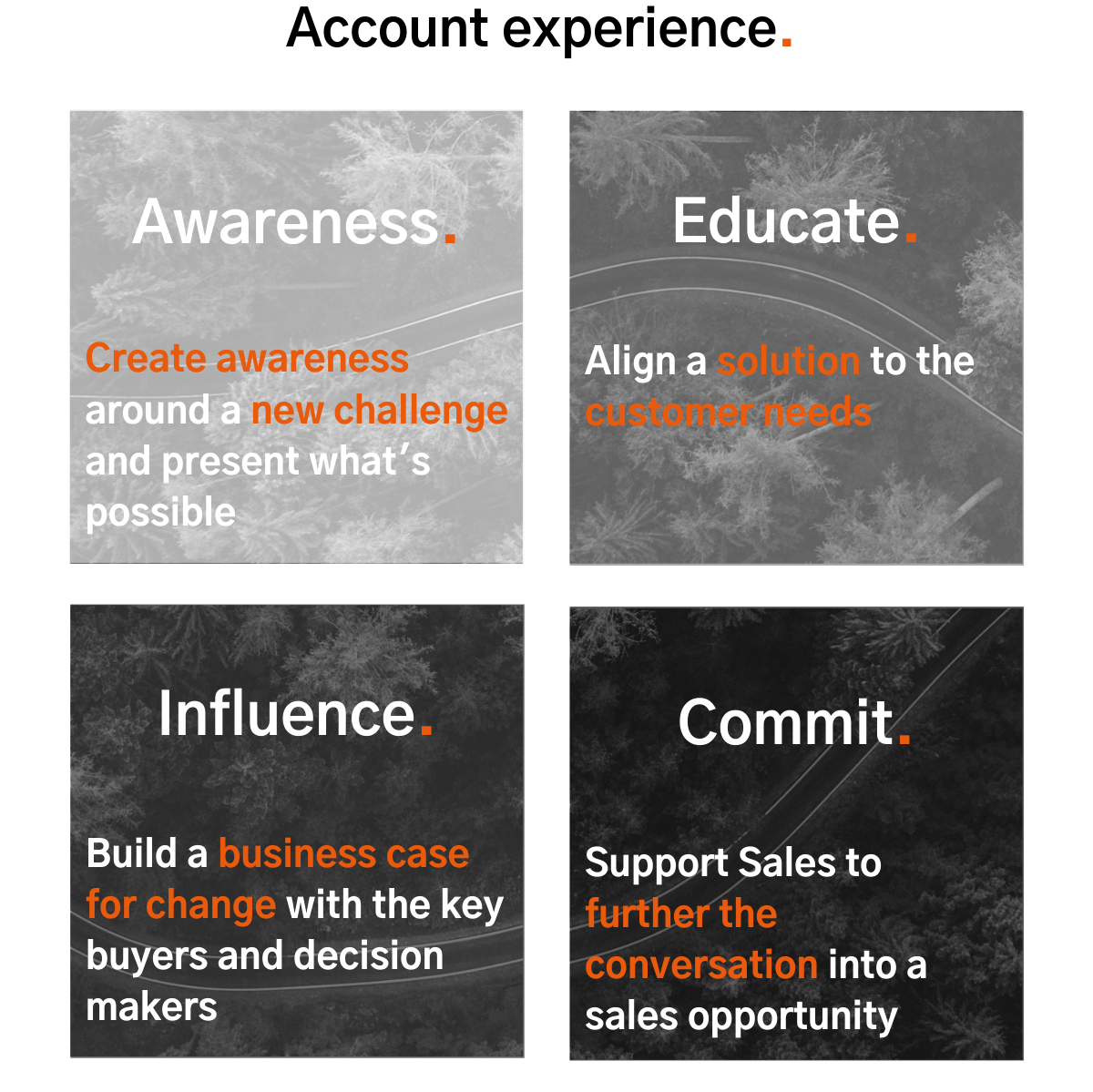 Alessandra and her team at Shutterstock invest significant time into making sure that this experience is relevant, personalized, and meets the pain points that the target accounts are facing.
Your Sales colleagues should be involved in this account experience, validating the messaging, road testing the experience, and providing that invaluable (and direct) feedback from the customer or prospect.
"Where I spend the majority of my time is truly on account experience. And I think if you are doing ABM right, this is where you're spending a lot of your time" - Alessandra Possamai, ABM Manager at Shutterstock

6. Make sure you get your message across
Communication is key.
Whether you're asking for input on a campaign, discussing performance, or sharing small victories and learnings - communication is vital to a healthy Marketing-Sales relationship.

That communication goes both ways. As much as Marketing needs to be transparent with Sales, your salespeople need to do the same. Share successes, give input, and don't be afraid to give your Marketing peers advice when it comes to creating an account experience.
It's not Marketing vs. Sales. It's all about creating that experience for your accounts as a brand.
"I think it's important to remember that this isn't a Marketing centric journey. You really want to make sure that Sales is there by your side. And again, weaved throughout that whole entire process because I'll tell you this, their buy-in is truly integral to a long lasting ABM success" - Alessandra Possamai, ABM Manager at Shutterstock
Let's talk ABM
Alignment is one of many key steps to unlocking ABM success.
Ready to unlock some more invaluable insights?
Check out more Let's talk ABM interviews with Account-based Marketing thought leaders.