By now, every marketer in the B2B Marketer has heard of ABM. You may not be doing it, but you certainly know what it is and some of the use cases for an Account-based Marketing strategy.
We tend to find that most B2B Marketers fall into one of three camps - not started (and possibly thinking about ABM), just started, and finally, ABM strategy well in progress.
Getting it right - or just getting started - can be daunting - but it shouldn't be.
So where should you begin when developing and launching an ABM strategy?
In this episode of Let's talk ABM, we interviewed Nick Bennett, Director of Field Marketing, North America at Logz.io, about getting started with ABM.
In the interview (full recording here) we covered:
Why Logz.io launched an ABM strategy
What challenges they have faced
What the future looks like for Logz.io
Why Social Selling is so important for Nick Bennett
Here's a summary of the key points that we discussed during the interview.
7 tips for getting started with ABM
1. Prioritize where you spend your time
The key to successful ABM is knowing your audience and then personalizing your approach accordingly.


For instance, if you know that your audience doesn't react well to heavy sales pitches, you should adapt your messaging so that it is more focused on their pain points rather than your product or solution.
And this is where ABM can really help you decide where to prioritize your time.
"ABM kind of came to mind as, okay, if we can serve up personal and optimized ads and just different programs that are meant for this type of ICP, we would see, usually, like a 26% larger deal size, 32% faster average time to close" - Nick Bennet, Director of Field Marketing, North America at Logz.io
ABM doesn't work around the old 'spray and pray' approach. It requires a lot more insight, data, and targeting to see true results.
And with this level of insight, you can determine what areas of your program need more investment - whether that's your Sales team, your content and messaging, or even your Accounts team.
2. Get the SDR team onboard
ABM will never work if your teams are not aligned.
And whilst your SDR team may not be used to getting involved with account-level prospecting, the success of your program depends on it.
Your Sales team will have access to certain insights that are simply unreachable by your Marketing team. Sales are on the front line - they see everything up close, and because of that, they are likely to have a better understanding of the account than anyone.
So take advantage of that!
You need to consider that, for your SDR team, suddenly switching from lead-level to account-level prospecting won't necessarily come easily.
"I didn't realize how much needed to go into the back-end process within Salesforce for distribution. It was a lot of moving pieces that I needed Sales Ops for" - Nick Bennet, Director of Field Marketing, North America at Logz.io
So in order to make the transition smoother, consider investing in some supporting tech like Salesforce to give them that wider account view and insight.
3. Focus on creating personalized outreach
Personalization is at the heart of a successful ABM program.
So it only seems right that one of your main priorities should be creating personalized and engaging outreach.
"With ABM, if you're not personalising, then you're not going to really get anywhere, and at that point, what's the point of running an ABM program?" - Nick Bennet, Director of Field Marketing, North America at Logz.io
This goes beyond your content creation and hero assets. You also need to be educating your Sales teams on the importance of a personalized sales sequence.
That personal outreach from your Sales reps is what will ultimately decide whether a lead closes or not.
Because, as much as it hurts to admit, customers don't care about your product or solution. They care about themselves, their businesses and their challenges.
So it's your job to appeal to how you can help them. Lead with their pain points and make that the focus, not your solution.
4. Put training and processes in place at the outset
There's no question that launching an ABM program is a long and sometimes grueling process.
This is why it's imperative that you've established the training and processes needed before you get too stuck into the technicalities of ABM.
These foundations will support your program as it progresses and grows, and will also mean you have one less thing to worry about further down the line.
This also means having the necessary tech and platforms in place before you get too stuck in.
The last thing you want is to have to pause your program so you can build up and develop your dashboards, or get training on a new piece of tech that you're bringing into the organization.
"If I was going to do this again, I would have everything built out beforehand, make sure that training was well-established beforehand so that it was more check-in points versus doing a lot of in-depth training when you're trying to launch everything all at once" - Nick Bennet, Director of Field Marketing, North America at Logz.io
It's just a case of making the process as smooth and easy as possible for yourself. If you can have everything in order and ready before you start with the complex stuff, why wouldn't you?
5. Get input from other departments
We've said it once and we'll say it again - alignment is everything.
But this doesn't just mean getting your teams to collaborate and communicate. It also means accepting that some departments are more suited to certain jobs than others.
After all, salespeople don't have the same skills as marketers, and vice versa.
And that's just as well, because if they did, ABM would never work! Account-based programs rely on that variety of insight and skills to thrive.
So let your teams do what they do best.
"I actually had a talk with my VP of Sales and he was saying 'don't ever let me tell you how to do your job as a marketer, even knowing I'm the VP of Sales', he's like, 'that's not my world. You know it better than I do'" - Nick Bennet, Director of Field Marketing, North America at Logz.io
A huge part of getting that alignment is about respect. And if your teams can't respect each other's input and advice, then you are destined to be stuck in one place, never moving or evolving.
You need to encourage input from every department because everyone has something to offer.
It doesn't matter where they work in terms of the funnel - you can be involved in the retention of accounts or the pursuit of new leads - you need everyone's input to really harness that three-dimensional view.
6. Spend time developing your ICP
Your Ideal Customer Profile (ICP) is one of the many foundational pillars that prop up your entire ABM strategy.

So it's imperative that you get this part right!
Your ICP will inform who you target, your messaging, the platforms you use to reach your audience, and so much more throughout your ABM program.
So make sure you have a thorough ICP that you can use to base your messaging around.
After all, this is where you will get the foundational knowledge about your account's pain points, interests, and main challenges, and you can use this to your advantage!
"We've spent a lot of time on what our ICP actually looks like. And then what are the segments that truly matter where we think we can make a difference" - Nick Bennet, Director of Field Marketing, North America at Logz.io
7. Use LinkedIn to build your personal brand
LinkedIn is like your secret weapon. Use it correctly, and your ABM efforts will most certainly pay off.
With 94% of B2B marketers using LinkedIn as a content distribution channel, this is most definitely a platform that you will want to leverage as an ABMer.
Marketing has evolved beyond billboards and newspaper ads. We are now in a digital age, and the most successful Marketing meets their audience where they are.
And that's where social media platforms like LinkedIn come into play.
It's not just about sharing your organization's content. It's about building your personal brand and establishing yourself as a thought leader within your industry.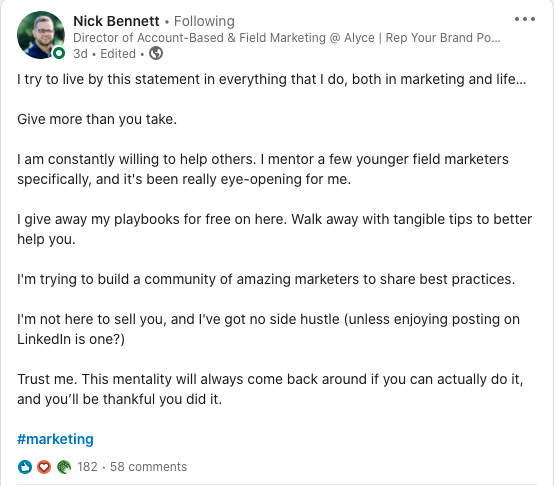 You'll quickly find that LinkedIn opens doors for you that no other platform can open. And that's because it has transformed into a platform of knowledge-sharing and industry experts.
"If you can find what your niche is, and stick to it, then you can develop a nice little audience for yourself that will really help, and then it'll come back to consistency. And if you're not posting at least like two to three times a week, you just get buried in everything else" - Nick Bennet, Director of Field Marketing, North America at Logz.io
By connecting and engaging with industry leaders in your field of expertise, you'll soon find that you're reaching a relevant and widespread audience that is perfectly suited to your organization.
And that's when the opportunities start flooding in.
You can learn more about all things Account-based in our Let's talk ABM webinar series, where we hear the latest insights from leading ABM experts.