ABM is just good marketing without Sales alignment.
There, we've said it.
The one thing that we have learned with dozens and dozens of client ABM programs is that the ones that succeed most, the ones that outperform others, the ones that really move the dial - have all one thing in common.
A deep alignment between Sales and Marketing - right from the outset.
We know the stereotypes - Sales is from Mars and Marketing is from Venus or vice versa.
This remains true, on the whole with at least 25% of Sales and Marketing teams continuing to operate as independent, siloed departments. (I'd argue this number underestimates the problem).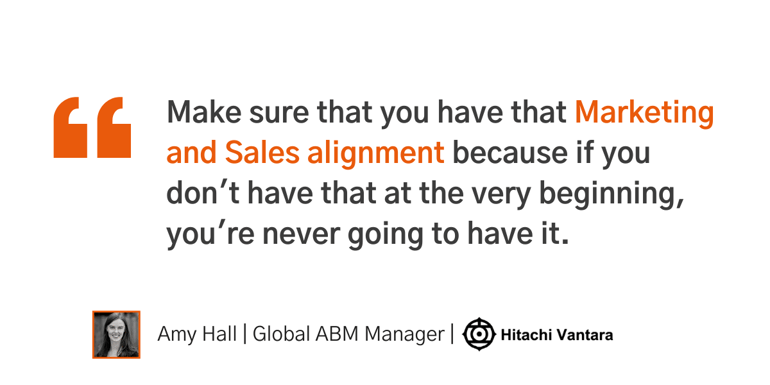 Why? Because there has been no 'North Star' to unite these two teams (and let's be honest, the entire organization) behind.
Account-based Marketing is that North Star. The North Star of Accounts.
A singular, focused obsession on doing the possible (and the impossible) to win, grow and retain your most important accounts.
Now if that's not something that Sales and Marketing teams can align with - I don't know what is.
Account-based what?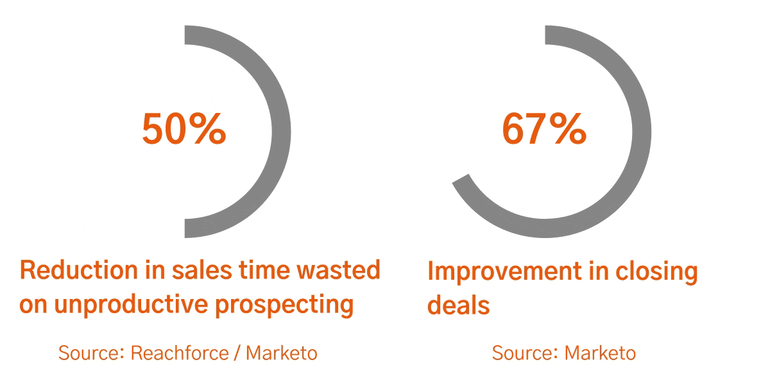 So let's also clear something up from the outset here.
Sales often get a nervous rash when they hear the word Marketing or are presented with a new plan/campaign from Marketing.
It's normal.
Before dedicating myself 100% to Marketing as CMO, I ran large Sales teams. I know their DNA, I have sold $MM deals, sweated tears, and cried the odd time when I've lost a deal. I've slept in cheap hotels, eaten badly, missed the last flight home - all to close a deal.
I've got the T-shirt, the battle scars, the war wounds...and it shows when I am talking to Sales. That respect and mutual understanding. That Band of Brothers...
Marketers, on the whole, don't have that Sales experience, and it's quite hard to get it without doing Sales.
But what Marketing can bring to the table is that deep analytical mind, that insatiable curiosity, that creative flair, that desire to get under the skin of the customer (or prospective customer).
Now they are skills that any team would like to have, right?
So an Account-based strategy is many things.
It's Account-based Marketing, it's Account-based Sales, it's Account-based Engagement, It's Account-based Experience. It's ultimately, Account-based Everything, as we like to say.
So, let's take a look at how we at the Agency help our clients to achieve what, for some, is that elusive Sales and Marketing alignment.
Why language is so important for Sales and Marketing alignment
How alignment can transform your revenue performance 

Best practices to unlock true alignment between your Sales and Marketing teams

6 Marketing and Sales alignment best practices
1. Speak the language of accounts
As I mentioned earlier, ABM is the greatest unifier of Sales and Marketing.
Why?
Because it unites the two teams behind an agreed set of target Accounts.
Language is so important. It can unite us or divide us. Part of the Marketing-Sales 'misalignment' has been that Marketing has been focused on its own goals and created its own language to justify these goals - MQLs, SQLs, etc.
While these terms might go down well in a Marketing congress - I can tell you for a fact they don't go down well with Sales. It's Chinese, quite frankly (or whichever language you don't understand).
Why has English become the de-facto lingua franca? Because it's the global communication vehicle. The one way that a Dutch person can communicate with an Italian and be understood.
The same is true of Sales. There is an agreed language of Sales that has been established for decades (or longer).
So why invent a new one?
Let's all talk about Accounts. Let's talk about Sales pipeline. Let's talk about Annual Contract Value (ACV). Let's talk about Deal Velocity. Let's talk about Win Rate. Let's talk about Average Profit Margin.
The list goes on. But let's talk numbers that Sales, C-suite, and Investors care about.

What happens when you speak the same language? You work better together, you work towards the same objectives, you build that important camaraderie.

You lose together. You win together. You work together. And the numbers don't lie with aligned teams delivering up to a 208% increase in revenue growth.


2. Enable your Sales team
Now, this is where Marketing can really help.
Marketing's job?
To make Sales as good as they can be. To help them to sell. To make it as easy as possible for them to present a convincing message to prospective customers.
Here, Amber Bogie, ABM Manager at Degreed, talks about the importance of Sales enablement.

You'd think that all us Marketers would think like that, right?
Apparently, 76% of content marketers forget about sales enablement in their marketing efforts.
Our advice? As Marketers, we can work out what we think will help Sales' life easier. Build that list. Break down the formats. Define the use cases.
Share this with your Sales colleagues and get them to help you to expand out this list. Prioritize it and then get to work.
Make it as easy as possible for the Sales team to access this enablement content.
Here's a tip from the work we do with the Agency that we use in our ABM programs.

Account Playbooks. Here, we build Playbooks designed specifically for the Sales teams.
They help Sales teams to understand:
The ABM strategy


How it will impact them

Which accounts will be included 

What the Account Experience looks like

What will happen when

What they have to do

Social selling messaging 

Email sequencing messaging

Etc. 

These Account Playbooks really get Sales teams to engage with the ABM program.

3. Share the same goals
"We've just sent you 20 MQLs".
How often have you said that (or heard that)?
Or worse: "What happened to those 20 MQLs we sent you?"
This happens for three reasons:
You are not speaking the same language as Sales


You are not working together on the same objectives

You are not sharing the same dashboard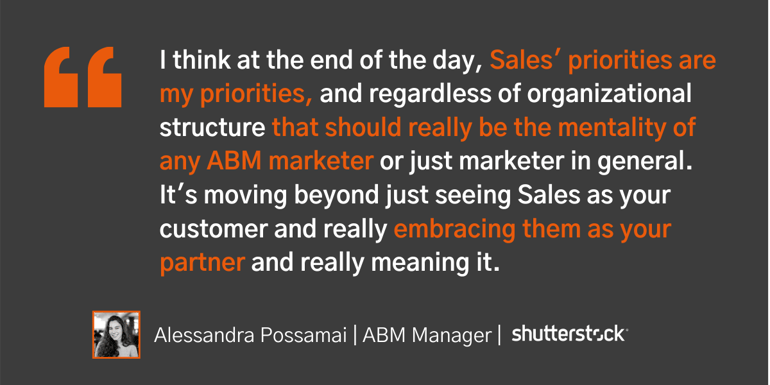 How do you overcome these challenges?
Agree on the objectives of the ABM program. Document them. Agree on what good looks like. Build a joint dashboard to track these objectives.
Once Sales and Marketing agree on joint objectives, actively measure them and report on them - you are now in a new world.
What to measure? Here are 3 ABM metrics you should be tracking.
4. Make the alignment real
How do you make it real?
The most human way possible. Meet, talk, exchange.
Both teams have a huge amount of data to share. Live data that will inform your strategy, the fine-tuning of your campaign, and what to do next.
My advice is to work out who needs to meet and with what frequency, e.g. monthly meetings with the Head of Sales, bi-monthly meetings with Account Directors, and weekly meetings with SDRs/AEs.
Check out this short clip where Alessandra Possamai, ABM Manager at Shutterstock, explains how she aligns her ABM efforts with her Sales colleagues.
You know your own business so you'll know what makes the most sense.
You'll have the shared dashboard. You know what to report on.
Sharing success can be infectious.
5. Exploit your content
Content is your secret weapon.
Unfortunately, this is not a good thing - as it's secret.
Where do we Marketers fall down?
We're too obsessed with creating content and don't spend anywhere enough time making that content work for us, i.e. getting it in front of the people that matter AND putting it into the hands of the people most in touch with our customers and prospects - our Sales colleagues.
The numbers are depressing.
Only 35% of Sales reps believe that marketers know what kind of content Sales teams need to help them engage, nurture, and win accounts.
And that's because content has always been considered the domain of Marketing. Sales don't get to input when it comes to content generation.
But to get the most out of your content and for your Sales team to exploit it - this has to change.
How?
Here are a few ways we recommend at the Agency:
Use industry/account/executives insights to inform content 


Interview your Sales teams to hear what they are hearing 'at the coal face'

Interview customers - 'what is keeping them awake at night?'

Speak to industry leaders - what do they see as key to your target accounts' industry and market?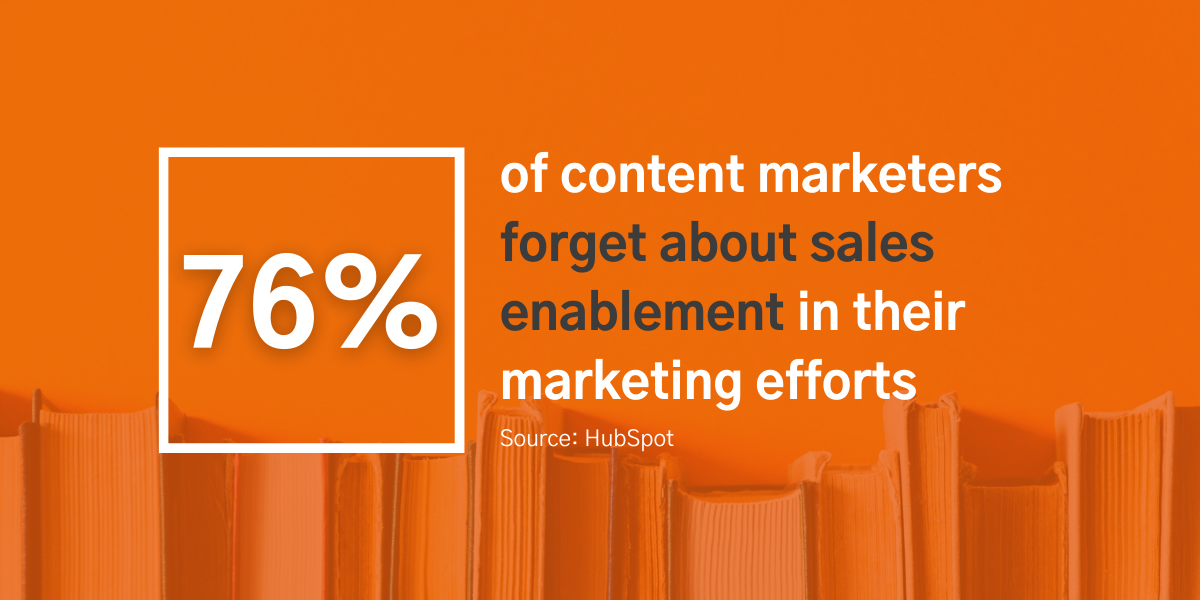 With these great data inputs, you can create compelling content. And more importantly, repurpose it into numerous content formats to make it more amenable to your audience. Here are just some examples we deploy at the Agency:
LinkedIn carousels


Audiograms

GIFS

Long-form posts

Quotation tiles 

Teaser videos

Infographic

Etc. 

Build effective channels for your Sales teams to know what content you have and when/how to use it. We mentioned earlier the Account Playbooks
In addition to the Account Playbooks, we also use a dedicated Slack channel to help our Sales team easily access the latest content we produce.
6. Celebrate successes
ABM is a marathon and not a sprint.
It can be grueling at times. There are many obstacles. But the prize is great. And victory is in sight.
Our advice is to share successes - both with your Sales colleagues and with the wider business.
No better example than this clip where Mathew Kent, Senior Manager UK&IE at Pega, talks about how they celebrate success.
There will be many. Success is contagious.
Here are some examples of early indicators of your ABM success:
Site visits from Target Accounts 


No. of new contacts in each Target Account

No. of conversations started

No. of sign-ups to events, workshops, webinars, etc. 

No. of recommendations/referrals from Target Accounts 

Check out this full list of ABM metrics you should consider.
Alignment - the key to ABM success
Alignment is vital for any B2B strategy - but it's even more important for ABM.
When your prime strategic objective is to win, grow, and retain your most important accounts, you need to get your teams all behind the same goal.
You can explore more key steps to ABM success in our Let's talk ABM webinar and podcast series, where we speak to leading ABM experts about how they align their teams to ensure success.