What is Social Selling and why should it form part of your ABM strategy?
Imagine how amazing it would be to get your message in front of the right companies, and the right people in those companies. At little to no cost, with complete control over the message.
Let's keep imagining...
Imagine you can shape the opinion of these companies, the buying committees within them, and the individual decision makers responsible for purchasing.
That, in a nutshell, is Social Selling. So let's look at 29 reasons why Social Selling (particularly via LinkedIn) should form part of your ABM strategy.
90% of B2B decision-makers never respond to cold outreach, which means traditional sales methods like cold calling simply aren't going to cut it!
Over the past few years, social media has quickly grown to be the go-to channel for salespeople to connect with buyers.
Why? Because 97% of buyers are turning to social media to research brands before buying. This means having an online presence is more important than ever!
In fact, 64% of Sales reps that do invest in social media hit their team quota, as opposed to only 49% of reps who stick to more traditional sales channels, such as cold calling or email outreach alone.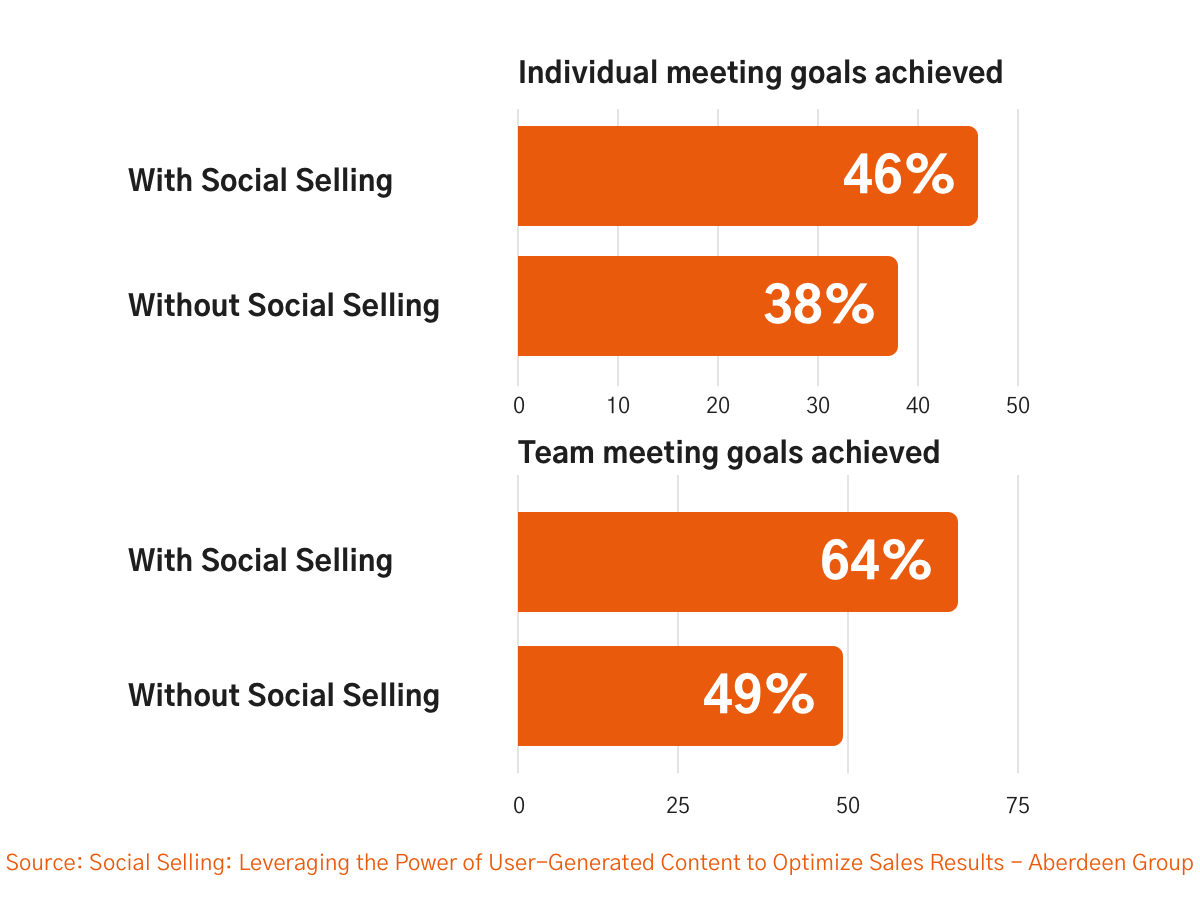 Social platforms, particularly B2B social networks such as LinkedIn, are ideal for professionals of all niches to build personable, engaging interactions and trust with others.
And when a high personal connection to a brand means that consumers are more than 3.5x more likely to pay a premium for it, building that personal connection online is more important than ever!
For sales professionals, prioritizing a regular social presence that's relevant and valuable for their prospects presents an invaluable opportunity to build a reputation as a trusted (and importantly - human!) advisor.
In a nutshell, this is essentially what Social Selling is.
So let's look at some of the key areas of an effective Social Selling process, and explore why social media is so important for modern sales.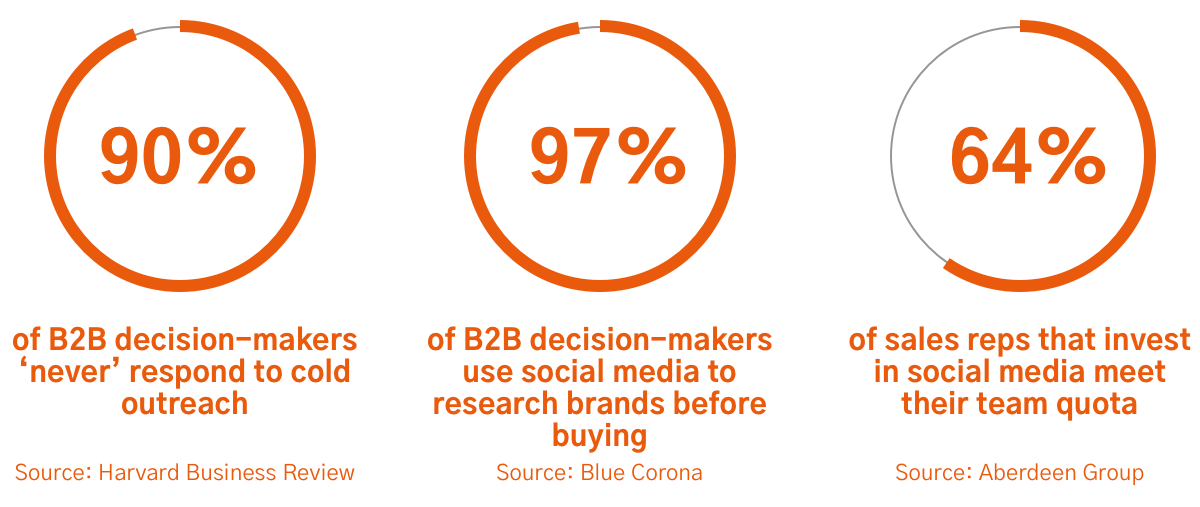 What is Social Selling?
Social Selling refers to the process of building your personal brand, growing your network, building a presence as a thought leader, and developing trusted relationships via social media (most commonly LinkedIn).
It is not:
• A means to spam your potential customers

• A hard sales channel

• A way to avoid calls, emails, and other engagement channels

Contrary to what the name might suggest, Social Selling is not focused on hard sales!
"Social Selling is about leveraging your social network to find the right prospects, build trusted relationships, and ultimately, achieve your sales goals." - LinkedIn

An effective Social Selling process prioritizes building an online presence to build trust between you and your customers. It's about growing personal relationships with other people within your industry - putting a friendly, accessible face to the brand.

And as 81% of buyers are more likely to engage with brands that have a strong, cohesive, professional social media presence, it's easy to see why it's such a popular play.

When it comes to choosing the right social channels, it's key to have a presence wherever your target audience is active. But particularly in B2B, LinkedIn is the top social media platform used for Social Selling by reps. And that's because it's effective.

89% of top-performing salespeople say social networking platforms, such as LinkedIn, are important in closing deals. And ultimately, closed deals provide your revenue.

So the real question is: why aren't you using Social Selling?
How does Social Selling fit into Account-based Marketing?
When we think about Account-based Marketing (ABM), social channels are the strings tying your tactics together!
When you're working to build relationships, enhance engagement, and promote specific content and messaging to a precise account or cluster - effective social forms the lynchpin of successful ABM campaigns.
After all, ABM is all about winning, growing, and retaining accounts using personalized and targeted messaging to create the maximum impact.
Social Selling allows you to identify, engage, and build relationships with specific people within the Decision-Making Unit (DMU) of your target account.
And Social Selling is applicable to all ABM program types - from One-to-one, all the way through to One-to-many!

By using social media to build relationships with accounts, you'll find that engagement will rocket, as the interaction becomes more personable and human.

In fact, 62% of B2B customers respond to salespeople who connect by sharing content and insights that are relevant to the buyer.
"It's not just about selling - obviously it's a strategy that is primarily used by salespeople, and the ultimate goal is to build relationships in order to sell your product to the right people - but the main thing to bear in mind is that you shouldn't lead with selling. Your objective should be to educate" - Gerry Dapergolas, Senior Strategist at strategicabm
Social Selling also optimizes account retention, with 62% of buyers choosing to keep in touch with a seller who contacted them, in order to understand what kind of content they share, while getting useful information that is relevant to their business and challenges.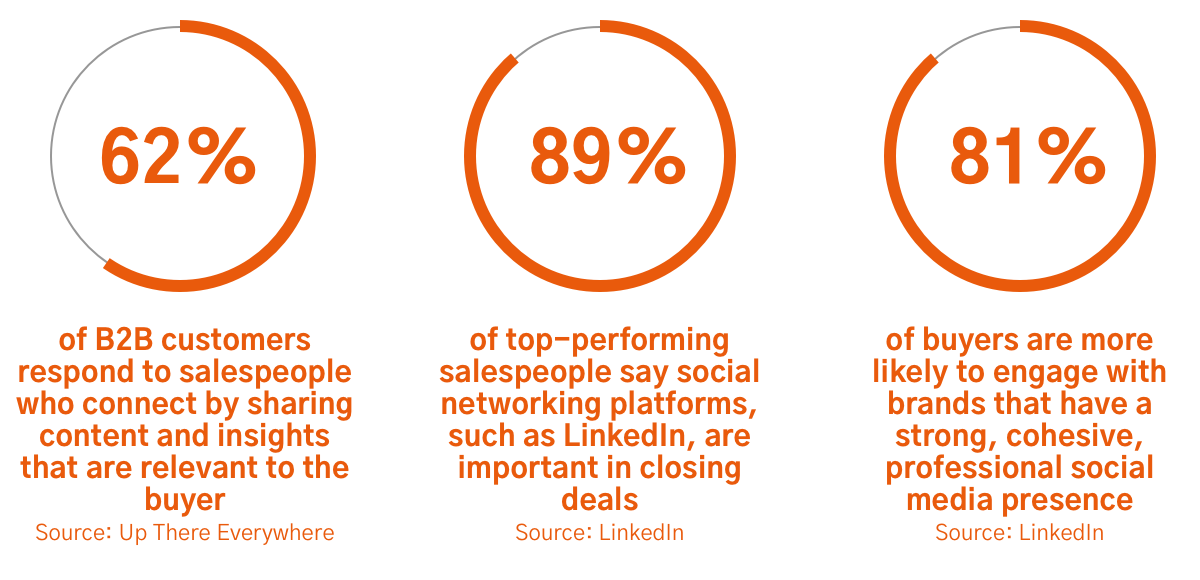 And let's not forget that organic social is ultimately a free marketing channel!
While LinkedIn specifically was initially a platform to seek out jobs, it has evolved into a wider network, where professionals and brands can reach out, assist and educate others within relevant industries.
When used well, it can be a great way to boost brand awareness and establish yourself as a thought leader within your industry.
In fact, 71% of consumers who have had a positive experience with a brand on social media are likely to recommend the brand to their friends and family.
But before you jump into LinkedIn and start connecting with key decision makers - it's important to do some housekeeping!
You need to make sure your existing social presence and profile is up to scratch, sends the right messages - and that you're posting the right, resonant messaging for your accounts through your channels.
With this in mind, here are some tips to help ensure your Social Selling endeavour is a success:
1. Optimize your profile
70% of Sales professionals are active on LinkedIn for business purposes, compared to 64% on Facebook and 43% on Twitter.

So optimizing your profile is an absolute must if you want to stand out amongst all of the other professionals on the platform.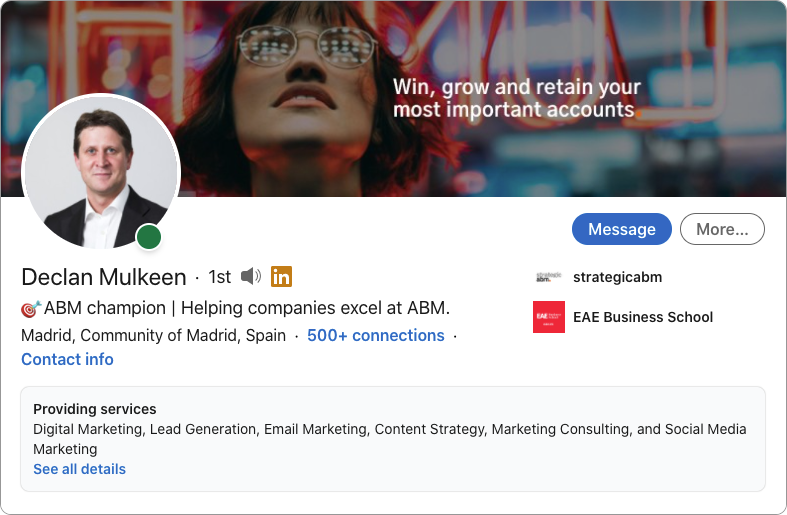 Before you start expanding your network and engaging with accounts, it's important to make sure that your profile is consistent with your brand and demonstrates the thought-leadership angle that you want to convey.
It's a common mistake for LinkedIn users to simply list their CV on their profiles - try to steer clear of this approach.
Instead, focus on the challenges of your target accounts or personae. How can you make their job easier?
When used well, Social Selling can have a huge impact on the leads you generate and the relationships you can then nurture, with one in three B2B salespeople saying Social Selling has increased the number of leads they work with.
2. Consider what content your audience would find of value
Though the goal of Social Selling is to build awareness of both your personal and corporate brand and, eventually, increase sales, this doesn't mean that your content should focus on plugging your brand.
Remember - hard selling has no place here if you want to build trust!
92% of B2B customers are willing to engage with Sales reps who have positioned themselves as an industry thought leader.
That's the aim - to achieve a 'thought leader' status. To do this, you need to post and share content that educates and informs your readers.
Consider industry challenges and find ways to promote your message without overtly pushing your product solution.
Do your research!
By looking at trending hashtags in your industry and what kind of content performs well on the channel, you can ensure that the content you share is of relevance and value to your network.
41% of B2B buyers view 3-5 pieces of content online before interacting with a salesperson, so having that relevant, educational content on your LinkedIn profile is essential if you really want to reap the rewards of successful Social Selling.
And be adventurous with the content you share! Experiment!
Don't feel that you always have to share written content - you can share articles, videos, polls, carousels and more.
In fact, the top three most effective content types for B2B are webinars (64%), videos (60%) and blogs (also 60%).
Having that variety will really help to boost your engagement and keep things interesting for your audience.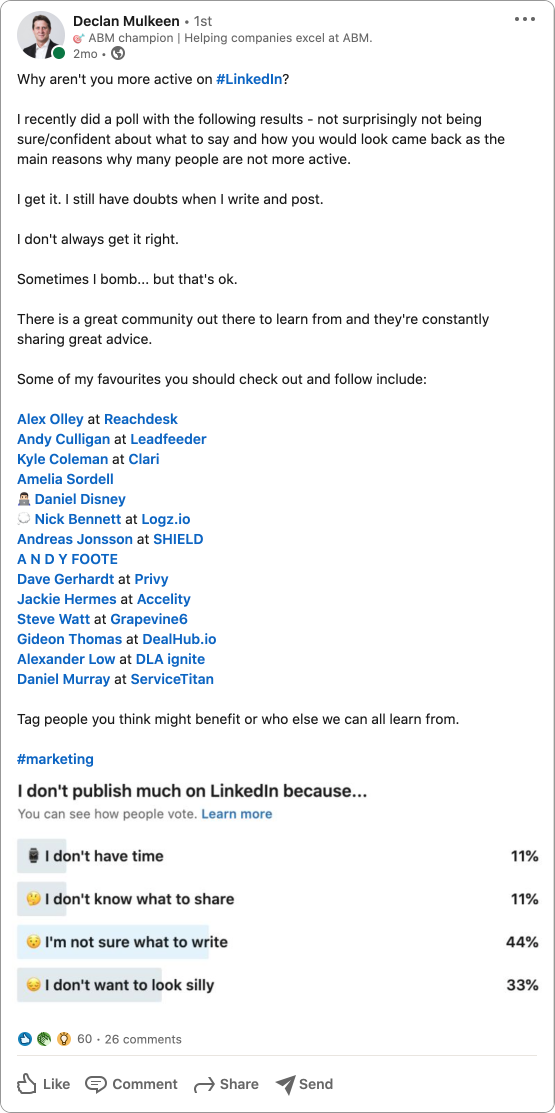 It's also important to humanize your personal brand.
Don't be afraid to post something lighthearted and funny, or maybe even a post looking at some mistakes you've made in your career.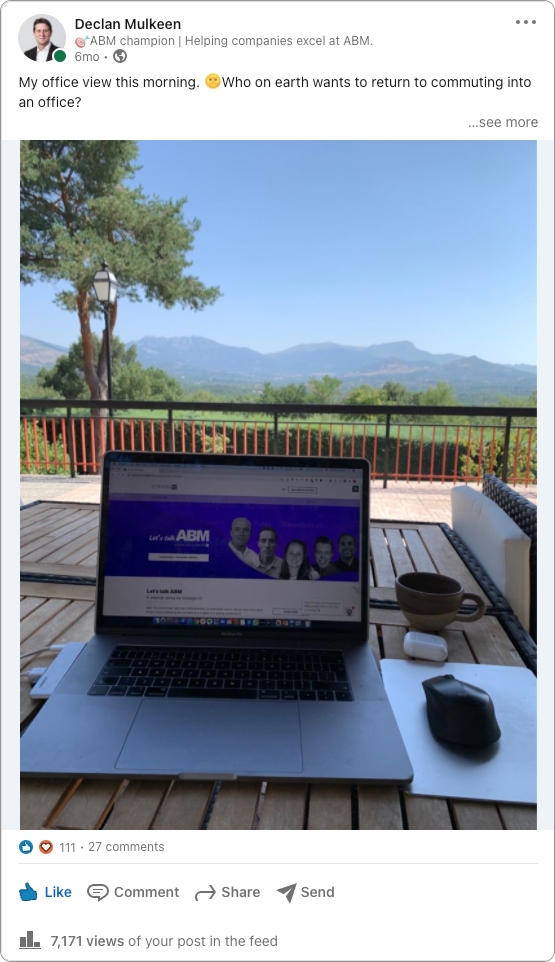 This will all help to make your brand appear more human and relatable, and help your audience view you as a trusted, valuable advisor in your space.
3. Boost online activity
Social Selling isn't just about creating and sharing content. If you want to boost awareness and engagement, and build your network of relevant connections - you need to be active on your social channels!
This means posting, commenting, reacting and sharing other people's posts - whether they're posted by your company, colleagues, clients, prospects, or industry peers - anything that will allow you to build a personal online connection.
This will help to build a greater online presence, which will help to build your reputation as a trusted advisor.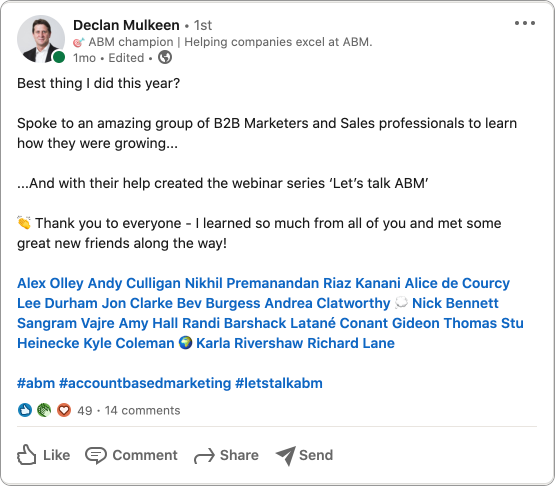 76% of buyers are willing to have sales conversations on social media - with the caveat that you've done the groundwork of trust-building.
So building that trusted reputation first is vital to ensure that your audience comes to you for industry advice and solutions when the time is right.
4. Invest in supporting technology
According to LinkedIn, Sales professionals with a strong Social Selling index see 45% more sales opportunities than those who don't, and are 51% more likely to reach their quota.
And when 90% of the top salespeople are using Social Selling tools, having the right, refined stack of platforms that drive value is important to support your efforts.
So what tools should you consider in your Social Selling stack?
LinkedIn's Sales Navigator is a great tool to add if you don't have it already.
It allows you to seek out and identify the ideal prospects for your business, as well as engage with accounts in a more targeted and personalized way, all whilst integrating with your CRM.
Other platforms like HubSpot are also worth considering adding to your stack, as it gives you access to real-time data on performance so you can assess which tactics are paying off.
Of course, you don't need to add to your tech stack to secure Social Selling success, as it's best to refine your stack where possible. But having the right tools will help to keep track of your online activity and measure your ongoing performance.
What can you expect to see with Social Selling?
As with most Marketing and Sales initiatives, you're unlikely to see results immediately. But that's not to say you won't see benefits over time.
Here are some compelling numbers that show the real benefits of Social Selling:
And of course, there are the other benefits, such as increased brand awareness and improved reputation.
Social Selling had already gained massive momentum before the recent pandemic, but now it's more important than ever that we reach out to our audiences in a digital yet personal way.