Got an Inbound campaign up and running, and are seeing quality traffic and leads come in? The next step is to engage, nurture and qualify those leads to customers.

But what do you do if your sales team are speaking to leads - and it's not working?
What's the problem?

The first thing to remember is the way buyers purchase today. If you've adopted an Inbound marketing strategy, you know that the most important change in your marketing practices is to focus on the buyer. You recognise that traditional interruptive techniques are no longer effective, and that activity must resolve persona's challenges to help them through the Buyer's Journey.

But have you considered the same for your sales process?
What is Inbound Sales?
In a nutshell, Inbound sales transforms selling to match the way modern buyer's purchase. It is a sales process that supports the Buyer's Journey (Awareness of a problem, Consideration of solutions, Decision on a specific solution).

Unlike traditional legacy or outbound sales, Inbound sales does not focus solely on you (the salesperson/ your company's solutions). Instead Inbound sales prioritises the needs of the buyer, and is the process of helping a marketing or sales qualified lead (MQL or SQL/ 'good-fit' prospect) through the conversion funnel.

Rather than interrupting with ineffective techniques such as cold calling, the Inbound Sales Methodology aims to advise buyers at the right moment; addressing their individual challenges at the appropriate stage of the Buyer's Journey, and ultimately converting them to a customer.
This is achieved through effective alignment between Inbound Marketing and Sales teams, with Marketing providing sales execs with the data and business intelligence (BI) to know the buyer's context (from their buying stage, to their challenges, to the communications channels they are active on an more). Sales can then use relevant content and deep level product knowledge to hold productive conversations and nurture the lead further.

With this in mind, the Inbound Sales Methodology is comprised of the key stages: Identify > Connect > Explore > Advise.
When Should Inbound Sales Execs Start Conversations?
Executive buyers are not very trusting of salespeople. To regain credibility among executives, salespeople should arm themselves with content and become active on social networks. - HubSpot State of Inbound
Just because you've generated a lead, doesn't mean you should immediately pick up the phone and sell! In an Inbound sales process, leads move through multiple qualification stages before becoming a customer.

For example, if your marketing activity has generated a lead, you first need to identify that the lead is a good-fit to the personas you are targeting (based on the data you have):
Are they active in the right niche?
Are they decision makers or researchers?
Is their organisation the right size/do they have appropriate budget?
Is your lead experiencing challenges that your solution/product can address?
If the lead is a good-fit opportunity and worth pursuing, they can qualify as an MQL (Marketing Qualified Lead). Then, after additional topline research (leveraging form field data, exploring the lead's LinkedIn profile, examining HubSpot Sales tool data etc) the sales team can pick up the phone to further qualify the MQL, and gain a deeper understanding of their challenges to see if they qualify as an SQL (Sales Qualified Lead). As a result, an SQL will already be well educated about their challenge and possible solutions, plus have built trust with the sales exec, before reaching the purchase ready stage.

Throughout the sales process, an Inbound approach works to position sales execs as trusted advisors, building relationships through helpful nurture content, workflows, social selling activity and more. This enables salespeople to have higher quality conversations with the stakeholders involved in the buying process, and extract additional deep level information about their pain points and fit as a quality opportunity. Developing a deeper understanding of the prospect ensures that the buyers context is leveraged throughout the sales process, and that the right advice is provided through all Buyer's Journey stages.
According the the HubSpot State of Inbound 2015, 83% of respondents from failing sales teams said they didn't know what information they had before contacting a lead. Only 17% of successful teams gave the same answer.
Tips For Effective Inbound Sales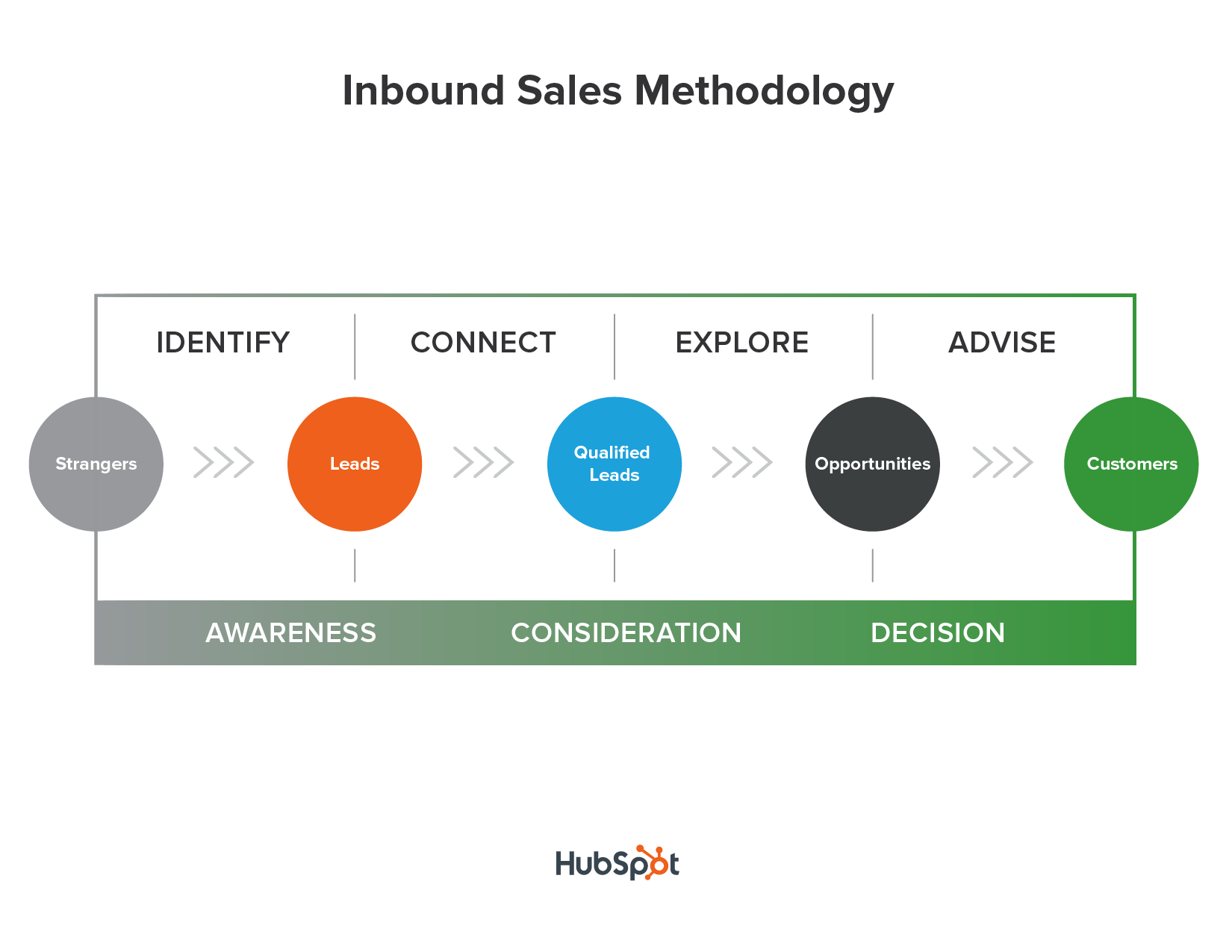 Follow the Inbound Sales Methodology: Identify > Connect > Explore > Advise

IDENTIFY - Listen for active buyers and prioritise active buyers over passive buyers. (Active buyers are those active in a buying journey. Passive buyers are not actively looking for solutions, but will still suit your profile of a 'good-fit' lead). If you do decide to reach out to passive buyers, be sure to leverage context (common connections or trigger events) to engage about the topics at the front of the buyer's mind in that moment.
CONNECT - Earn the attention and trust of today's empowered buyers by starting personalised, valuable conversations that address pain at the appropriate buyer's journey stage.
EXPLORE - Inbound sales doesn't spend time on buyers who won't move forward. When a good-fit lead shows interest, explore their interest and leverage it to develop further trust, empower them, and uncover their deeper goals.
ADVISE - Continue to empower, educate and advise buyers (relevant to their buyer's journey stage), leveraging the information learned in the explore phase.
Levarage Social Selling
In the same way the internet has empowered the buyer, it has also empowered the salesperson. Social selling is a key way for sales execs to actively build their personal brand, identify new leads and build relationships by:
Finding the people on Twitter that prospects follow, and following them.
Connecting with good-fit personas on LinkedIn when appropriate. (Remember, building a network is about quality, not quantity. Reach matters, but relevancy is more important.)
Regularly sharing company awareness stage content on social feeds (blog posts etc).
Interacting with and sharing content by niche influencers to show awareness and expertise of your industry.
Asking how you can help target buyers, and offering appropriate advice/content.
Monitoring for triggers, such as social mentions of your company or competitors.
Where possible contributing to relevant discussions, groups and forums; boosting your thought leadership profile.


Remember, Inbound Sales turns traditional sales methods on its head, working to attract buyers in rather than going out to sell to them. It's not about cold calling a list of possible leads any more - it's about identifying your ideal persona (best-fit client) and developing trust by providing the right advice at the right time, on their terms. Quality sales will follow!