ABM is a journey with many twists and turns.
There is much learning to be had on this journey which makes for a better ABM strategy and better ABMers.
In a recent episode of Let's talk ABM, I had the pleasure of sitting down with Showpad's Marketing Programs Manager (UK & Nordics), Becks Powell, to discuss how to build that initial ABM roadmap.
In the interview (full recording here) we discussed:
How to get started with ABM

What constitutes the building blocks of a successful ABM program

How to use intent data to aid account selection 

Advice on how to succeed at Account-based Marketing

So, let's dive into some of Becks' top tips on launching a successful ABM program:
7 tips for building an ABM program from scratch
1. Cultivate Executive buy-in
C-suite buy-in is absolutely crucial to get an ABM program moving.
Why?
Because without their buy-in, you won't get the finance, expertise and commitment needed to get the ball rolling and engage the rest of the organization.
And without organization-wide buy-in, you'll never gain the momentum you need to succeed.
ABM is not a one-person-band.
It requires input and expertise from every department – from Customer Success, to Sales, to Marketing, to Account Management and beyond.
It's when all that insight comes together that ABM flourishes. And once you have Executive buy-in, the rest will spread like wildfire across your organization.
The key is to start small - a high-performing pilot is more likely to garner further support and investment, rather than going big, fast, and failing to see results.
"You must have executive buy-in. I would say that's really important because it gets the whole business on the same page of doing ABM and executing ABM" - Becks Powell, Marketing Programs Manager, UK & Nordics at Showpad
2. Use data-backed account selection
You can't build an effective ABM program without knowing your accounts. Which is why getting account selection right is absolutely paramount.
The key is to use data and insight to inform your decisions. It's not always about targeting the biggest, most renowned accounts – it's about relevance and timing.
You want to be targeting the accounts that will be interested in your solution/product, and are in a position where they are able to purchase.
That's where research comes in.
Use intent data, third-party sources, and your own first-party data to fuel your decisions and ensure you're targeting accounts that fit your ICP.
"I think most of the time is spent in developing what accounts we're going to target and then the research on those accounts. And I think it's so important to get that right. And that's why it takes quite a bit of time." - Becks Powell, Marketing Programs Manager, UK & Nordics at Showpad
3. Go deep on insights and research
To achieve a truly unique, personalized, engaging experience for your target accounts, you need to be prepared to go deep on research.
That means going beyond the basic information you might be able to find on LinkedIn.
What keeps your decision-makers up at night?
What are they trying to achieve? What challenges are they facing?
Empathetic marketing is a necessity in today's world. The decision-makers within your target accounts don't want to hear about your brand – they want to hear how you can solve their problems.
You can't meet these expectations if you don't know what problems they're facing.
With ABM, everything is fuelled by insights and data – including your messaging. That's why it's crucial that you don't rush it!
"When selecting our target accounts, we used the data and insights that we have from our MarTech to see what their engagement's like, what sort of intent they've had, have they engaged with us in the past, for example?" - Becks Powell, Marketing Programs Manager, UK & Nordics at Showpad
4. Build a messaging framework
Once you have the insights, the next step is to use those to inform your messaging strategy.
Think of your messaging as the frontline of your program. It's the bit that your accounts will see and engage with.
They won't know about the hours of planning, research, and strategy building. That's all behind closed doors. But the best messaging framework shows the results of all that labor. It's the bit that will ultimately make or break your program.
So. How can you make sure that your messaging resonates and lands with impact?
You guessed it - Insight.
Get your Account Executives involved.
Get Sales involved.
Get input from multiple teams, as that's how you'll unearth those 'golden nuggets' that elevate your messaging and identify key drivers for your customers.
It's about solving their problems, not plugging your brand.
"It's absolutely all in the research that informs those messaging frameworks, because you might decide you may not want to split your plays by Manufacturing and Technology. You might want to do it by business challenges, for example. So it's just really trying to understand what those key drivers are for your customers."- Becks Powell, Marketing Programs Manager, UK & Nordics at Showpad
5. Create account playbooks for Sales
The key to truly successful ABM lies in getting the most out of your teams – especially Sales.
Sales are at the frontline. They're in the trenches, engaging with your target accounts, talking to your customers, and hearing directly about their pain points and challenges.
Leveraging this insight is key. And that's why it's our jobs as B2B Marketers to make their jobs as easy as possible.
That means providing them with the tools, content and insights they need to work effectively and engage their contacts.
That's where the account playbook comes in.
Having a playbook designed for your Sales team, packed with content, insight and strategy aligned with your ABM plays, will help keep everyone on the same page and engage decision-makers.
At the Agency, our ABM playbook is designed to help ABMers build a roadmap to success, with step-by-step strategic plays that are easy to follow and effective.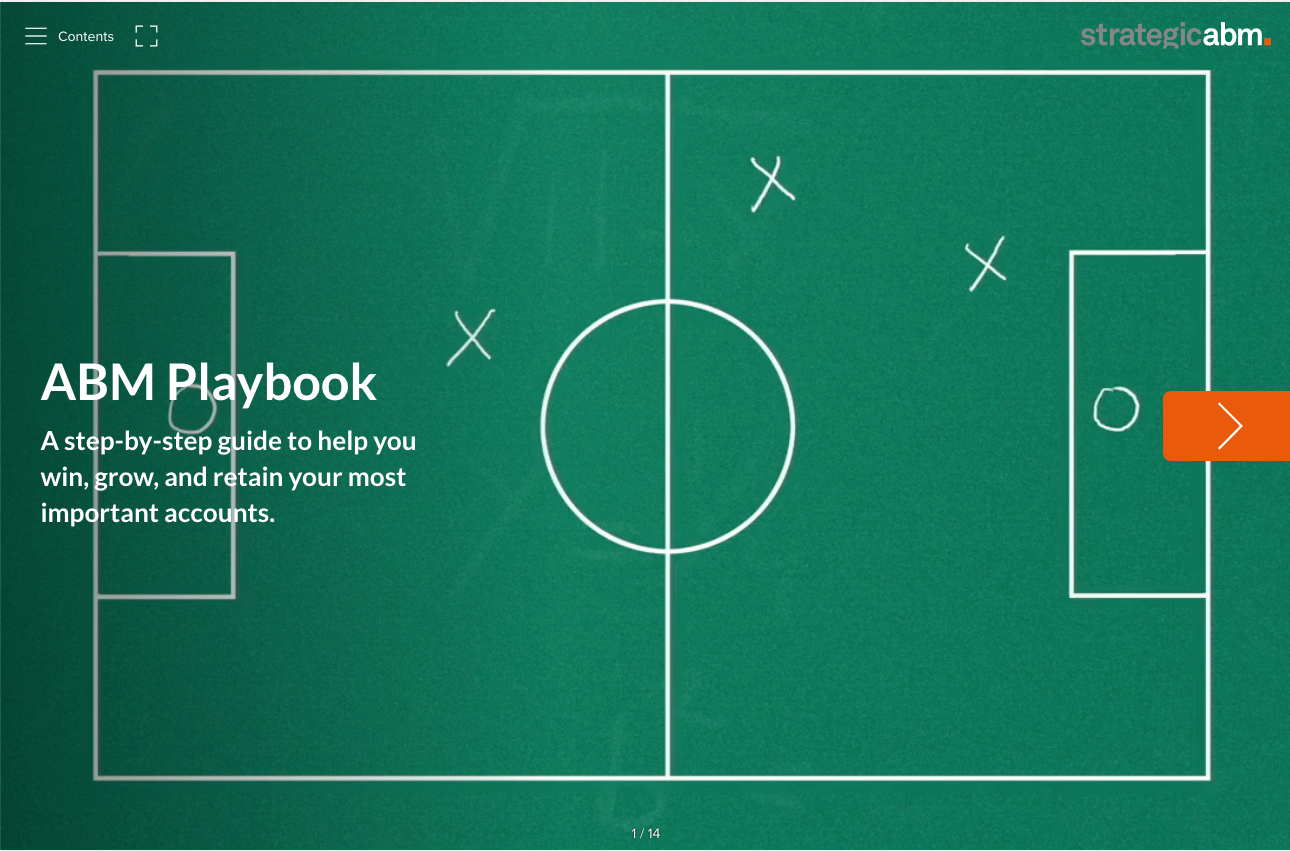 It's a game-changer, and a surefire way to keep your teams aligned.
6. Use MarTech to automate processes
We all know that technology isn't the be-all-and-end-all when it comes to ABM. But that's not to say it won't make your jobs considerably easier when used in the right way.
Technology in the Marketing space is always evolving, and whilst you don't need every piece of the latest software to succeed, knowing the technologies that can help to support your program and automate processes will certainly make a big difference.
Platforms like 6sense, Cyance and Cognism can all help you unlock further insight and support your messaging.
But your tech only works as well as the insight that goes into it. Make sure you have the right skill sets and the right expertise in your teams to get the most out of your technology investments.
"I would say the one thing is, you have to have the people and the resource who know how to use MarTech properly. And that could be hiring an ABM or a MarTech person internally, or actually using an agency who really understands how the tools work and how to orchestrate everything. I think that's absolutely fundamental." - Becks Powell, Marketing Programs Manager, UK & Nordics at Showpad
7. Create a Center of Excellence
It's not the first time that we've spoken about building a Center of Excellence – in fact, we've had many Let's talk ABM guests share their own experiences with the strategy.
And the truth is, it makes a massive difference to the performance of your program.
Why?
Because it acts as a central source of truth, providing your teams with the strategy, insights, best practices and use cases needed to inform decisions and build an effective program.
"It's absolutely vital having the Sales, and I think the business development representatives, aligned into that ABM Center of Excellence because we really need them to help us execute all the different plays that we're doing." - Becks Powell, Marketing Programs Manager, UK & Nordics at Showpad

Keen to find out more about the world of ABM? Check out our Let's talk ABM webinar series to hear from some of the leading ABM experts on how they build their programs.