In a survey1 of more than 20,000 B2B buyers, trust was listed as the most important brand attribute.

We know that B2B companies that win the trust of their customers experience increased engagement, loyalty, and advocacy.

What's more, those customers that trust you will buy more from you, renew, and recommend you to others.

As Stephen Covey, author of 'The Seven Habits of Highly Effective People', said so succinctly: "Trust is the one thing that changes everything."

When you think about ABM and what sets it apart from other B2B Marketing activities, you immediately think about the relationships that you build with your customers.

In a recent episode of Let's talk ABM, we had the pleasure of speaking with Karen Strugnell, Global Client Relationship Marketing Leader at Accenture, about the art of establishing trust with your customers.

In the interview (full recording here) we discussed:
Why trust is so important in an ABM strategy

How B2B customer trust manifests itself

How ABM can be used to change brand perceptions
Why ABM needs a change in mindset
What makes a successful ABM strategy
Let's dive into some of Karen's top insights.

8 ways to build trust with ABM
1. Learn and adapt to different client contexts
No two accounts are the same. So naturally, neither are their pain points!

Where one might be struggling to gain traction in a competitive market, another might be focused more on establishing customer loyalty. It's your job to decode the context and build your program around it.




From language to culture, fears to passions – taking the time to really understand and get to know your customers on a personal level is a key step to building trust. And if you can show them that you share the same values, then you're one step closer to building truly meaningful relationships.

Nowadays, there's no such thing as "just business". Every transaction, every deal closed, every inquiry is personal.
It's human – and the most successful ABMers treat it as such.
"In an Account-based Marketing world, that is actually one of the key strengths: being able to adapt and understand different customer contexts." – Karen Strugnell, Global Client Relationship Marketing Leader at Accenture
2. Focus on building relationships
Customer Relationship Marketing is all about building and maintaining relationships with your key customers – pretty self-explanatory, really!

And naturally, it fits perfectly within an ABM strategy.




Client Relationship Marketing spans the whole race. It's a constant process of nurturing, building and strengthening existing relationships, while also forming new ones.

Essentially, Client Relationship Marketing is the beating heart of ABM. Which is why, at Accenture, they have an entire team dedicated to it.

Without taking the time to build meaningful relationships with your target accounts, you have no trust. And without trust, success is nothing more than a pipe dream.
"In Client Relationship Marketing, it's really about putting the client first and understanding the client context, and then creating the relevant context, experiences and content for that particular client." – Karen Strugnell, Global Client Relationship Marketing Leader at Accenture
3. Tailor your program to your account's needs
One-to-one, One-to-few, One-to-many – they all have their differences, but there is one thing that ties them all together. And that's relevancy.

No matter the scale of your program, ensuring it is appropriately tailored to be relevant to your target audience is always important. The only difference is to what extent you personalize.




With One-to-one programs, you're taking personalization to the highest level. You're using data and insights to create an experience exclusively tailored to an individual.

With One-to-few and One-to-many, it's a little more broad to allow for scalability.

For every account you target, there is a different context to consider. Their needs, their pain points, their goals – they will all be different.

Your aim is to deliver an experience that is relevant for every target account, and not fall into the trap of regurgitating the same generic content.

Is it easy? Of course not! But it pays off in the long run.
"For each of the accounts, there'll be a specific context, of course: the client itself, the industry that they're in, their current challenges and ambitions, and where we are also with that account." – Karen Strugnell, Global Client Relationship Marketing Leader at Accenture
4. Bring your partnerships to life
The true magic of ABM lies in the connections you make along the way. Do it right, and you can gain customers for life.

But you need to take the time to really nurture those partnerships and make them more than a singular business transaction.




Maybe that means supporting your client with a workshop. Maybe it's working on a joint press release, or simply helping them achieve their goals and overcome their unique challenges.

Those relationships can become incredibly long-lasting if you take the time and effort to really nurture and nourish them.
"I think there are times where the boundary between Marketing and business is slightly blurred, I would say. And it's almost, sort of, business development. Sometimes I do question to what extent what I do is purely Marketing." – Karen Strugnell, Global Client Relationship Marketing Leader at Accenture
5. Alignment first, strategy second
As Marketers, we have a tendency to jump into things a little quickly. We get carried away in the excitement of it all, and we often dive head-first into tactics and strategies, before we actually have any alignment.

A rookie error, really.




The harsh reality is that, without alignment, the rest of your efforts are pointless. With every department pulling in a different direction, eventually the program will snap under the pressure.

That's why taking the time to set the foundations first is critical. Secure that alignment on strategic priorities, agree on target accounts, and map out the strategy from there.

Jump into the nitty gritty details too soon, and you could find yourself picking up the pieces of a failed program.
"Ultimately, if you don't have that deep understanding and alignment around strategic priorities, then the activities that you are proposing can't really resonate and be really relevant to the client." – Karen Strugnell, Global Client Relationship Marketing Leader at Accenture
6. Show the 360-degree value
Your target accounts won't close with you out of the sheer goodness of their heart. It's ultimately a value exchange.

So, if you fail to communicate the real value that you can offer your target accounts, don't expect your program to come to fruition.




It's about more than the financial benefits you can offer them. That's only one side of the story. It's also about the values you share around sustainability, for example, or inclusion and diversity. It's about company culture and the faces behind the brand.

You need to articulate the value you bring to the table across multiple dimensions, and shape the way in which your target accounts view your company. It all comes back to building that reputation, nurturing it, and using it to your advantage when it comes to relationship-building.
"When you start to tell a story which is based on the value that you bring to the client, that's one way of showing that it's not just about a specific solution, but actually it's a broader set of capabilities that are behind it." – Karen Strugnell, Global Client Relationship Marketing Leader at Accenture
7. Live and breathe the Trust Equation
Trust is the basis of any relationship – professional or personal. Without trust, there is no foundation on which to build meaningful connections.

And trust is not something you can build into a Marketing program. It can't be crafted out of thin air – it's something that naturally happens through shared values and behaviors.




Sounds a bit vague? Allow us to put it into more tangible terms.

Proposed by Charles Green, the Trust Equation details four components that affect a person or business' level of trustworthiness: credibility, reliability, intimacy and self-orientation.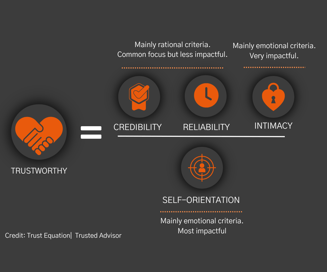 What you say, what you do, your level of communication with an account and to what extent you put their needs above yours – these will all contribute to how trustworthy your target accounts consider you to be.

So, what does this mean for your business? It means that you need to prioritize transparency, collaboration and authenticity, if you want to establish trust with the people that matter most.
"I think trust, it's the basis of any relationship, personal or professional. And you can't build a marketing plan to create trust! It's something that happens" – Karen Strugnell, Global Client Relationship Marketing Leader at Accenture
8. Play the long game
To succeed in ABM, you need to be willing to play the long game. Forget about short sprints and quick wins – it's a marathon, and it takes a considerable amount of time and effort to see sustainable results.

Once you understand that, the rest becomes considerably easier.



Of course, this extends to your entire organization. You cannot succeed in ABM without buy-in, and you cannot secure buy-in without having every department on the same page.

Communicate your goals, share your learnings, align on strategy and shift mindsets to ensure that everyone is striving towards the same finish line.
"I think [the hardest part of ABM] comes back to the time that is required to do it. And getting people on board with the idea that it is going to take time and it's not necessarily a quick win." – Karen Strugnell, Global Client Relationship Marketing Leader at Accenture
Keen to sink your teeth into more ABM insights? Check out our monthly e-newsletter, DashDot, where we explore all the hottest Account-based trends and topics.
1 (Forrester, 2021)