Saas and Account-based Marketing have a lot in common. They are both about innovation. They are both about growth. And they are both about delivering the very best of you to your customers.
The SaaS market is growing at a rate of knots ($123bn and counting). But with any growing market so comes growing competitors who are competing not only for market share, but also for your customers.
Once SaaS companies reach the Rapid and Maturity stages, it's time for the Marketing to get serious - and that's where an Account-based strategy comes in.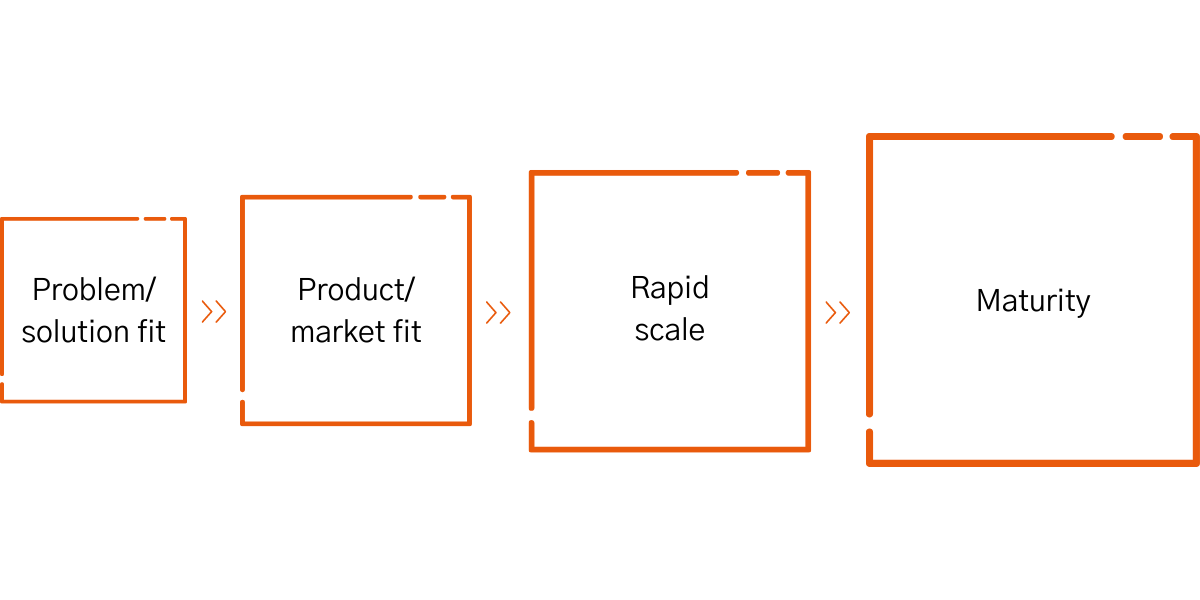 Why is an Account-based strategy the right fit for Rapid and Mature SaaS companies?
It's all about the context.
ABM is the right fit for SaaS companies that:
Sell high value/complex products or services

Have a long sales cycle

Have an ACV north of 50,000 (£,$, or €)

Have reached that important 'Rapid' or 'Maturity' stage

Target mid-market and enterprise accounts

Need to influence multiple decision-makers


Once these conditions are met then ABM comes into play.
An Account-based strategy is deployed typically in four key business scenarios:
To penetrate accounts 


To pursue major opportunities

To change brand perception

To win new accounts 

ABM is an organization-wide strategy to win, grow, and retain your most important accounts. With ABM, it's personal, it's unique - and it's memorable.
So is ABM the right strategy for your SaaS business? Let's find out.
In this Insight, we'll cover:
Specific considerations for SaaS companies thinking about embarking on an ABM program


How to know if your SaaS company is the right fit for an ABM program

5 tips to help SaaS companies see Account-based success

When is ABM the right strategy for SaaS?
1. The deal size warrants it
First, it's important to know that ABM isn't a good fit for everyone.
You should only really consider ABM if your deal sizes are larger than $/£/€ 50,000.
Why?
Because ABM is a uniquely personalized approach - it often requires more investment, insight, and creativity than traditional Marketing and Sales strategies.
But it's worth the investment,
ABM comes with the potential to win big - and reap the ROI rewards.
In fact, 91% of companies using ABM increased their average deal size, with 25% reporting an increase of +50%.
However, it's important to consider the potential ROI of your program before you dive in.
The ABM program type you opt for will depend on the deal size you can expect:
"What is the right ABM for you? If your deal size is in the thousands or tens of thousands, you're probably not going to want to do One-to-one ABM. It's probably a One-to-few, One-to-many, blend that will work for you" - Bev Burgess, SVP and Global ABM Practice Leader at ITSMA
2. The investment resources are in place
So what about investment?
As well as a financial investment, seeing results with ABM takes time - Demand Gen reports that 60% of companies that use ABM saw a revenue increase of at least 10% within 12 months.
And while ABM should be on your radar from day one, a full-scale ABM program is best suited to SaaS companies that are in the 'Rapid' stage or have reached the point of maturity.
Why?
Because ABM programs are resource-intensive! They require greater data analysis, creativity, and synchronization across the organization.
You should only consider ABM if:
You've moved past the product/market fit stage



You have a fully defined Marketing function to own the program

You are able to make the financial and time commitment for a resource-heavy strategy

You're prepared for a marathon, not a sprint. Be transparent with internal stakeholders that results will take several months, not weeks! 

3. The Ideal Customer Profile (ICP) is clearly defined
Do you know what 'good' looks like?
Startup SaaS organizations that are in the very early stages of growth will be testing the market (and the product/service) and learning about the needs of their early adopters.
However, mature SaaS companies will have a more defined "Ideal Customer Profile" and a clearer picture of how their product appeals to their target market.
Having that defined ICP forms the foundation of any solid ABM initiative.


If you're a SaaS organization at that stage, learnings from your early growth and existing customer base should act as a base to ensure you're going after the right accounts.
It's essential that your ICP is clear and agreed upon by relevant stakeholders across your organization, particularly Sales and Marketing before you run an ABM program.
When defining your ICP, it's important to ask:
Which customers have seen the most value from your solutions/products? 


Does your product/service align well with your customers' needs? 

What level of budget or company size do these companies have? 

Are there specific industry verticals you work with? Are there verticals that you don't work with or that aren't well suited? 

Do you sell to a particular region? 

Remember - not all big accounts are the right fit account!
4. There is a culture of growth
Did you know that the top growth activity for 89% of SaaS businesses is new customer acquisition?
And SaaS companies, especially those in the growth stage, have a very tight-knit but agile growth strategy that can be beneficial when leveraged for ABM.
How is this of benefit? Well, Sales and Marketing alignment is essential for successful ABM:
Aligned organizations see a 50% reduction in Sales time wasted on unproductive prospecting, are 67% better at closing deals, and see 38% higher win-rates!
For best results, buy-in across the organization is needed.
So before beginning on an ABM program, Marketing and Sales should agree on:
How target accounts should be selected 


Who is responsible for driving different engagements across different touch-points 

How you'll communicate and collaborate - ensure you review the ABM program on a weekly (or even daily!) basis to keep accounts engaged. 


5 top tips for SaaS companies to get the most from ABM
Now we've covered why ABM can be the right strategy for SaaS, here are some tips to help you see success:
1. Select the right accounts
Where should you start on your account selection journey?
Validate your account list

Whether you're targeting a One-to-many, One-to-few cluster, or a single account on a One-to-one basis, selecting and validating your account list is the essential first step.
Keep everyone involved in account selection

To refine a clear picture of your ICP and tier your accounts; involve Marketing, Sales, and Customer Service/Customer Success teams in the process for the bigger picture.
Remember; accounts can be moving targets

Remember that your ABM target list should be dynamic as you promote and demote accounts based on the latest data.


To get ahead with account selection: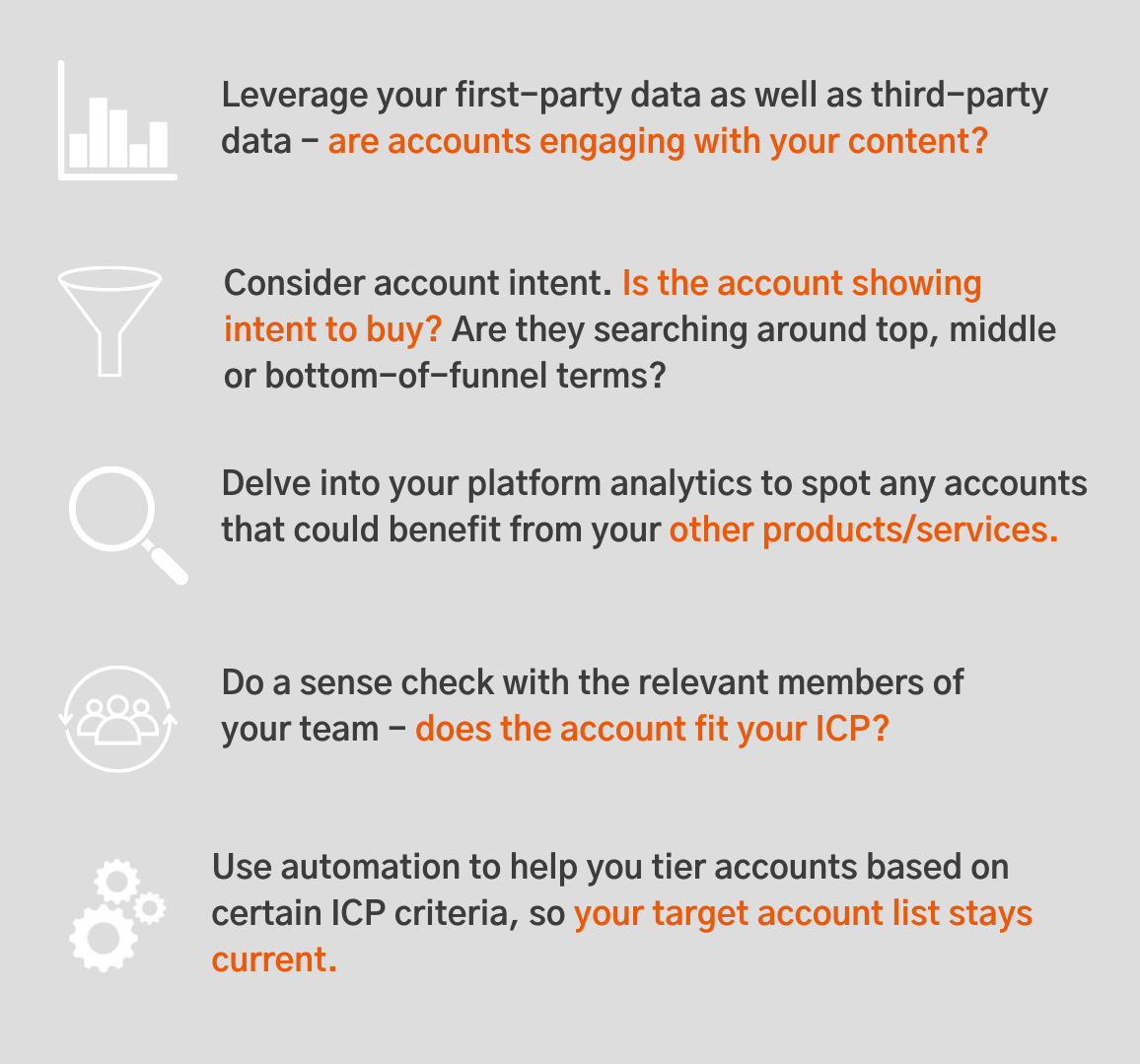 "Intent data allows you to really hone in on, with laser precision and zero waste, the opportunities that are most likely to convert." - Jon Clarke, Founder at Cyance
2. Focus on the buying committee
A survey of 5,000 stakeholders involved in B2B purchases found that, on average, 5.4 people now sign off on each purchase.
Other research shows 11+.
Either way - there are a lot of people with their fingers in the 'decision pie'.
So do your research!
Targeting only one contact within the account won't give you the best chance of success.
You need to research the whole buying unit and tailor your ABM approach to decision-makers and influencers within that purchasing committee.
You need to build those relationships to win the account!
For engagement in the sales sequence, personalization is key.
Those messages are sent from an individual and not your brand; so get conversations started with short personalized videos, call out a shared experience, or use bespoke content to make your account contact feel special!



LinkedIn Sales Navigator is a great way to research key stakeholders and build out a picture of the buying unit so you can personalize your ABM approach and reach the right people.


3. Personalize! Personalize! Personalize!
You may have heard this before but we'll say it again... ABM is all about personalization!
What makes ABM truly different from other Marketing and Sales strategies is the level of personalization involved.
And you should use data insights to inform personalization.
Existing account engagement insights, your CRM, and other relevant first and third-party data sources and research are all key to informing a personalized messaging strategy.
Marketers strongly agree that personalized content (56%) and advanced data management (43%) are key to ABM success (Forrester).
Whether you're personalizing to an account cluster (based on industry vertical, common challenge, or sales trigger), or honing a messaging to an individual, it's personalization that will make your prospects sit up and take notice!
To get buy-in for new tech, you'll need both the CIO and CTO on board to convince them to adopt your solution.
Don't underestimate the power of building assets tailored to each persona; they'll each have their own set of challenges, goals, preferences, and vision of 'good'.
"Data gives you the ability to personalize your campaigns. ABM is all about personalization." - Alice de Courcy, CMO at Cognism
4. Create an outstanding account experience
The SaaS model is often dependent on subscriptions, with free trials, platform demos, and workshops generally leveraged as bottom-of-funnel assets to help close deals.
When embarking on ABM, it's important to consider how every touchpoint can be tailored to an account's specific needs and challenges.
Make sure every communication stands out!
Developing a vertical or account-specific value proposition will help to keep your messaging and engagement strategy relevant, and informs the direction of your content, creative, demos, workshop offerings, and more.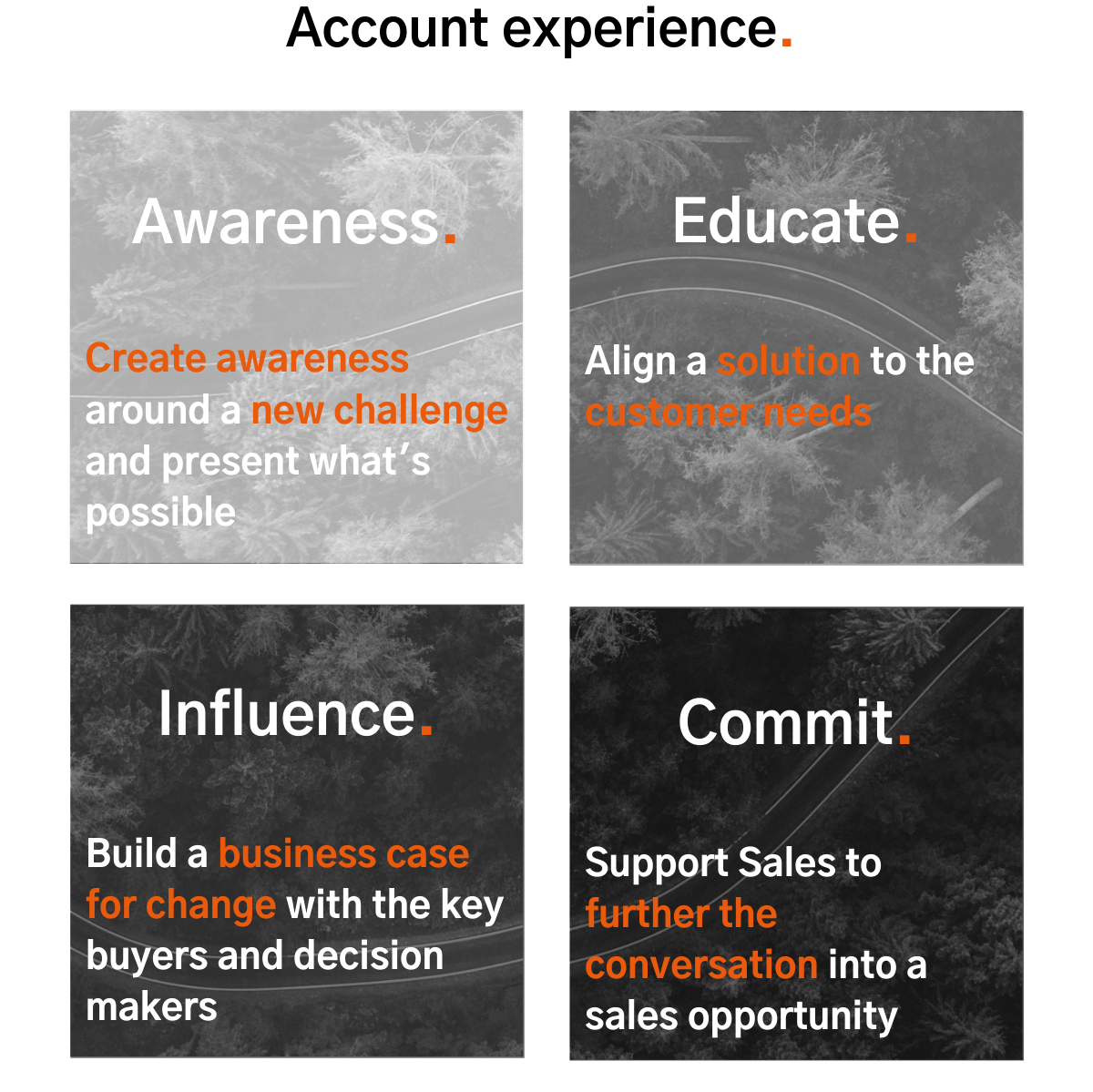 "Create new experiences for customers which build personal relationships." - Carla Rivershaw, Head of Marketing at Turtl
Not sure what will work? Remember, your account teams are your best asset!
Your team should always ask the question: Are we solving this account's (and this individual's) specific challenges or needs?
If the answer is "yes" then you're doing something right.
5. Use a multi-channel approach
As with any Marketing or Sales strategy, don't rely on only one channel!
You should use a multi-channel approach as different prospects prefer different places. The modern customer journey also requires multiple touchpoints. Make sure your execution playbook covers multiple tactics.

77% of B2B buyers state that their latest purchase was complex or difficult. The B2B buying journey is not linear, with customers "looping" across a typical B2B purchase, revisiting each of the six buying jobs at least once. (Gartner)

A typical ABM program might include:
LinkedIn direct messaging outreach


LinkedIn conversational ads

Organic social

Paid social

Paid ads

Email

Direct mail

Outbound

Remarketing

Communities

Podcasts

And much more

Plan in advance which tactics you'll use to execute ABM, based on your account insight. Consider responsibilities and ensure both Marketing and Sales teams know which touch-points they are responsible for.
And be sure to offer a consistent experience across each touchpoint to build familiarity.
Don't forget to optimize! Once you have collected data on which channels are working best, you can hone your approach.
"Double down on the accounts, content and channels that are working best for you." - Andy Culligan, CMO at Leadfeeder
ABM for SaaS: A perfect match
Account-based Marketing strategies are being widely embraced by SaaS companies as a more effective, efficient way to drive pipeline and win their most valued accounts.
Here are five reasons why your SaaS organization should consider ABM:
It does take investment - but you can win big.

87% of B2B marketers surveyed by ITSMA reported that their ABM initiatives outperform their other marketing investments in terms of ROI.

You'll see long-term results; not every target account will result in revenue, but you'll grow reputation and relationships within accounts.

Running ABM into existing account customers will boost retention and satisfaction.

This kind of program can help keep Marketing and Sales aligned.

ABM streamlines your Sales cycle as you focus energy on the most relevant, valuable accounts. 

Keen to learn some more about ABM? Take a look at our Let's talk ABM podcast and webinar series to hear from leading industry experts about all things Account-based, or see these 23 Account-based Marketing stats to see why 2021 is the year of ABM!