What Value Does Having A Blog Offer?
If you're considering hosting your blog on HubSpot you are likely aware of the value in planning a solid Inbound marketing strategy.
Your blog plays an important part in that strategy. It's a strong tool (sometimes the strongest), designed to attract relevant traffic to your website, convert visitors into leads, and establish authority. Plus, if your blog is well optimised, it will significantly boost your SEO which is pivotal to any Inbound marketing campaign.
Benefits Of Migrating Your Blog To HubSpot
HubSpot is a great marketing automation platform to support your marketing efforts. In a snapshot, migrating your blog to the HubSpot CMS offers multiple advantages:
One single tool.

Inbound campaign content, landing pages, offers, CTAs etc are all aligned within one platform - only one management tool needed!

File management.

Files are easily accessed throughout the HubSpot platform for use elsewhere on your site. This makes it easy to integrate all marketing activities.

Closed-loop reporting

. Closed-loop reporting makes it easy to analyse the impact of your content in relation to the rest of your marketing activity.

Content personalisation.

The HubSpot CMS allows you to use Smart Content to personalise interactions with unique visitors across your site, from forms to CTAs to offers.

Fast, secure site.

HubSpot's CMS is supported by an enterprise grade Content Delivery Network (CDN) for quick, secure access.
However if your organisation is new to HubSpot you may be wary about hosting your blog on it. This is completely understandable, as your website is your most powerful digital marketing tool.
Typical FAQ's over blog migration into Hubspot include:
Loss of control over the blog's infrastructure:

"My web team are nervous about moving to a new platform."
SEO benefits:

"Isn't it better to host your blog on the same domain as your marketing site instead of a subdomain (blog.example.com)"
Moving away from HubSpot:

"What if I leave HubSpot? Is it easy to transfer the content back to my site?"

Other benefits:

"What campaign benefits would migration achieve?"
5 Reasons To Host Your Blog on HubSpot
1. Infrastructural and Security Benefits
"My web team are nervous about moving to a new platform and losing infrastructural control."
HubSpot Enables Easy Migration
HubSpot specialises in content management. They make sure that during the process of a blog migration everything is done on a staging environment that doesn't affect the live website/blog or the visitors. Read "What does it mean to go live with HubSpot?" to learn how HubSpot migrates blogs.
HubSpot Blogs Are Fast and Secure
Hosting your blog and/or your website on HubSpot allows you to take advantage of Hubspot's enterprise grade Content Delivery Network. A CDN is a network of proxy servers that are used by numerous data centers to ensure speed and security. It also means that the chances for downtime are significantly low. In 2014 HubSpot achieved 99.99% uptime.
2. SEO Benefits
"Isn't it better to host your blog on the same domain as your marketing site instead of a subdomain (blog.example.com)?"
Myth: Using Subdomains is Bad
HubSpot blogs are hosted on subdomains (blog.example.com), which can be a concern for some marketers. But in 2011, Google reorganised its interpretation of internal and external links and announced that subdomains (previously categorised as external links, and which weren't providing any SEO benefits to your website) would be categorised as internal links. Today, this means believing that using a subdomain for your blog is bad for SEO is nothing more than SEO myth. Google is smart enough to know both www.strategic-ic.co.uk and blog.strategic-ic.co.uk are tied to the same site.
Get a Headstart on SEO
A constant struggle when it comes to SEO is choosing the best plugins to help you out. Google isn't slow when it comes to changing its algorithms so many plugins, SEO software and advice go out of date quickly.
HubSpot however has built-in features that are constantly updated to add SEO value to Inbound campaigns. For example one practical feature is the as-you-type SEO advice that gives tips on what to change in your content to improve SEO. Say, for example, you are writing a blog and create a page title that is too long; HubSpot will suggest you change it as soon as you type it.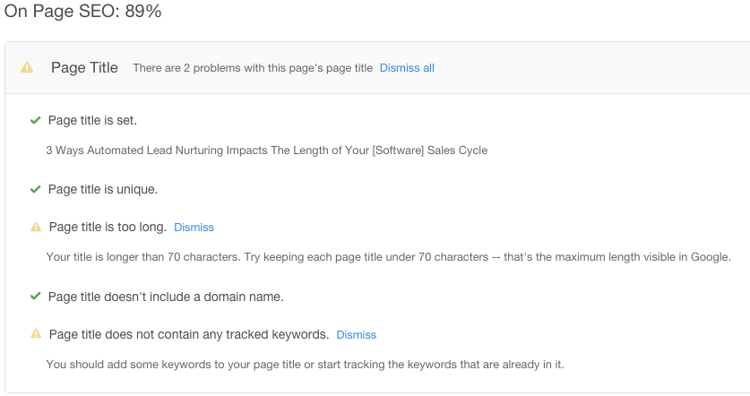 3. It Is Possible To Move Away From HubSpot
"What if I leave HubSpot? Is it easy to transfer the content back to my site?"
HubSpot is a very capable Inbound marketing platform. But if you've migrated your blog, then decided it does not suit your organisation, that's not a problem. If you're on WordPress or any other platform, moving your data back is easy. You can find out more in this guide on how to export your blog and all your website data from HubSpot.
4. Reporting Benefits
"What other campaign benefits would migration achieve?"
Hubspot offers a plethora of marketing reports to help marketers understand traffic sources, analyse and evaluate attribution along with other stats, in order to test and improve.
This list details some of the most important marketing reports enabled via hosting your blog on HubSpot:
Internal Linking
Having good internal links is important throughout your blog and across your entire website. With HubSpot you can quickly review your internal links to and from each page to improve your on-page SEO.
Connect Post To Keywords
Within HubSpot it is possible to report on organic keyword rank at an individual post level and as part of a whole campaign. The example below shows the 4 ranked keywords for the blog '3 Ways Buyer Personas Shorten the [Software] Sales Cycle':

CTA Performance
The CTA performance report allows you to measure how successful and relevant CTAs are. It gives you the ability to report on the performance of each CTA published to a post and their contribution to conversions, leads and customers. Reviewing this is important in order to develop CTAs that resonate with your target audience.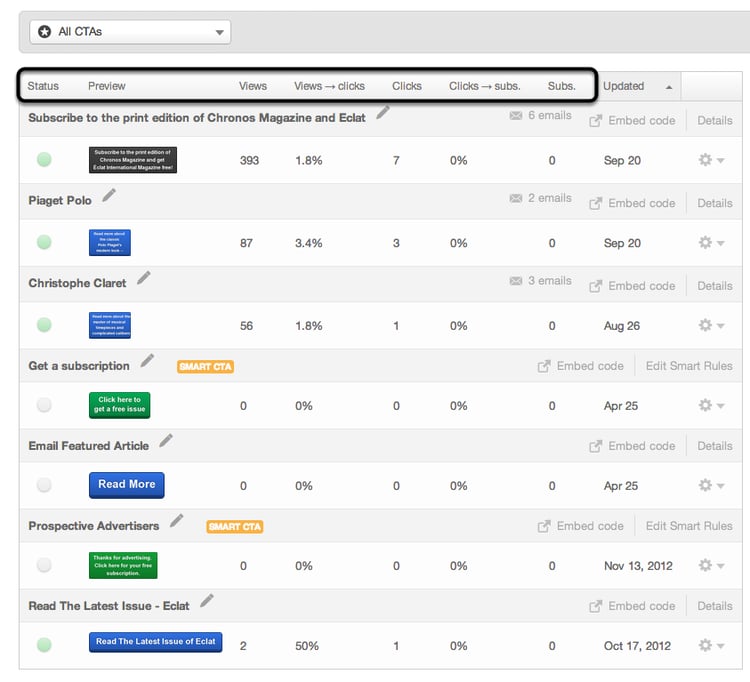 HubSpot Blog Report
Apart from access to marketing reports, hosting your blog on HubSpot will give you access to many valuable metrics across your activity as part of a closed-loop platform. For example you can get reports on a blog post's source and its contribution to form submissions, contacts and customers.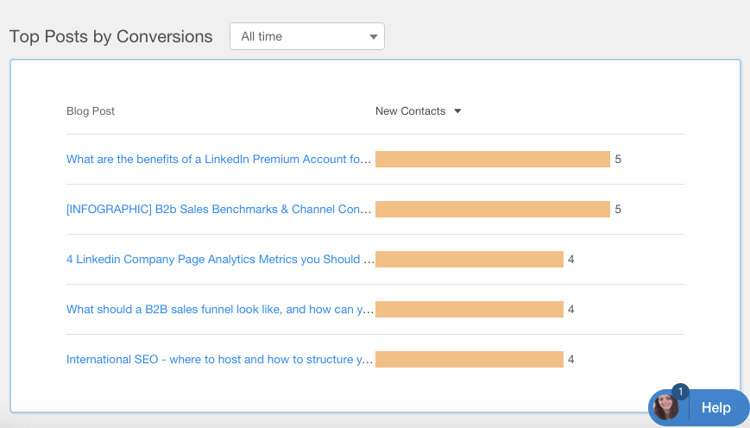 5. Connected Inbound Campaign Benefits
"What other campaign benefits would migration achieve?"
Aligning your blog with your marketing platform gives access to a wide range of metrics to evaluate all your marketing efforts.
But in addition to having a secure, optimised blog, your HubSpot portal gives you access to other features and ways to automate your B2B marketing, all of which integrate with your campaigns:
Campaign Planning
The HubSpot platform enables you to plan and connect all related assets (blogs, CTAs, forms etc) under one as one single campaign hub so that you can report on campaign performance as a whole.
Automated Lead Nurturing and Email Workflows
Using HubSpot's RSS email functionality in combination with personas allows you to automate the promotion of content published to your blog, segmented by relevant persona. When combined with your planned workflow campaigns, this adds additional value to your lead nurture activity.
Social Publishing
HubSpot's Social Publishing dashboard provides the ability to quickly build social promotion campaigns around your blog posts that are linked to your overarching campaign.
So Should I Migrate My Blog To HubSpot?
If you're using HubSpot as your marketing automation platform to manage your Inbound campaign, there are substantial benefits in migrating your blog.
Yes, it involves investing time, but with the help of your marketing team or Inbound marketing agency you will go live in no time and access campaign benefits (from automated activity to detailed reporting) that would be inaccessible if your blog were hosted elsewhere.
And if, for whatever reason, you decide to migrate your blog away from HubSpot, you can do so with ease.