Every buyer looking for a solution progresses through a three step purchasing process of Awareness, Consideration and Decision before converting to a customer. In an Inbound campaign this is known as the Buyer's Journey and is integral to content development and lead nurture.
Why? If content is tailored to each Buyer's Journey stage, and presented to a lead in the right format, at the right time, the challenge that content addresses will resonate, and quality lead nurture will result. For a successful Inbound campaign, Marketing Directors must ensure the right challenge-focussed content is planned and mapped to the Buyer's Journey at each stage.
How To Map Persona-Relevant Content To Each Buyer's Journey Stage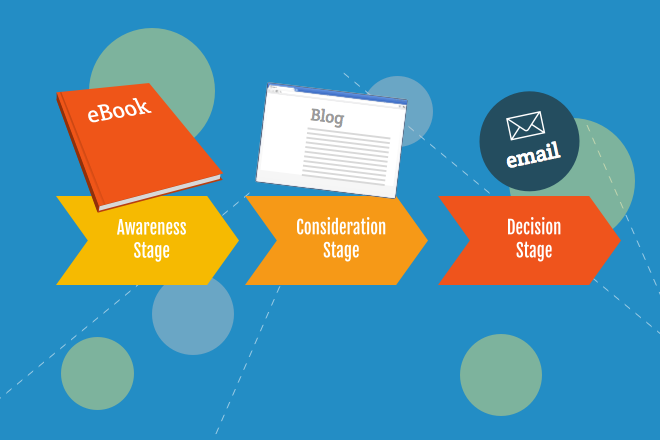 If you understand the purchasing stage a buyer is at, you'll know what content they are looking for, the angle required and the best promotion channels to use to nurture them toward the decision stage.
Keep in mind that in addition to mapping content and campaign activity to the Buyer's Journey, buyer persona challenges must remain front of mind for content to be relevant on all sides.
Content Mapping at the Awareness Stage
A buyer in the Awareness stage knows they have a challenge or problem to address, but does not yet have a solution.
To map content to the Awareness stage, ensure your content provides non-salesy brand-neutral information, which helps the reader identify their problem. Reports, blog posts, eBooks, whitepapers and guides are the best formats for this stage, and if mapped well and promoted via the right channels, will attract attract prospects to your site.
Content Mapping at the Consideration Stage
A buyer in the Consideration stage is taking the next step. They have identified their problem and are researching all possible solutions that would best fit their budget and specific needs.
To map content to the Consideration stage, provide additional information on how the buyer's challenge can be addressed. Case studies, eBooks and guides are typically used at this stage and should be made available through lead capture forms on your website.
Content Mapping at the Decision Stage
By now the Persona/Buyer will know of multiple products/services that solve their problem (your solution included) and will be researching further information to make a decision.
To map content to the Decision Stage, use free product/ service trials, demonstrations, and case studies to entice a final purchase decision. Direct conversations with your Sales team will be in progress at this stage and will help to solve any remaining barriers to purchase; an additional opportunity for nurture activity to supply additional stage-mapped content.
An example of the Buyer Mapping process is illustrated below showing the relevant content formats and publish locations you might expect at each stage:
The Value of Buyer Mapped Content, and the Consequences of Poor Mapping

90% of consumers find custom content useful and 78% believe that organisations providing custom content are interested in building good relationships with them. - SmartBug Media
Benefits/Value of Buyer Mapped Content

Consequences of Not Buyer Mapping

Knowing your persona and their buying cycle enables you to provide the right content at the right time. Always keep existing clients in mind to retain relevancy.

A carefully mapped calendar of content can be created, ready to send to your persona when they most need it.

Directionless planning with unscheduled, unstructured information means you will:

Not address the pain points of your target persona at the right time

Publish in formats and at times that do not appeal to your personas

Not know what content assets you need for effective lead nurture

Developing content by persona pain point keeps it relevant. Using the Buyer's Journey ensures you have a complete campaign (blogs, posts, eBooks, whitepapers, guides) and can nurture at every purchasing stage.

If you don't send the right content at the right time, it will not resonate with your key personas, will not be read and will not help to create or nurture leads.

Providing correctly mapped content enhances the brand/prospect relationship, so works to nurture and qualify leads. It is also a valuable asset to assist the sales team when educating prospects.

Unmapped content creates unqualified prospects which increases the length of the sales cycle. Without correctly mapped content for each purchase stage, nurture campaigns will be ineffective and leads will stagnate.

Updating content and keeping it relevant to both existing clients and prospective Buyers will ensure you are always on topic.

Unresearched and irrelevant topic content will result in wasted resources and incohesive marketing & sales.
Incorporating accurate Buyer Content Mapping during Inbound Marketing Campaign Planning will lead to campaign success as buyers are better nurtured with the right content at the right time, and move more effectively through the purchase funnel.
Mapping content to every Buyer's stage will also result in a comprehensive content library, a streamlined editorial calendar and solid content hubs for more effective campaigns.